Saturday, August 9th, 2014...6:05 pm
Roasted Chicken Rice
Jump to Comments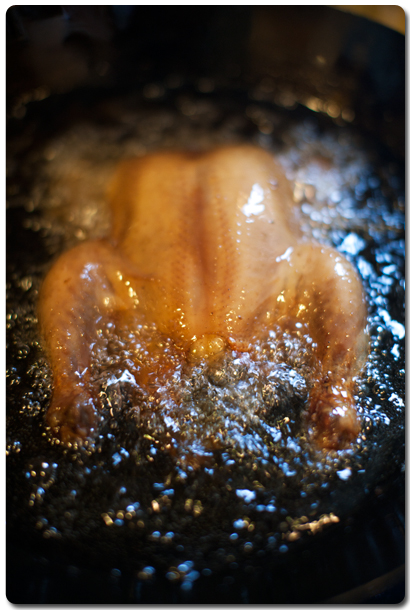 HAPPY BIRTHDAY SINGAPORE! I've been working on the roasted version of Hainanese Chicken Rice for a couple of years now (in which I mean I tried it twice, and then got bored of failing/not-quite-succeeding and shelved it for a later date). But since it's Singapore's 49th birthday today, I figured I could share the current iteration of my recipe.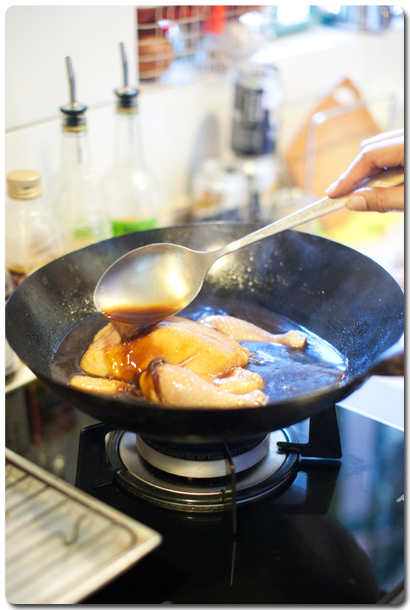 (Photo by Janice Leung Hayes)
A little about shao ji fan — in spite of its name, roasted chicken rice is not actually roasted. It is in fact partially cooked by being basted in a soy-based marinade, left to dry (preferably at room temperature and in front of a fan, but I make do by drying it overnight in the fridge on racks set above baking sheets), then deep fried to finish the cooking and crisp up the skin. It was quite difficult to find a recipe online for this method, as most websites and food blogs tend to favour an easier marinated-and-roasted version. I did manage to find these two though, on wokking mum and singaporelocalfavourites.com, and they are the two recipes that I've based my current working version on. The recipe for rice, meanwhile, is based on a Chubby Hubby recipe, with the simple addition of shallots and a little more sesame oil.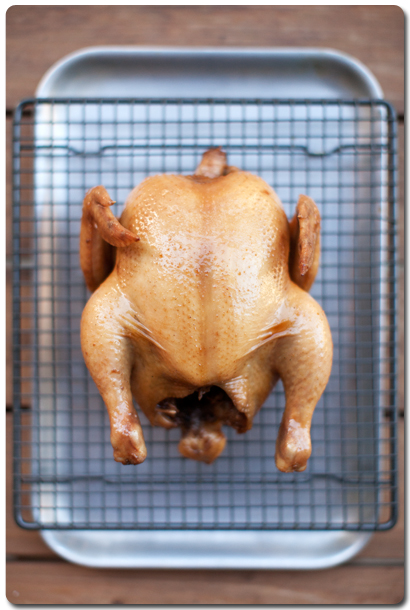 Like my home country, this recipe is by no means perfect. But it's trying, and hopefully someday soon it will get there. So here's wishing Singapore a happy 49th birthday, and all Singaporeans a very happy National Day!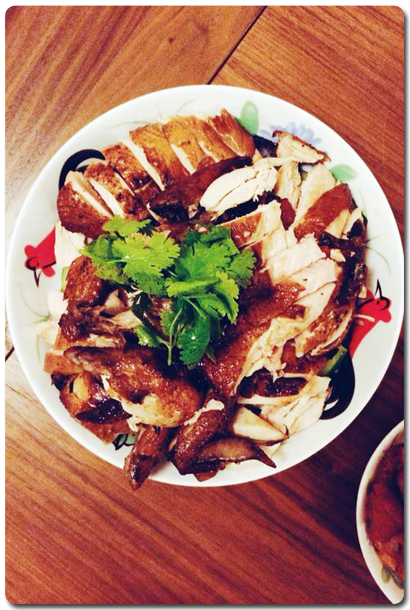 (Photo by Charmaine Mok)
Roasted Hainanese Chicken Rice
1 medium-sized fresh chicken, excess skin and fat removed and reserved for rice (see below)
2 tsp fine sea salt
1/2 tsp chinese five spice powder
neutral flavoured oil for deep frying (I like either canola or peanut)
For the marinade
175g light soy sauce
15g freshly squeezed lime juice
1 tbsp ginger juice (grate/blitz fresh ginger, wrap it in a muslin cloth and squeeeeeze)
100g maltose
1/2 tsp chinese five spice powder
1/4 tsp fine sea salt
50g water
For the rice
2 cups Thai jasmine rice
reserved chicken fat (see above)
1 tbsp finely minced ginger
5 garlic cloves, peeled & finely minced
1 large shallot, peeled & finely minced
1 tbsp sesame oil
2 pandan leaves, knotted
2 1/2 cups chicken stock (I infuse regular chicken stock with ginger, spring onions, shallots, garlic and a little shaoxing wine)
To serve
1 cucumber, halved lengthwise and sliced on the diagonal
chicken rice chilli
thick dark sauce
For the chicken
The day before you intend to serve the chicken rice, rinse your chicken and pat it dry. Trim all excess fat and skin (from around the neck and inside the cavity), and reserve it for the rice. Combine the salt and chinese five spice, and rub the chicken all over. Cover with clingfilm, and allow to stand at room temperature for 1 hour.
Combine all the ingredients for the marinade in a wok, or large dutch oven. (I prefer a non flat-bottomed wok since that makes it easier to baste and turn the chicken in it, but make do with whatever you have.) Over a medium-low heat, bring it to a gentle simmer, and allow to reduce very slightly. Gently slide your chicken in, breast side up, and spoon the marinade over the chicken. Turn the chicken once or twice, but I prefer to cook it mostly breast side up, or on its sides, to prevent the breasts from overcooking. Keep spooning the basting liquid over the chicken until the skin is tinted a deep amber and has shrunken back and is pulled taut over the meat. (The easiest part to check for this is between the body and the thighs.)
Lift the chicken out of the marinade now and then to allow the hot liquid into the cavity, but this shouldn't take longer than about 8-10 minutes or so: your chicken is meant to be around 20-30% cooked only (though that little tip had me staring at my chicken quizzically trying to figure out how on earth I would ascertain this). If using tongs, be careful not to break the skin of the chicken.
Carefully remove the chicken from the marinade, and set it on a rack set over a baking sheet. Place the entire chicken and baking sheet set up in the fridge, uncovered, for at least 4 hours, or overnight.
Remove the chicken from the fridge about 30 minutes before you're ready to cook it, and allow it to come to room temperature. Heat a wok of oil to around 160ºC (you want a relatively low frying temperature so the skin doesn't burn before the chicken cooks all the way through), then slide the chicken in gently and cook, basting with hot oil and turning often, until deep golden brown and cooked all the way through. Depending on the size of your chicken, this should take somewhere around 8 to 10 minutes or so, but the best way to check is to ensure that the chicken is cooked to at least 60ºC at the breast and around 65ºC at the thigh with an instant read thermometer. Let the chicken rest and drain dry on a rack over a baking sheet for about 15 minutes before cutting it up into bite sized pieces. (Can be done around an hour or so in advance and kept warm in a very low oven – just make sure your oven isn't too high or the meat will end up drying out!)
For the rice
Rinse the rice thoroughly and drain well. In a dutch oven or heavy-based pot, heat the reserved chicken fat and skin and allow to render completely. You should have around 3-4 tbsp. Add the minced ginger, garlic and shallot, and fry on low heat until very fragrant, but do not allow the aromatics to take on too much colour. Add the rice and sesame oil (if you didn't get enough rendered chicken fat, just make up the difference with more sesame oil), stirring to ensure that each grain of rice is well coated in the aromatic fat.
Add the pandan leaves and hot chicken stock, and turn the heat up to high. Allow to simmer briskly until there is no more liquid on the surface of the rice, then turn the heat all the way to the lowest, cover with a tightly-fitting lid, and leave to cook for 10 minutes. Once the 10 minutes is up, shut the flame off, but leave the pot to sit, covered, for another 10 minutes before uncovering it and fluffing up the rice.
To serve
Scoop a small bowl of rice onto each plate, and arrange the cut up chicken over the cucumber slices. Give everyone a dish of dark sauce and chilli sambal, and think fond thoughts of Singapore. :)
Yield: Serves 4