Monday, July 28th, 2014...6:02 pm
Iron Foodie Mango Champion
Jump to Comments

At the start of this month, I took part in the Iron Foodie Recipe Competition: Mango Edition hosted by foodie. AND OH MY GOD YOU GUYS I WON.
I'm still pinching myself a little bit 'cos there were some great other entries (like fellow finalist Dixon Wong's sliders, which was the one I voted for heh), but I'm just incredibly grateful to all of you who voted for my recipe which got me into the finals, and into foodie's test kitchen.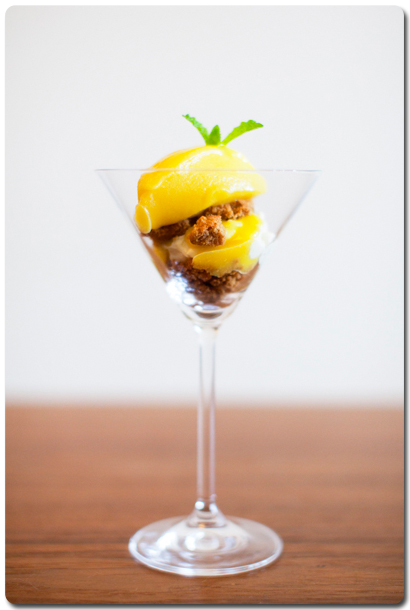 The recipe I came up with is obviously a mango riff on the Blueberry Cheesecake recipe I posted in June, but tweaked slightly to suit the summery mango flavours a little more. It's much lighter since the sorbet is well, a sorbet, and dairy free, and mango sorbet is also one of my new favourite things since it's crazy easy to make but has a texture which is about as close to ice cream as it gets for something that's so low in fat and emulsifiers. Seriously this deconstructed cheesecake thing is like the recipe that keeps on giving — and every iteration I try seems to be even better than the previous ones!
Look out for September's issue of foodie magazine, but for those of you who are impatient, or aren't based in Hong Kong, I've reproduced the recipe below. MAN I'm so, SO delighted! Extra thanks and mad love to those of you who retweeted and re-shared my pleas for votes, and of course to foodie and Chefworks for organising the competition!
Deconstructed Mango Cheesecake
2 ripe Thai golden mangoes (about 800g)
30ml water
2 thai limes
90g caster sugar
1/4 + 1/8 teaspoon fine sea salt, divided
150g digestive biscuits (about 10 pieces)
60g unsalted butter, melted
70g cream cheese, softened at room temperature
10g icing sugar, sifted
mint sprigs, to garnish (optional)
Preheat oven to 200ºC and line a small (approximately 6×8″) baking pan with baking paper.
Peel and cube the mango flesh: you should get about 500-600g. Purée it in a blender with the water, then strain it through a fine mesh sieve, pushing the mango purée through with the back of a spoon. Weigh out 450g of mango purée into a mixing bowl, reserve the remaining mango purée in the refrigerator for assembly.
Zest one lime, then halve and juice both limes. Reserve lime zest for cream cheese. Add 10g (about 2 teaspoons) of the lime juice, the caster sugar and 1/4 teaspoon of the salt to the mango puree. Whisk until the sugar is dissolved. Taste the purée – depending on how sweet your mangoes were, you might need to add a little more lime juice.
Transfer the purée to a quart-sized ziploc bag and seal, pressing out as much air as possible. Place the bag in an ice bath (half ice, half water) and chill thoroughly, about 15 minutes.
Crush the digestives – they don't need to be completely powdered but there shouldn't be any pieces bigger than the size of a pea. Mix in the remaining 1/8 tsp salt, then the melted butter; the mixture should resemble wet sand. Firmly press the biscuit mix into your prepared baking pan and bake 8-10 minutes or until the edges have darkened slightly. Transfer the entire tray to the freezer to cool. Store in the freezer until ready to serve. (If making more than a few hours in advance, transfer to a freezer-safe bag or container to keep. This can also be made up to 2 weeks in advance.)
When completely chilled, churn the mango purée in an ice cream machine according to the manufacturer's instructions. Once ready, transfer the mango sorbet in an airtight container to the freezer to allow it to completely solidify, at least 2 hours. (Sorbet can be made a week or so in advance.)
Combine the softened cream cheese with the icing sugar, reserved lime zest and 5g (about 1 teaspoon) lime juice. Whisk until smooth. Keep in the refrigerator until ready to serve. (Cream cheese can be prepared about 2-3 days in advance.)
To assemble, place about 1 tablespoon of the biscuit crumbs in the bottom of a chilled martini glass. Top with a heaped teaspoon of the cream cheese, and spoon about 1 teaspoon of mango puree over. Place one or two pieces of the biscuit base (around 2×2″ altogether) over the cream cheese and mango puree, then top with a generous scoop of mango sorbet.
Garnish with mint, if desired, and serve immediately.
(Serves 6.)
Makes at least 6 portions. (There will be more mango sorbet than necessary for the 6 portions.)
Note: the entire dish takes only about 30 minutes of active cooking time, but including waiting time (chilling, baking, churning etc) will require at least 2 hours from start to finish. All components can also be done a few days in advance and kept chilled or frozen until you're ready to assemble and serve.