Monday, June 16th, 2014...11:43 am
Blueberry Cheesecake
Jump to Comments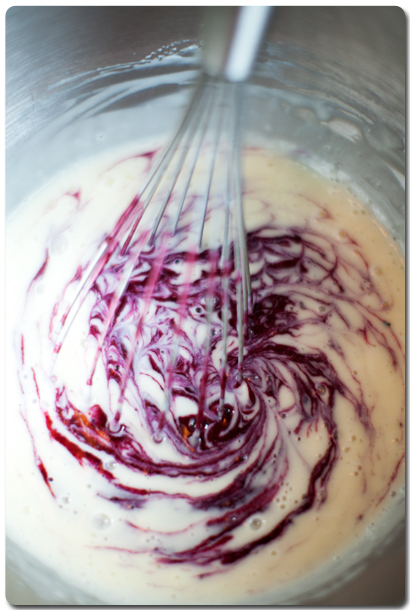 OOH BOY hello it's been a while. /insert embarrassed emoji. How are we almost halfway done with 2014?! The last few months have been a bit of a whirlwind – I've been involved in a little project – which I can't really talk about for the next month or so, but hang tight for that – and that's been, sadly, keeping me a little busy on the cookery front. Since the little spate of sweatshop labour, I…went snowboarding (again), and was in Sri Lanka (for the first time!) celebrating the wedding of one of my closest and oldest friends. After said beach extravaganza, I also went off my diet in a rather spectacular fashion and that ended up with me more or less scarfing M&Ms and McDonalds for the better part of two months. But! Everything is back to regular programming and I've also just come off a week or so of crazy Kitchen Lab Adventures (the BTS of which can be tracked a little better on my instagram) and one of the things I made was this blueberry cheesecake dessert.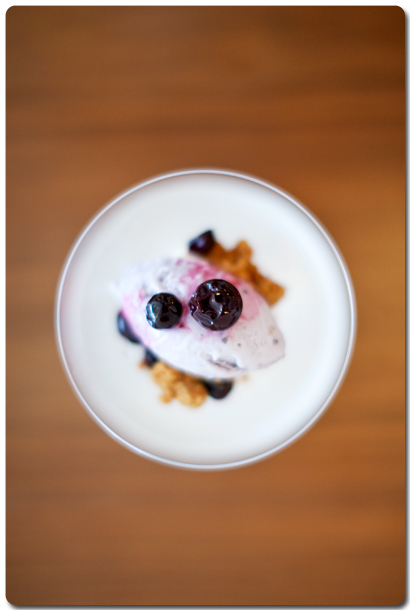 I'd actually meant to write about the Roasted Strawberry Buttermilk ice cream from Jeni's Splendid Ice Creams at Home which – it more or less changed the way I make ice cream. Jeni uses a combination of pasteurisation, invert sugar and cream cheese in her ice cream making which lends an incredibly rich texture in spite of the relatively low fat content and lack of egg yolks.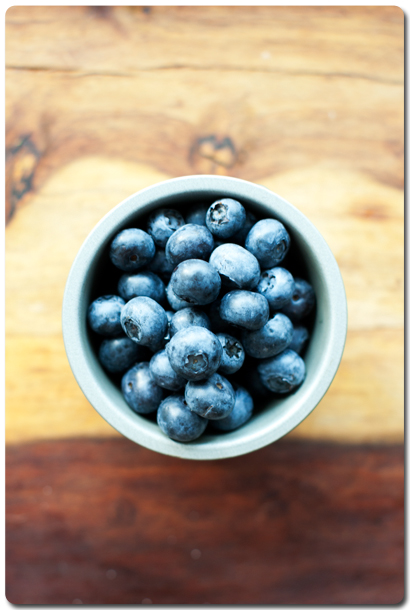 But when I was in the mood for said ice cream last week, I popped down to the supermarket and was instead accosted by some rather delicious looking blueberries. I figured the flavour profile of blueberries would stand in quite nicely for the strawberries, as well as match with the rich tang of the buttermilk, and holy fish sticks I didn't think it was possible, but I may even prefer this to the original.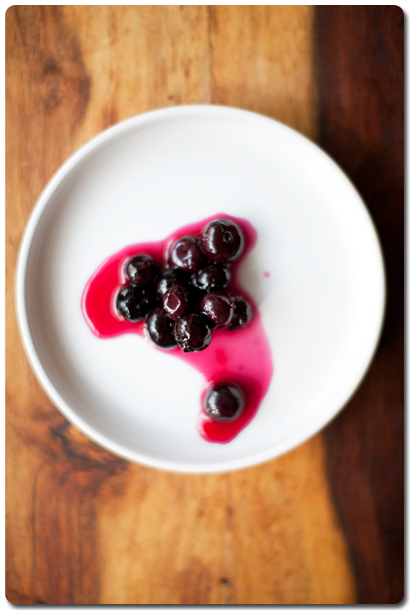 Because I was having some friends over (and because Jeni's recipes always leave me with more cream cheese than I know what to do with), I decided to pick up some digestives and use up the rest of the cream cheese in making a composed dessert, which is a play on blueberry cheesecake. Now, if you can't be bothered to go the whole nine yards, the ice cream on it's own makes for an impressive enough dessert as is. But booooy was the dessert good. So good that even Rufus wanted in on the action (that was me trying out a different plating, which…didn't really work out haha).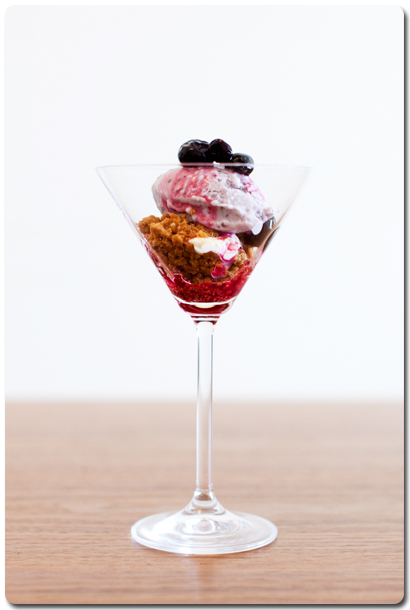 Blueberry Ice Cream Cheesecake
For the digestive biscuit base
10 McVities digestive biscuits
60g unsalted butter, melted
1/8 tsp fine sea salt
For the roasted blueberries & purée
250g fresh blueberries
70g caster sugar
40g freshly squeezed lemon juice
1/8 tsp fine sea salt
For the ice cream
355g full fat milk
2 tbsp cornstarch
60g full fat cream cheese
1/4 tsp fine sea salt
200ml whipping cream
125g sugar
2 tbsp light corn syrup
1/2 cup roasted blueberry purée (see below)
100ml buttermilk
For the cream cheese
140g cream cheese, softened
40ml whipping cream
zest of 1 lemon
20g freshly squeezed lemon juice
20g icing sugar
For the digestive biscuits
Preheat the oven to 200ºC and line a small pan with baking paper. (Mine was around 6×8 inches.)
Crush digestive biscuits roughly – it doesn't need to be very fine or even, but the largest pieces should not be bigger than about 0.5cm x 0.5cm. Combine with the melted butter and salt, and mix well. The crumble should resemble wet sand, and just about clump together when pressure is applied to it. Press it into your prepared pan and bake for 10-15 minutes or until darkened around the edges and firm. Cool in the pan on a rack until room temperature, then transfer to a freezer bag and store in the freezer. (Can be done in advance and kept frozen for up to about a month? Maybe longer but it's never lasted more than a couple of weeks in my freezer before it just gets poured straight from the bag into my mouth on cheat day haha.)
For the roasted blueberries & purée
Rinse the blueberries and drain well. In a small roasting tray or baking dish (that will fit the blueberries snugly in a single layer), combine with the sugar and lemon juice and mix gently to combine. Roast 15 minutes, or until the berries are softened and the sugar has started to dissolve into a deep purple syrup.
Measure out about 150g of the blueberries (try to pick out the less mushy ones) and sauce, allow to cool then store refrigerated in an airtight container. Purée the rest of the blueberries, and measure out 1/2 cup. Reserve the rest of the purée, covered and refrigerated, for another use. (Can be done up to 1 day in advance — the blueberries actually keep but you don't really want it to keep for more than 5 days or so.)
For the ice cream
Mix about 2 tbsp of the milk with the corn starch to make a slurry. Whisk the cream cheese and salt in a medium mixing bowl until smooth. Prepare an ice bath.
Combine the rest of the milk, cream, sugar and corn syrup in a heavy-based saucepan, and bring to a rolling over medium-high heat. Cook for 4 minutes, then remove from heat and mix in the corn starch slurry. Return to a boil over medium heat, and cook, stirring gently, for 1 minute.
Gradually whisk the hot cream mixture into the cream cheese until smooth. Add in the blueberry purée and buttermilk and whisk until smooth. Transfer the mixture to a heavy duty zip-lock bag, press out as much air as possible, then seal and submerge in the ice bath, adding more ice as necessary until cold, about 30 minutes.
Transfer to the bowl of an ice cream machine and process according to the manufacturer's instructions until it reaches the consistency of soft-serve ice cream. Transfer to a container, press a sheet of parchment to the surface, cover tightly with lid and freeze until solid, at least 4 hours. (Can be done up to a week in advance.)
For the cream cheese
Whisk all the ingredients together until well blended. Refrigerate at least 2 hours to firm up. (Can be done up to 3 days in advance.)
To assemble
Sprinkle some of the smaller digestive biscuit crumbs into the bottom of a martini (or any other appropriate serving) glass. Add a tablespoon-sized dollop of cream cheese, and then drizzle a little of the syrup from the reserved whole blueberries over and drop in a couple of blueberries. Add a piece of the biscuit, top with a large quenelle of ice cream, and finish off with a few more blueberries and a little more syrup drizzled over. Serve immediately.
Yield: about half a quart of ice cream, and more than enough of the accoutrements to make about 8 portions or so of the composed dessert.