Saturday, April 15th, 2017...2:29 am
Sourdough Hot Cross Buns
Jump to Comments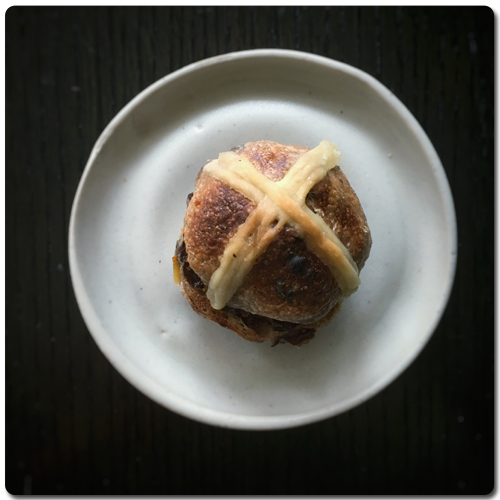 Yeah okay okay I know I'm obsessed and this is boring and you lot didn't sign up for a sourdough bread blog and I'M SORRY I WASN'T INTENDING TO but but but Easter is just around the corner and apparently I have posted a HCB recipe before but I don't even recognise myself because what the hell man VOLUMETRIC MEASUREMENTS? I have half a mind to go back and delete the offensive post. But it's alright, sometimes we need a start point to give us a frame of reference for how far we've come.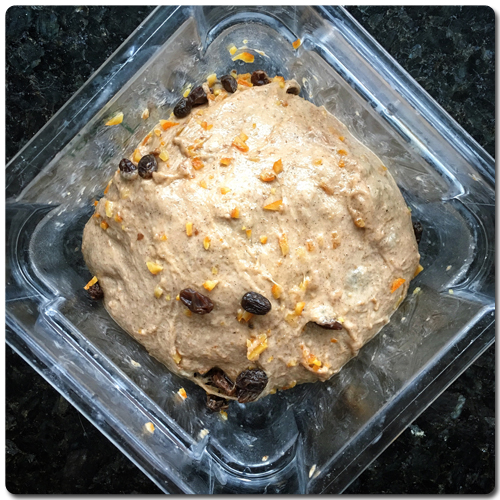 So, because Easter's coming and because L still loves hot cross buns more than…me (only half joking), of course I had to figure out a way to get a sourdough version on the table for her. I chatted with a couple of more experienced HCB-bakers, namely FY Noms and pastry chef extraordinaire Gregoire Michaud, who both very generously gave me their go to recipes/bakers percentages. Using those two as my starting points, I worked up a recipe of my own to suit my sourdough starter's hydration level, a timeline that fits my schedule better, and tweaked the seasonings to my tastes.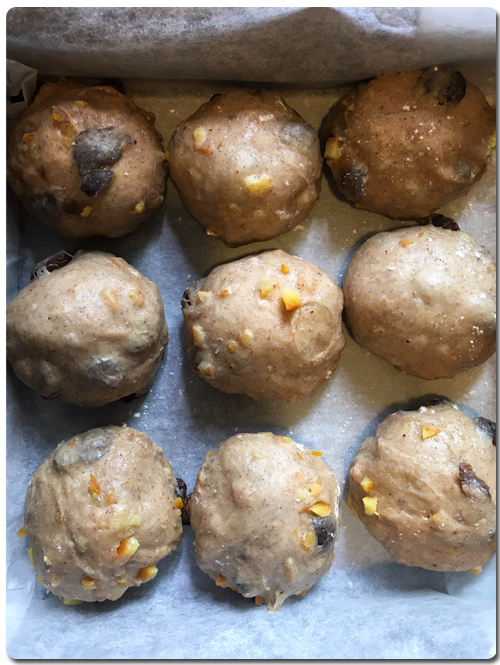 And I'm pretty freaking pleased with how this has turned out. Chock full of raisins (of which I'm not the biggest fan, but hey if there aren't raisins in every single bite then it's just not a hot cross bun), with a good amount of candied orange peel (which I made on my own using this recipe 'cos I couldn't find any good store-bought ones that didn't look vaguely radioactive), and heavily spiced with cinnamon and nutmeg, plus a little hum in the background of clove which I infuse the milk with. It took me a couple of tries to work out a method that got the gluten well developed enough to form a fluffy, shreddable interior texture, and I can probably stand to work on the shaping a bit more, but suffice it to say this is another bakery item I'll probably never be buying from the store again. :D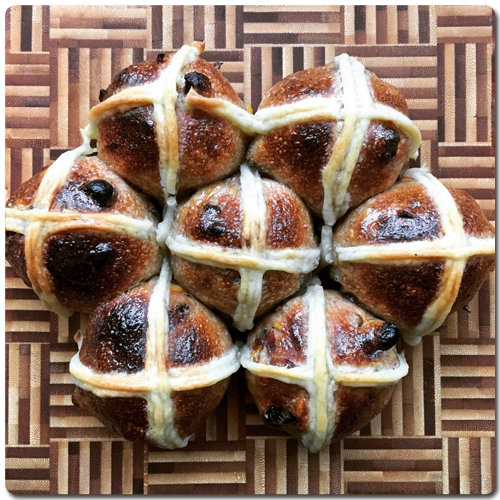 Sourdough Hot Cross Buns
For Levain
8g mature rye starter (100% hydration)
30g lukewarm water
30g wholegrain dark rye flour
For Dough
136g whole milk
10 whole cloves
1 cinnamon stick (about 2-inches long)
340g strong bread flour (mine is 14.9%)
68g ripe rye levain
51g sugar
5.1g cinnamon
3.4g nutmeg
6.8g fine sea salt
2 large eggs
51g unsalted butter, cut into 1cm cubes, softened
170g raisins
50g bourbon, optional (but not really)
68g candied orange peel, minced
For the crosses
75g pastry flour
60g water
20g neutral flavoured vegetable oil
For the glaze
40g marmalade
20g water
The night before bake day, build your levain. Dissolve the starter in the water, then add your rye flour and mix until evenly combined. Cover loosely with clingfilm, and store for about 6-12 hours, depending on the temperature of your kitchen. (In these warmish spring days in Hong Kong, my kitchen's usually around 23ºC at night and it takes about 8-10 hours for my starter to double.) If soaking the fruit, combine the raisins and bourbon, cover the dish tightly with clingfilm, and steep at room temperature until ready to use.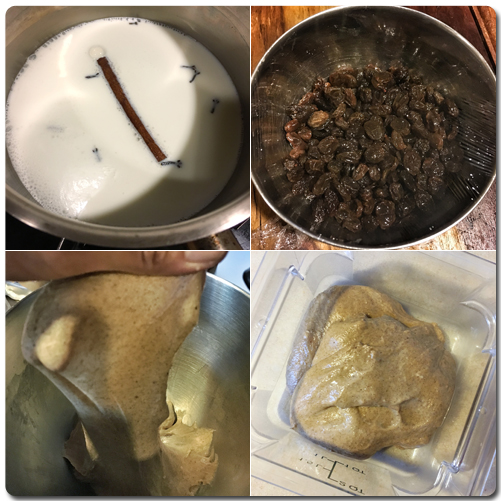 In the morning, combine the milk, clove and cinnamon stick in a small saucepan, and allow warm slowly on a low flame until it just before it boils. Remove from heat, cover, and allow to stand for one hour. Strain the milk into the bowl of a stand mixer fitted with the paddle attachments. Add the flour, levain, sugar, cinnamon, nutmeg, clove, salt and eggs to the milk. Mix on low speed until it comes together, then scrape the paddle clean and switch out to the dough hook attachment. Add the lumps of softened butter in, and mix on low speed for about 13-15 minutes, or until it cleans the sides of the bowl and passes the windowpane test. Using a wet dough scraper, transfer the dough to a clean cambro or bowl for the bulk ferment.
Ferment the dough for 3 hours, doing 4 sets of stretch and fold every 30 minutes for the first 2 hours, and adding the raisins (discard any leftover soaking liquid, if any) and dried peel after the second turn. After 3 hours, transfer the dough to the refrigerator for 2 hours for a short cold proof. This isn't really necessary (you could do a 4 hour straight bulk ferment at room temperature), but I find it makes the dough easier to handle and shape.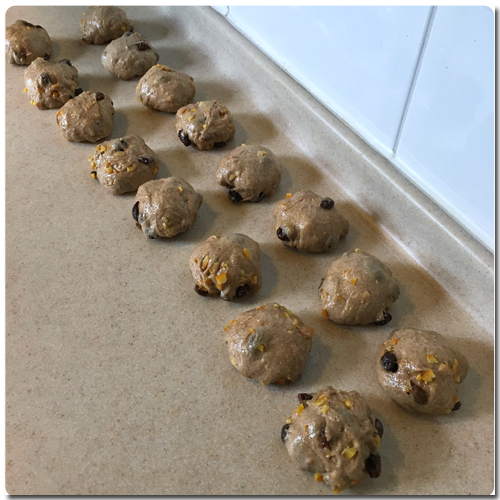 Divide into 15 balls of equal size (mine weighed about 69g each), and let them bench rest for about 10-15 minutes. Lightly flour the tops of the dough balls, flip them over, fold the edges in, pinching them together, then flip it seam side down and using the cupped palm of your hand on an unfloured work surface, round each little bun to develop surface tension in the outside of the ball. Place the balls of dough on a baking sheet lined with greaseproof paper. They should be pretty close together but not quite touching, so there's a little room to for them to grow.
For the final proof, you have two options. You can either stick the whole tray, covered, in the fridge for up to a day or two for a long cold final proof, or just leave them to rise at a warm room temperature immediately. In a 25-27ºC kitchen, it took my buns about 2-3 hours to expand by about 50% (they're not going to double or triple). When they look ready-ish, preheat your oven to 220ºC. If you're going the fridge route, plan to let them come up to room temperature and finish rising for at least an hour or two (depending on the temperature of your kitchen – on one cool morning it actually took me close to 3 hours!) before you bake them off.
Combine the pastry flour, water and oil in a small bowl and mix until completely smooth. Transfer to a piping bag fitted with a plain nozzle, pipe crosses over the buns, mist the entire tray lightly with water, and bake for 20-22 minutes or until the tops are well browned and a cake tester inserted into the centre of the buns comes out clean. If you use a thermometer, the internal temperature should register around 97ºC. Combine the marmalade and water, strain to remove any solid bits, then brush the glaze over the buns immediately when they come out of the oven. Transfer the buns to a rack to cool for at least 15-20 minutes.
The buns are best fresh from the oven, but I almost prefer them the next day, deeply toasted, slathered with lots of salted butter and a little extra marmalade.
Yield: Makes 15 buns.
Macros: Approx 5.6P/39.0C/5.7F per bun