Monday, November 17th, 2014...2:47 pm
Travel Coffee Kit v4.1 (and gift guide)
Jump to Comments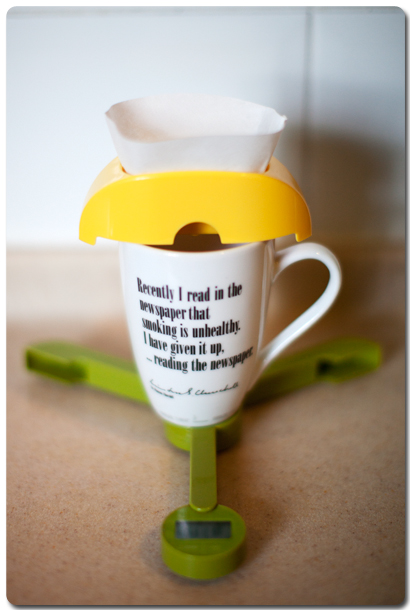 Hi. My name is Rachel, and I'm a liiiiittle bit of a coffee addict. While most of our travels and holidays, thankfully, tend to bring us to cities with excellent coffee, the first coffee has become a bit of a morning ritual for me, and without it, regardless of the wonderful coffee to follow, I end up rather cranky and feel like I've started the day on wrong footing. As such, I almost always bring a travel coffee kit with me.
Roughly three years and loads of experimenting later, I think I've finally built a kit that I'm going to be super happy with. Previous iterations of my kit included v1.0: single serve UCC drip sachets like this (too small), v2.x: many variations on my aeropress kit (I personally prefer pourover), and v3.0: a brief dalliance with a hand-holding the cloth dripper of my woodneck (way too troublesome).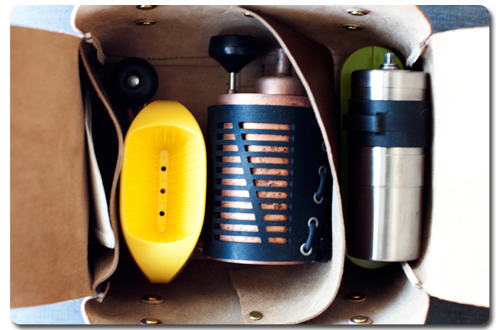 A little background on my personal brewing preferences: I generally prefer pourover coffee at home, and of the various drippers I've tried, the Hario stainless steel V60-02 is my favourite. I love the flavour that cloth filters give, but usually stick to paper filters for my morning cup. I always brew coffee by weight (vs volumetric measurements or plain eyeballing), and I drink my coffee black. So if you're anything like me, this might save you a little time and money futzing around looking for the ideal kit. Or not, since if you're like me you're probably looking for an excuse to buy more things. :D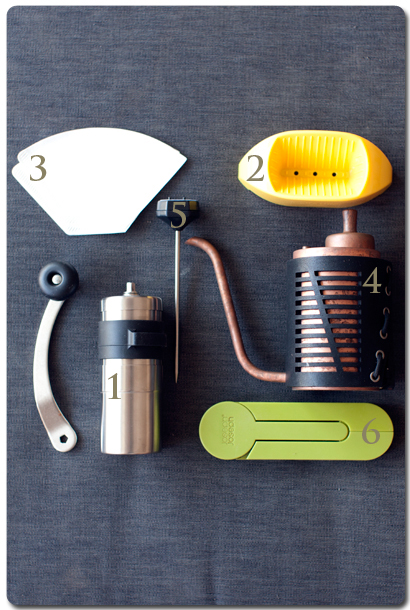 And since Christmas (and end of year travels! and ski season!) is around the corner, I thought this would be a timely little gift guide for those of you who don't know what to get that coffee nerd in your life. Even if you're not a crazy person who is paranoid about being coffee-deprived, this would make an excellent kit for someone who doesn't have much space at home, or is just starting to explore brewing coffee at home.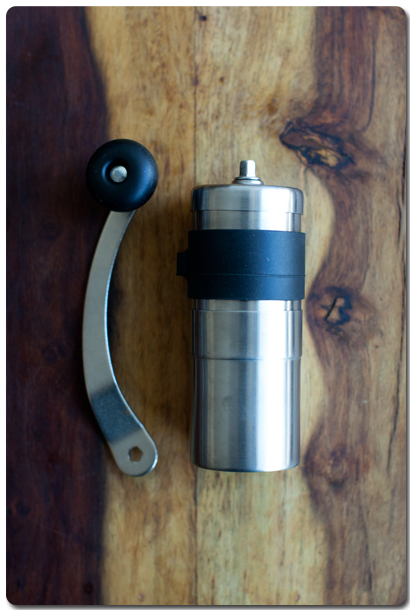 Grinder: Porlex Mini Mill (#1) (buy on amazon
) This is one of the first things that I bought – for home brewing, not just travel. I quickly ran out of patience for hand grinding every single cup of coffee I make at home (it only takes around a minute to grind up one dose, but it can be a little bit miserable especially for brewing multiple servings at once), but of the manual mills, this is the gold standard. It feels great in your hand, doesn't take a whole lot of effort, and – if you're an aeropress user, it also fits inside the plunger section of the aeropress, as seen in this photo of v2.3 of my kit.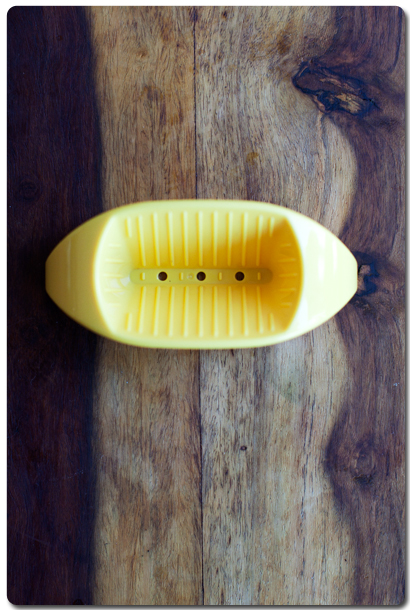 Dripper: Kalita Caffé Uno (#2) (buy on amazon
) The Caffé Uno is essentially a super nifty version of their regular 3-hole coffee dripper. (It's very similar to the Melitta or Beehouse drippers.) It's made of plastic, has no handle, and about half the height of the 101 size filter paper (#3) it supports. Weighing in at 30g and with probably the smallest footprint of any single serve dripper, it is the perfect dripper for my travel kit, not least because it sits very stably on any mug which has a diameter of about 6-10cm. It's also incredibly cheap (I think I paid HK$18, or less than US$2.50, for mine!) and comes in three happy colours. The only point of caution is that because it only comes halfway up the sides of your filter paper, you need to be a little more careful with how much water you pour in each pulse (especially if you aren't using a gooseneck kettle), since overfilling it will lead to some pretty messy spillage, as I found out this morning. :/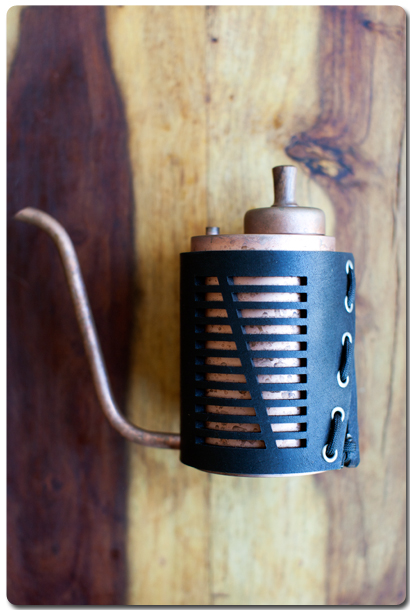 Kettle: Monarch Methods mk320 (#4) THIS KETTLE. So gorgeous. This (and the bag I use to house my kit) are the two slightly more splurgey bits of my kit. When I first found Chris Chekan's instagram account, I was instantly smitten. I fell in love with this kettle (and the black version), and was delighted to hear that he was – on top of his custom orders – about to start an online retail store. I picked the smaller of the two kettles since I usually only make a single serving, and because this beauty is so compact, I started exploring the option of travelling with a pourover kit instead of an aeropress (which means I don't need to bring a gooseneck kettle). It also has a recessed port for any thermometer (#5) with a probe up to 1/8″. For those of you just looking for a gooseneck pouring kettle, the other kettle I use at home is a Kalita thin spout pot – it's a more widely available (and probably more affordable!) option that's also pretty compact.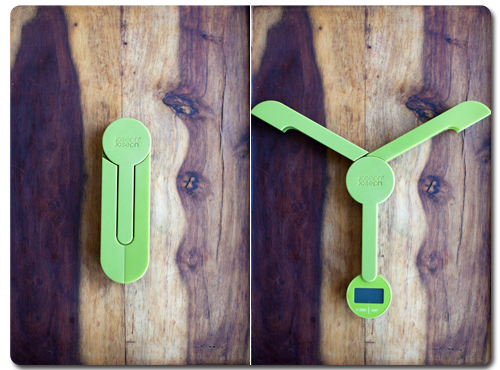 Scale: Joseph Joseph TriScale (#6) Joseph Joseph is no stranger to great design, and I've been using this scale for slightly over a year now. I'm fairly fussy when it comes to my scales, and most don't last more than a month or two before I get irritated with them for some reason or other. In general I prefer my scales (at least for coffee making) to show a 0.1g sensitivity, and absolutely must NOT be affected by heat on the weighing plate (I'm looking at you, AWS!). This scale only measures in increments of 1g, but for a home kitchen it's also excellent because it measure up to 5kg, and it folds up into a compact package and is actually slightly lighter than my other travel scale (which measures from 0.1g to 2kg). Win.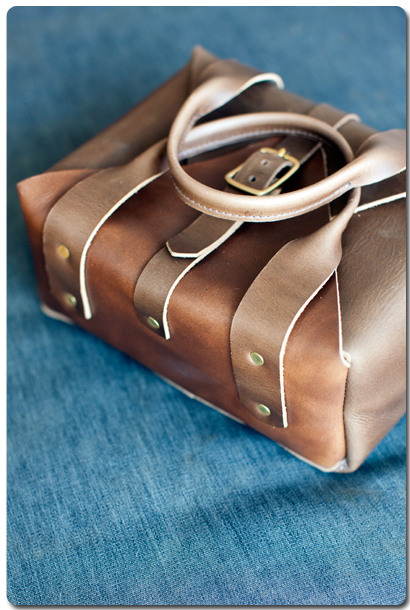 Bag: 3sixteen travel coffee bag The entire 3sixteen x HCR kit is a thing of beauty, and also an excellent gift idea if you can't be bothered to go through the hassle of assembling it piece by piece. Because I didn't need any of the included items, I was very chuffed when I found out they were selling the bags sans equipment too. Being a gorgeous handmade leather bag, it's obviously not the cheapest piece of gear in this kit either, but I love how it fits everything that I use so neatly and perfectly – I even have space for a couple of small bags of beans. Another option, in case you're not a fan of leather, or if they're sold out of the colours you like, is this crumpler x everyday coffee ERRoCase, which was also made with the aeropress in mind, and can be bought as an empty case, or as a full coffee kit.
SO! That's my travel coffee kit, and some ideas for this gift buying season. And I can't wait to try it out when I'm in London at the end of this month! What about you – do you travel with coffee? What does your kit look like?
NB: If you're located in Hong Kong, a few of these items can be found in Hazel & Hershey in Soho. That's where I picked up my Caffé Uno, and I know they stock a wide range of Kalita products as well as the aeropress, at least.