Thursday, December 25th, 2014...5:22 pm
Edible Old Fashioned (& Merry Christmas!)
Jump to Comments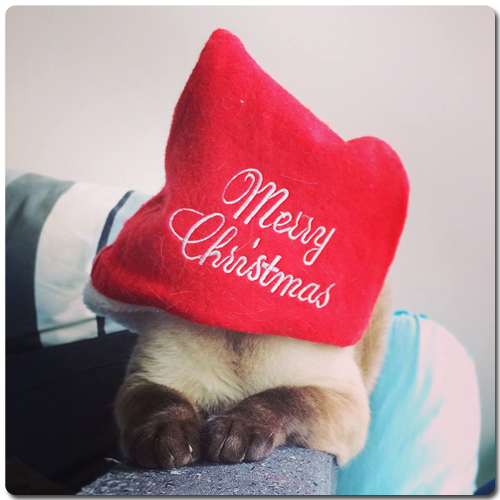 It's that most wonderful time of the year again! And if you, like me, are entertaining this year, you're probably all too familiar with that feeling of having prepped everything but being unable to entertain your guests in the last 20 minutes or so when everything flies around the kitchen so that it can all appear hot and ready on the table just in time for dinner.
This, of course, is where your pre-dinner nibbles and drinks come in.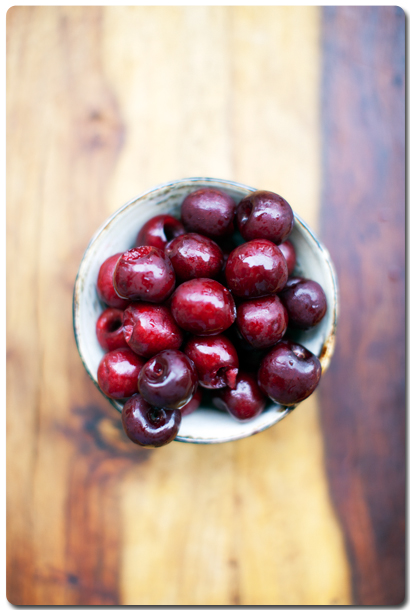 With the Old Fashioned as one of my favourite cocktails ever (I mean, I love whiskey, and I don't like overly sweetened or fussy cocktails, so it was a bit of a no-brainer), it's quite unsurprising that this year's two pre-dinner bites take their inspiration from.
One half of that is this Old Fashioned Bourbon Glazed Pecans recipe from Serious Eats that I first tried a couple of years ago, and pretty much decided that no Christmas would be Christmas without it.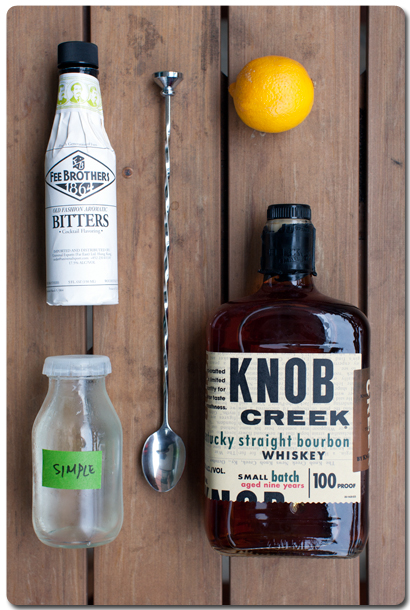 The other, is a slightly more alcoholic snack. Dave Arnold of Booker & Dax came up with an edible martini concept using a chamber vacuum to flash pickle/infuse some cucumber planks with a martini mix (gin, vermouth and a little simple syrup). Having tried that, I was messing about with my chamber vacuum a few months ago and decided to try a cross between an edible old fashioned cocktail and a brandied cherry. I took some cherries, halved and pitted them, then flash pickled them with a mix of bourbon, bitters, and some simple syrup. Grated a little orange zest over, et voila!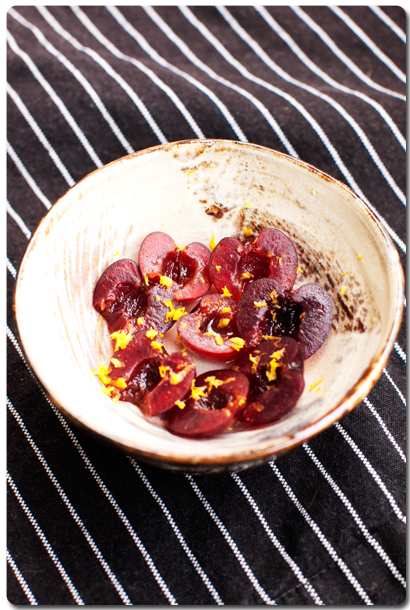 I've since tweaked this recipe a little more, and you should of course just use my amounts as a rough starting point and tweak them to your tastes (or according to the sweetness/tartness of your cherries), but for reference, the mix you start out with should be something you're going to be fairly happy to drink. And you can reuse the mix for later batches, but bear in mind that it will get progressively sweeter as more and more cherry juice gets infused into the cocktail mix.
I've provided two versions below, depending on whether you're a rye or bourbon type of drinker. Anyway, hope you enjoy them, and Merry Christmas and Happy New Year to all of you!
Edible Old Fashioned
Cherries, pitted and halved
100% bourbon whiskey (I like Knob Creek or Maker's Mark for this)
10% simple syrup
5% freshly squeezed lemon juice
2% Fee Brother's Old Fashioned bitters
Fresh lemon zest for garnish
100% rye whiskey (I like r(1)
10% simple syrup
5% freshly squeezed orange juice
2% Angostura Orange bitters
Fresh orange zest for garnish
Combine whisky, syrup, juice and bitters together.
Place cherries in an appropriately deep container – you want to just about submerge the cherries in the cocktail mix, but make sure you leave at least 2 inches of headspace so it doesn't bubble over and spill into your chamber vac.
Pour cocktail mix over, and run the cycle of your chamber vacuum to infuse the cherry halves with the cocktail mix. (See method in this video.) Take care to avoid letting the syrup boil over into the machine — you might have to stop the sealing cycle.
Drain the cherries from the mix, and grate zest over to garnish. Enjoy!
Note: If you don't have a chamber vacuum, Dave Arnold wrote about another way you can try this using an iSi whipper here.