Thursday, August 9th, 2012...10:06 am
Happy Birthday, Singapore!
Jump to Comments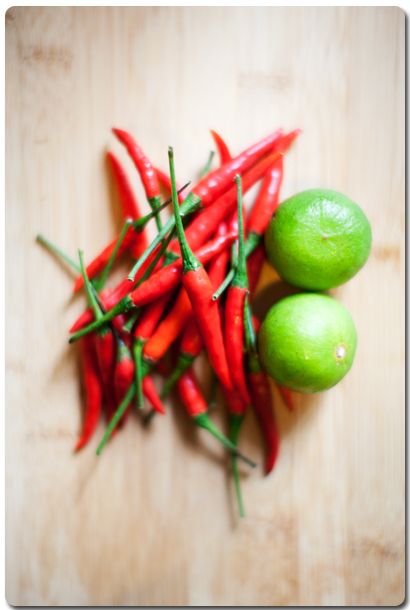 Oh wow. I just realised that this is my first ever National Day Post! Yikes, now I'm starting to feel rather unpatriotic. Oh well. It's never too late to start! And what better way than with what I feel is one of the most iconic Singapore dishes ever. Not chilli crab, not even chicken rice, or bak kut teh, cai dao kway, Hokkien mee, ice kachang, or any of those dishes. Nope. To me, the most quintessentially Singaporean dish that comes to mind isn't even a dish – it's a condiment. It's chilli sauce.
And there are a whole bunch of different types of chilli sauces, but I thought I'd share the two types that I associate most with Singapore: chicken rice chilli, and a basic sambal belachan.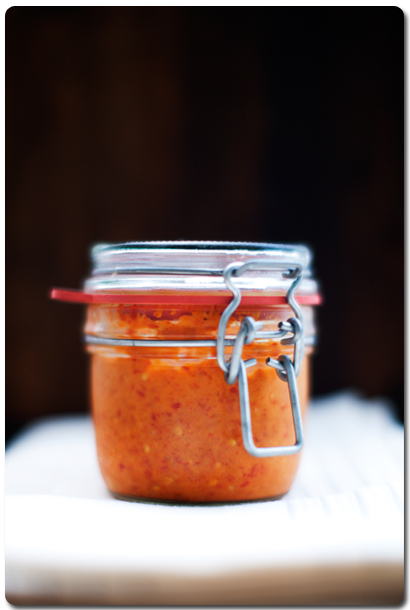 Although poached Hainanese chicken rice is a dish well within my repertoire, and which I turn to time and again whenever I'm homesick in Hong Kong and lamenting the lack of good Singaporean food here, I've yet to successfully recreate the roasted variety that I actually prefer in my kitchen. And in my attempts to work out a recipe for the roasted chicken rice, I've had the opportunity to tweak and retweak my chilli sauce recipe to (my idea of) perfection, which is what I'm sharing with you today.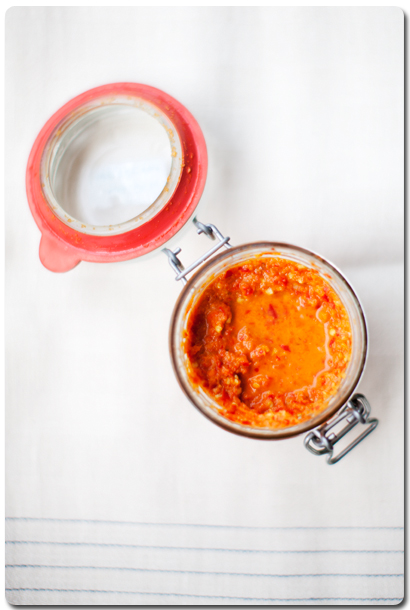 However, as much as I love chicken rice chilli, what I crave even more is sambal. There are many types of sambal, with a whole bunch of different ingredients one could opt to include, such as belachan (a fragrant, dried and fermented shrimp paste), fresh chillies, lime, kaffir lime leaves, tomatoes, shallots, and other seasonings. In fact, the abovementioned chicken rice chilli could be considered a type of sambal too! My favourite type – which our helper taught me to make when I was about 15 – is a very simple blend of fresh Thai birds eye chillies (chilli padi), belachan, calamansi juice, salt and sugar. It doesn't need to be cooked, apart from the initial toasting of the belachan, and comes together in under 10 minutes. Calamansi can be pretty hard to find outside of Southeast Asia, so I generally just use the juice of limes now, but if you can get your hands on calamansi, well… make some calamansi juice to drink! Then one or two of the fragrant fruit for your sambal-making.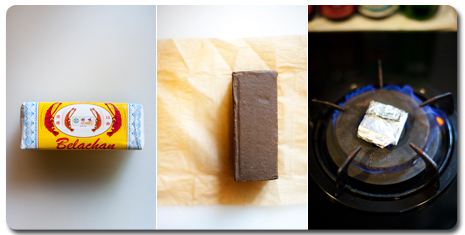 As a side note: I recently (finally!!) managed to get my hands on a gorgeous stone mortar and pestle, after a few years of half-hearted hunting, and downright refusal to shell out hundreds of HKD on something I know shouldn't cost that much. And as a result I've happily set about replenishing my fridge's supply of spicy condiments, and this time lovingly pounded to that beautifully irregular texture. However, these two condiments can of course be made with a mini food processor or blender if you don't have – or don't want to use – a mortar and pestle, and to equally delicious results. I personally prefer the rough and uneven texture that pounding with a mortar and pestle gives you, but that could easily be because I'm in Shiny New Toy mode right now (and because I hate washing my food processor).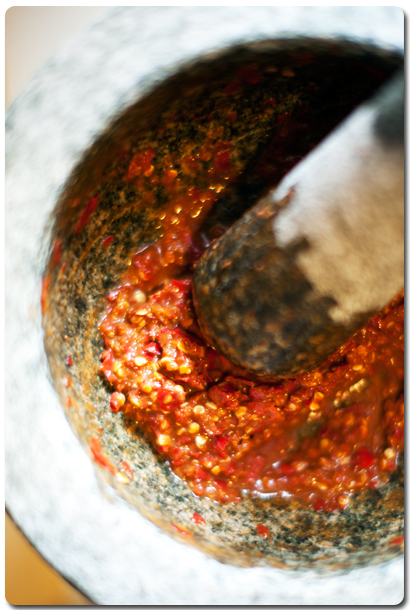 In any case, Happy 47th Birthday to Singapore, and Happy National Day to all my fellow Singaporeans! And to those of you who – like me – are celebrating this day abroad, and away from your chilli-loving friends and family, hopefully this taste of home might bring you a little closer to your loved ones. I know it sure does for me. :)
Warning: Both of these recipes make for almost mind-numbingly spicy dips – I often get expletives hurled at me by even by the unsuspecting (Singaporean) chilli-loving fiends that I've fed this to. It will very likely make you sweat like you're sitting in a crowded, badly ventilated hawker centre smack in the middle of the lunch crush on a 35°C day in Singapore. So if you have a sensitive palate (or stomach), I'd recommend that you increase the proportion of large red chilli to Thai birds eye chilli to tone it down a little. Otherwise, have a box of tissue ready to blow your nose and mop your brow with, pick up your chopsticks, and dab sparingly on your food! One thing I can promise you: it's super, super, shiok.
Chicken Rice Chilli Sauce
25g peeled ginger, minced
100g red chilli, deseeded and roughly chopped
50g Thai birds eye chilli (chilli padi), roughly chopped
25g peeled garlic, roughly chopped
5g salt
10g sugar
10g light soy sauce
15-20g lime juice (juice from 1 lime)
10g sesame oil
20g chicken stock (or water)
Place the ginger in your mortar and pound well until you have a smooth paste. Add both types of chilli and the garlic, and pound until the juice from the chilli has been released and you get your desired consistency. I like my chilli fairly fine, but with about 10-20% of the chilli still in visible chunks. I find the easiest way to do this is to add tablespoonfuls of chilli to the mortar at a time, pounding each batch to the desired consistency before adding the next. Towards the end, you can ease up on the pounding to leave some chunkier bits for texture.
Add the salt, sugar, soy sauce, lime juice, and sesame oil. Mix well, and thin with chicken stock. Taste, and correct the seasoning if necessary (or add more stock if it is too thick). The chilli will keep refrigerated in an air-tight container for about 1 week.
Yield: About 1 cup
Sambal Belachan
10g belachan
50g chilli padi
15-20g lime juice (juice from 1 lime)
10g sugar
2g salt
Wrap the belachan tightly in aluminum foil, and toast over a naked flame until very fragrant and almost nutty, about 5-7 minutes. (If you don't have a gas stove, you can also toast it, without the foil, in a dry frying pan, but I find this a bit messy and – well, let's face it – belachan has a really pungent odour, which can be a bit overwhelming if you toast it unwrapped.)
Allow to cool until you can handle the belachan comfortably, then unwrap and place into your mortar, and pound briefly to break it up.
Roughly chop the chilli, and add to the belachan. Pound until you get a fairly homogenous paste, with the biggest pieces of chilli flesh at most about 3x3mm. Add in the sugar, salt and lime juice. Mix well, then adjust seasoning if necessary. The sambal will keep refrigerated in an air-tight container for about a week.
Yield: About 1/3 cup