Thursday, August 2nd, 2012...2:57 pm
C is for Carrot Cake Cookie
Jump to Comments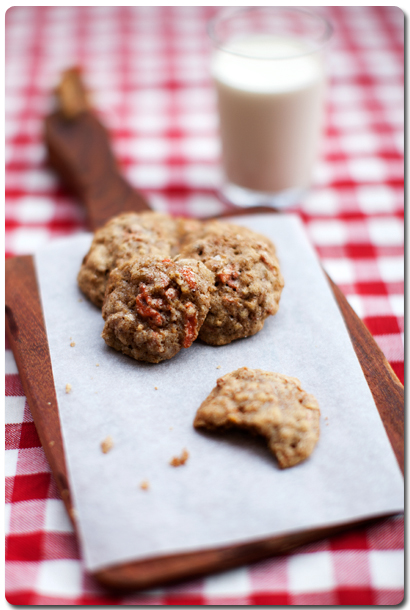 Tell me that concept didn't just blow your mind. Seriously. When I first saw this post on the Cookie Monster column on Serious Eats (sidenote: how did I not notice the Cookie Monster column until last week?!), my head almost exploded. And if there exists a one-stop solution to all the problems of the world, my gut (and taste buds) tells me it's this cookie. World peace? Put a plate of these out the next time there's a meeting of heads of state, or any other conflict-resolution situation. Rapist, thieves, abusive spouses and all manner of criminals will surely be deterred by the promise of these delectable morsels. Failing that, the would-be victim could probably use the cookies as a distraction whilst making his escape! The only problem for which I couldn't think of a cookie-related solution is poverty.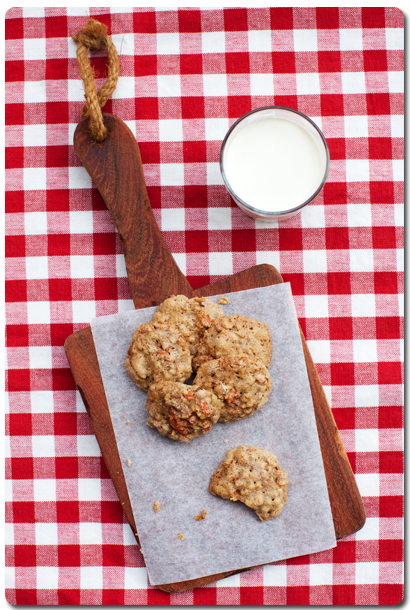 But maybe we should back up a little bit here. You see, I love carrot cake. It is without contest my favourite type of cake: it's moist, dense, spiced generously with all sorts of happy flavours like cinnamon and nutmeg, studded with nuts (and you all know how much I love nuts), and! it's topped with cream cheese frosting – which is one of the only frostings I can stand piled on high atop the topping-vehicle of choice without going into a sugar-overdose coma. It's like all of my favourite flavours got together and threw a party in my mouth.
And this cookie, as Carrie writes, is a beautiful encapsulation of all your classic carrot cake flavours, but in a small bite sized portion. Since I also happen to be physically incapable of doing things halfway, I took her up on her suggestion and made some cream cheese frosting to sandwich between each pair of cookies.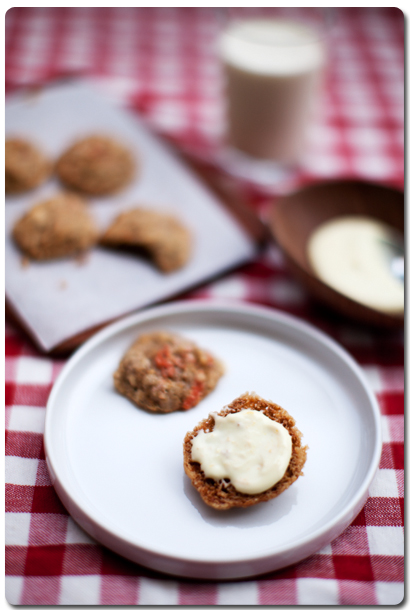 The only thing I have to caution anyone who might try this recipe against is, well, making it in the thick of summer. (Assuming your summer is like the sweltering, humid ones here in Hong Kong.) Although the recipe only calls for the dough (which is a really wet dough, that very precariously straddles the line between dough and batter) to be refrigerated for 30 minutes, I found it needed to be chilled for a good 2 hours to get it to a fairly solid consistency. And – perhaps in part owing to my rather warm, non-bakers' hands – I ended up having to portion out the little dough balls (8-9g seems to be the perfect size, especially if you're making an ice cream sandwich) with two teaspoons and chill them again before I could shape and roll them in sugar.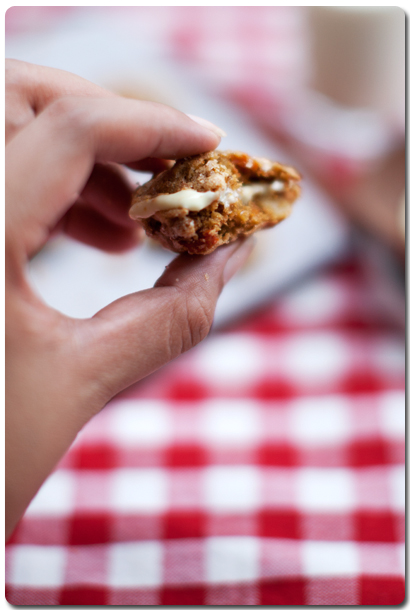 But it's worth it. So, so worth it. I was sharing the first batch with a friend, P, who came by after a little wedding planning emergency, and she declared these the best cookies she'd ever tasted. I wish I could take the credit for coming up with this brilliant idea, but hey – I won't complain. Regardless of how they got here, they're now firmly situated at the top of my list of favourite cookies. :)
Carrot Cake Cookies
(Adapted from this Serious Eats recipe)
Note: The original recipe calls for raisins, which I dislike, and cardamom, which I'm out of, so I left both of those out and this cookie was still amazing. I also found that they spread a lot unless the dough balls were very very cold before they went into the oven, so I might do away with the baking soda next time I try this and see if that helps. I also ran out of AP flour and had to substitute about 1/3 of the flour with cake (lower gluten content) flour, but I doubt that had any discernible effect on the cookies.
130g all-purpose flour
1 tsp cinnamon
1 tsp nutmeg (about 1/3 nutmeg, freshly grated)
1 tsp baking powder
1/2 tsp baking soda
1/2 tsp salt
130g unsalted butter, softened
110g light brown sugar (slightly under 1/2 cup, packed)
1 large egg
1 tsp vanilla extract
1 cup grated carrots (about 1 medium carrot)
100g old-fashioned oats (just over 1 cup)
85g walnuts, roughly chopped (about 1/2 cup)
about 1/3 cup castor sugar
orange ginger cream cheese filling (see below) (optional)
Whisk the flour, cinnamon, nutmeg, baking powder, baking soda and salt together in a medium bowl. Set aside.
In the bowl of your stand mixer fitted with the paddle attachment, cream the butter and brown sugar together until pale and fluffy, about 5 minutes. Scrape down the sides of the bowl, add in the egg and vanilla, and beat until fully incorporated, about 2 minutes. On low speed, mix in the dry ingredients until just combined, then remove the bowl from the mixer. Scrape down the sides again, add in the grated carrots, oats, and walnuts, and fold until evenly distributed. Cover the bowl with clingfilm and refrigerate until the dough is firm – about 1-2 hours, or overnight. (The dough can be stored, chilled and tightly wrapped, in the refrigerator for up to 2 days in advance.)
Preheat your oven to 180ºC, and line two baking sheets with greaseproof paper. Place the extra 1/3 cup of sugar into a shallow bowl.
Take a small piece of dough, roll it between your hands, then roll it in the sugar, and place on the baking sheet, spacing the dough balls about 1.5 inches apart. The most efficient way I found of doing this was to weight out 8g portions of dough onto a plate lined with clingfilm, return it to the fridge to chill for 10 minutes, then roll into a ball with the palms of your hands. Store the rolled balls, covered with clingfilm, in the fridge, only removing them to room temperature and rolling them in sugar when you're ready to bake each batch. (I've got a dismally small oven so I could only manage batches of about 12 cookies at one shot.)
Bake for 14-16 minutes. Allow to sit on the baking tray for 1 minute (so it can firm up slightly and won't warp when you lift it off the tray), then transfer to a cooling rack. Allow to cool completely.
If desired (and – trust me – you do desire…), sandwich two cookies around about 1 tsp of the cream cheese filling.
The cookies will keep, unfrosted, in an airtight container at room temperature for about 3-5 days, or refrigerated for about 1-2 days, frosted, but good luck getting them to last overnight with all the greedy friends that are sure to come a-knockin' once they catch wind of what's baking! Also, I found they got a little bit soggy if sandwiched and kept refrigerated overnight, so I'd store the cookies and filling separately, and assemble the sandwiches at most an hour or two before they are to be consumed.
Yield: About 70-80 cookies (assuming 8g portions of dough per cookie)
Orange-Ginger Cream Cheese Filling
(Adapted from a recipe in Martha Stewart's Baking Handbook)
50g unsalted butter, softened
250g cream cheese, softened
50g icing sugar, sifted
finely grated zest of one medium preferably unwaxed orange
1 tsp finely grated, peeled fresh ginger
1/4 tsp salt
In the bowl of your stand mixer fitted with a paddle attachment, beat butter on medium-high speed until light and fluffy; about 2 minutes. Add cream cheese, beat until well combined and fluffy; another 2 minutes. Scrape down the sides of the bowl and beat for another 30 seconds. Add remaining ingredients and beat for 5 minutes. Frosting can be kept at room temperature, covered with clingfilm, for an hour or so, or refrigerated, well-wrapped, for 2 days.
Yield: Makes enough to frost all the cookies with generous leftovers (unless you're a frosting hound in which case it'll probably be juuuuust enough.)