Thursday, June 6th, 2013...3:27 pm
Fridge-Clearing Crustless Quiche
Jump to Comments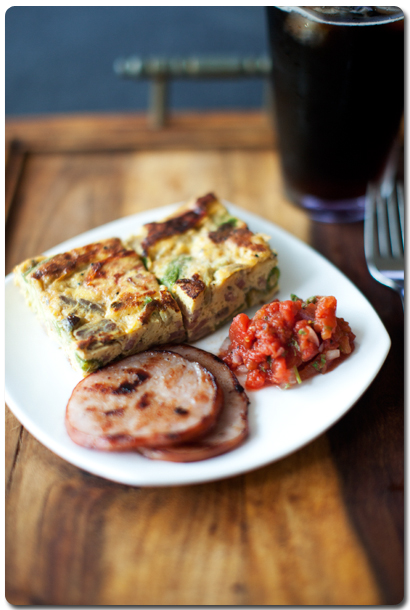 Two weeks ago, I held giveaway contest for Jason Black's new cookbook (which is now available in PageOne and Dymocks (and most other large bookstores, by the way!), Cow Pig Chicken. And a great big thank you, once again, to everyone who took part – it was really fun to read all of your entries, especially when there was a pretty awesome range of familiar leftover meals as well as plenty of new ideas for me.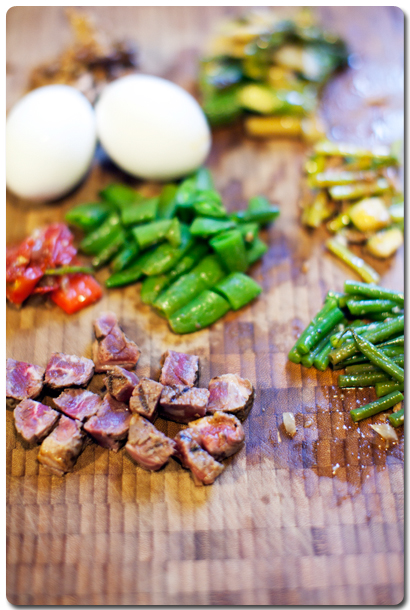 In the end, I picked esye's mini essay on her fridge-clearing crustless breakfast quiches. I'm a huge fan of leftovers that completely change up whatever you're eating, since I tend to repeat meals quite a lot and the monotony can get pretty uninspiring, so combining a week's worth of leftovers into a breakfast dish – that always changes too, seeing as the flavour profile of your quiche will depend on whatever leftovers you've got on hand – that can be eaten on the go, was a total winner. So congrats, esye! And I hope you enjoy your new cookbook. :)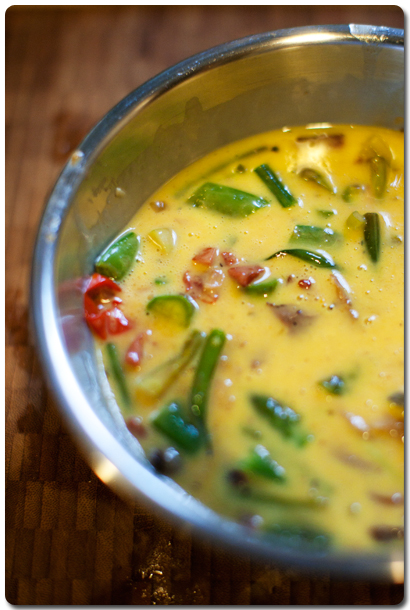 As a matter of fact, I was so inspired by this entry, that I decided to do a little breakfast quiche yesterday. In some crazy effort to drop a bunch of weight before the end of the year, I'll be on the Slow Carb Diet for the next few months, and – excepting the cheese – this is a perfect way for me to grab a quick breakfast before I get cracking on my usual morning workout, or as an afternoon snack if I get hungry. They also make a great addition to your lunch bento box, as they taste great both cold and reheated.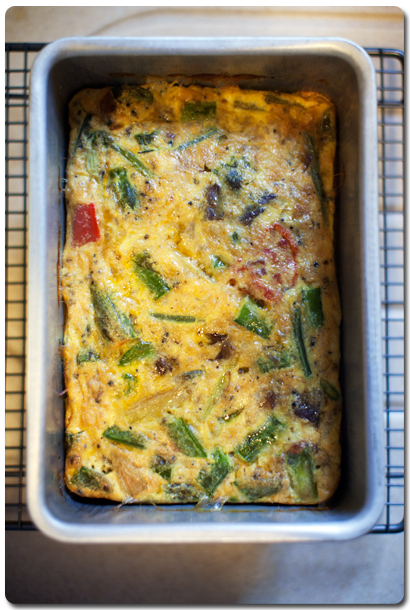 I've typed out a rough recipe for what I used this week, but – as the name suggests – please feel free to swap out the ingredients for whatever leftovers you've got on hand. I also used about 6 eggs in this one (which should give me about 4 breakfasts or 3 breakfasts and 2 snacks worth of quiche), but you can also scale the amount of eggs up or down depending on how much leftovers you've got, as well as how densely packed you'd like all the ingredients to be.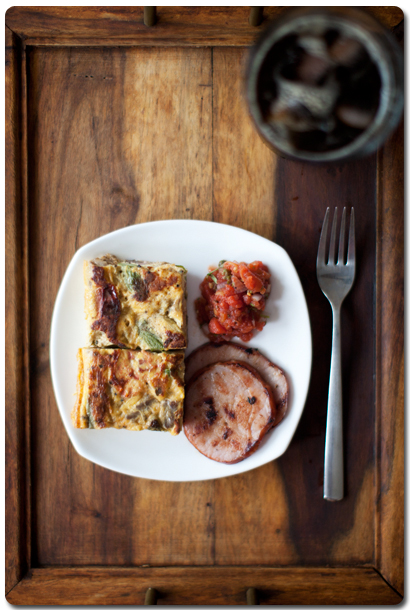 Fridge-clearing Crustless Quiche
(inspired by esye's comment)
2-4 rashers of bacon, finely diced
50g leftover sirloin steak, diced
50g leftover pork ribs, shredded
about 150g leftover vegetables (I had haricots verts, asparagus, tomatoes, peppers and sugar snap peas), roughly chopped
4-6 eggs
salt & pepper
20-50g grated/crumbled/chopped cheese (optional)
extra oil for greasing pan, if necessary
Preheat your oven to 180ºC, and lightly oil an appropriately sized baking dish. (I used a metal baking pan that was about 5×9″, but pyrex would work too, and you can easily use a loaf pan or any shape depending on how deep you'd like your quiche to be.)
Heat a nonstick pan over medium-low heat and gently fry the bacon, allowing the fat to render out and for the pieces to get nice and chewy-crispy. Drain the bacon bits with a slotted spoon, and allow to cool and drain on a triple layer of paper towels. If you'd like, you can use the bacon fat to grease your dish. Otherwise, fry any bits of meat that you have chopped up and that you don't want too rare in your quiche – I re-fried my leftover sirloin steak.
Whisk 4 eggs together in a medium mixing bowl, seasoning quite aggressively with salt and pepper. Keep in mind that food eaten cold will taste a little more bland, so if you're intending to eat these straight out of the fridge, you can afford to be a little more heavy handed with the salt. Add in all the leftover bits and bobs, then stir gently to distribute it all evenly in the egg mix. If it looks like your leftover-to-egg ratio is a little high, add another egg or two.
Tip the egg mixture into your greased pan, and scatter the cheese, if using, over the top. Bake in your preheated oven for about 30-45 minutes, depending on how set you'd like it to be. Note: if you're intending to keep this for a few days, you should err on the side of well-done, since a moist and softly set quiche won't keep nearly as long as a well-done one will. Once it's ready (it should be golden brown on top, and the middle should no longer wobble when you give the pan a jiggle), remove the pan from the oven and set it on a wire rack to cool completely. Cut into squares, and keep, well wrapped, for about 3-5 days in the fridge.
Yield: about 3-4 servings