Thursday, May 23rd, 2013...4:45 pm
Leftovers & Giveaways
Jump to Comments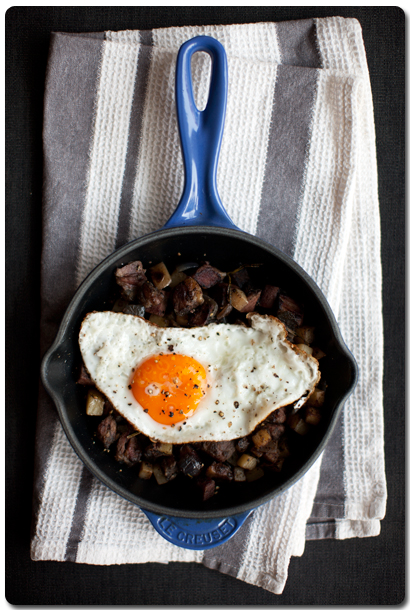 As part of a household of two (well, two humans anyway), I pretty frequently plan my cooking around meals whose leftovers can be recycled or reused with a little tweak to last me for the next couple of lunches or dinners later in the week. For example, I love roasting a big fat chicken for an early weeknight dinner, setting aside leftovers for chicken salad, stir fried noodles, sandwich fillings, and – of course – saving the carcass for chicken soup. With the corned beef from my previous post on Chef Jason Black's upcoming new cookbook, Cow Pig Chicken, it was definitely worth my while to have to plan that far in advance to brine and simmer that gorgeous hunk of brisket, since I possibly even more excited about my plans for the leftovers than I was for the actual dish!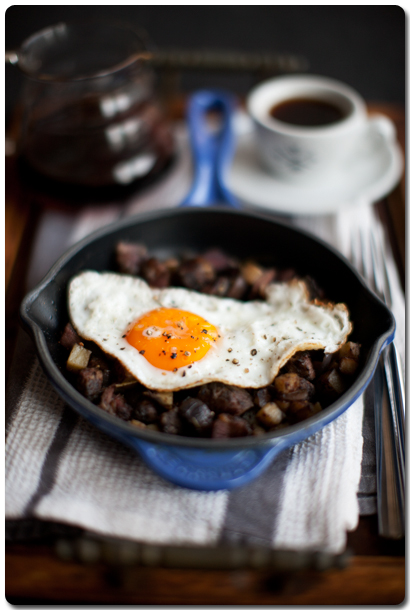 As any of you who've been quietly reading along would know by now, breakfast is far and away my favourite meal of the day. Largely because I generally get this time to myself on my balcony, any time that I can be bothered to cobble together anything more than bit of toast or a fried egg ends up feeling like such an indulgence. (You might be surprised to know this, but when I'm cooking just for myself I…kind of tend to eat pretty badly.) And, as eagerly as I was anticipating the Reubens I had also planned to make with the leftovers, it was the corned beef hash that I just could not wait to dig into.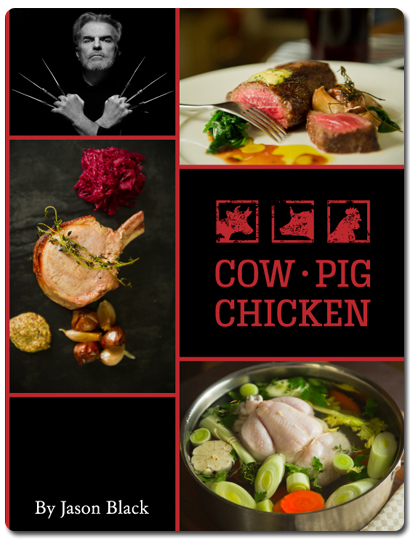 One other thing that I only managed to very briefly mention in my previous post, since I figured it deserved a little more dedicated attention, is that a portion of all sales of Jason's new cookbook will be going towards the Foodlink Foundation – Hong Kong's leading hunger relief charity.
Having taken the time to read a little more about them, it looks to me like a pretty neat system they've got lined up: Foodlink partners up with various hotels, restaurants, and other companies (they count more than 30 hotels among their sponsors) and take prepared food that would otherwise go to waste, repackage and redistribute it to those in need. So, if you needed any more justification to go out and grab a copy of this awesome cookbook, there you have it! Also, if you're looking for a charity to make a donation to, Foodlink definitely has my vote.
GIVEAWAY: Jason has very generously also passed me one copy of his cookbook to give away to one of you lucky readers! Either in the comments below, or by email to emiao@dubdew.com, tell me about a dish that you've ended up enjoying more for the leftovers than the dish itself, by 31 May 2013, and I'll pick someone at random/the answer I like best. Please include your real name and email address (this won't be visible to anyone but me if you leave it in the comments form) so that I can get in touch with you once I've picked the winner. Due to cost of shipping, this competition is limited to readers in Hong Kong and Singapore.
Thanks for all your comments and emails – this contest is now over and I'll be in touch with the winner shortly!
Cow Pig Chicken by Jason Black will be out early June 2013 in all major bookstores in Hong Kong, and will be retailing for HK$328. A portion of all sales will go to the Foodlink Foundation.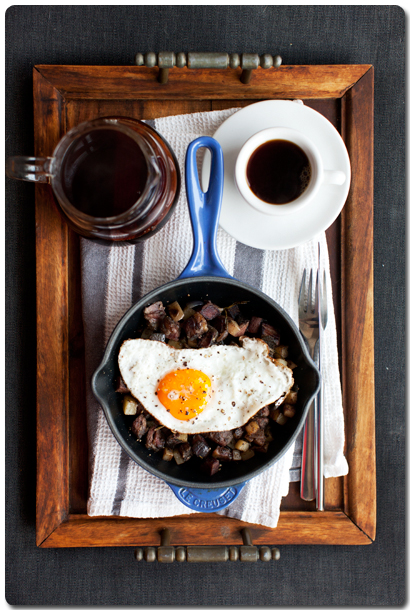 Corned Beef Hash
2 medium potatoes (or leftover boiled/roasted potatoes if you've got any lying about)
2 cloves garlic, peeled and bruised
2 sprigs of thyme or rosemary
100g leftover corned beef
2 eggs
Sea salt
Freshly ground black pepper
Canola oil
Peel the potatoes, and cut into roughly 1cm dice. Parboil them in a enough salted water to cover by at least an inch until you can pierce them with a skewer or sharp knife without any resistance, about 6 minutes. Drain well. (If you're using leftover potatoes then just cube them up and start from the next step.)
Meanwhile, preheat a cast iron or other heavy based skillet, and heat about 1 tbsp oil with the garlic over a medium-low flame until the garlic is nicely browned and the oil is very fragrant. Add in the drained potatoes and the rosemary or thyme and increase the flame to a medium-high heat. Fry the potatoes until they start to crisp up and get nicely browned on the outside, shaking the pan and tossing them to ensure even browning on all sides. Season well with a little more salt, and lots of black pepper.
Dice the corned beef into pieces roughly the same size as the potatoes. Once the potatoes have started to form a good crust, add the corned beef in and reduce the heat to medium. Allow the corned beef to warm through, some smaller bits will probably get a little crispier and crustier too – personally I like the contrast of textures, but once it's warmed through you can stop at any time or carry on cooking it to your liking.
In a separate non-stick skillet, fry your your two eggs sunny side up, and once the corned beef hash is ready, slide them gently over the hash, and serve it straight from the skillet.
Yield: serves 2 (or one hungry person)