Tuesday, June 4th, 2013...11:39 am
The Hunger Games: Eat Your Words
Jump to Comments
A great big thank you to everyone who commented, emailed, RT-ed and shared my little giveaway. I had lots of great entries come in, and it was pretty tough arriving at my final decision – I finally gave up trying to decide on my own and ended up conducting a little straw poll of my top three. In any case, the winner has been chosen, and I'm in the middle of a post based on her answer so stay tuned. :)
In the meantime, we interrupt regular recipe posting for a shout out to an upcoming charity event that I'm really looking forward to – Eat Your Words. For one night only, the tables will be turned on 5 of Hong Kong's food critics as they team up with 5 chefs and serve up a 5-course dinner to 125 members of the public to be critiqued. This fun little event is to raise funds for the same charity that I mentioned in my previous post, HK's Foodlink Foundation.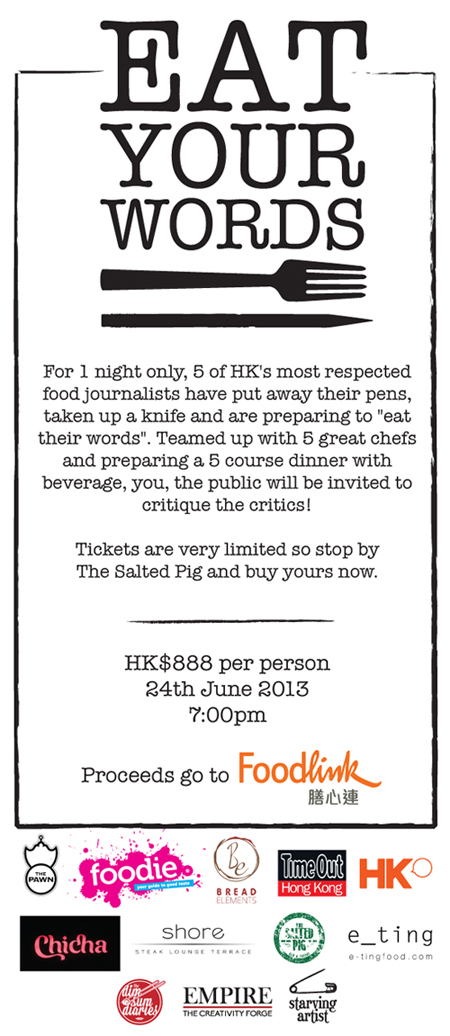 The line up for the night consists of:
If any of you follow Ale, Jason, Janice, Gregoire, or any of the other participants, you'd probably have been treated to a little preview of what's to come: both in terms of their respective menu items, as well as the snipes of (not entirely) friendly competition going 'round.
On top of buying you a front row seat at this year's Hunger Games (and whether any of these critics is worth their salt in the ktichen!), the cost of your HK$888 ticket will buy you a little sway in determining which smack talker ends up on top, once you've had the chance to taste each of the 5 courses of the evening. There's also going to be an auction with loads of great prizes like food tours, cooking classes, food and hotel vouchers, as well as a date up (seriously, have you guys seen Ale? I've had the pleasure of meeting her and I'd bring my chequebook if I were you!) for grabs.
For more information, check out Janice's and Ale's posts. Tickets are limited, so get yours now, and I'll see you lot there!
Date: 24 June 2013, Monday at 7pm
Location: The Salted Pig, 2/F, The L Place, 139 Queens Road Central, Hong Kong
Tickets: $888 – inclusive of 5-course dinner and drinks pairing (additional beverages can be purchased at the event), get yours exclusively from The Salted Pig
All proceeds will go to The Foodlink Foundation.