Saturday, October 6th, 2012...3:04 pm
Crispy-skinned Salmon on Roasted Broccoli Salad
Jump to Comments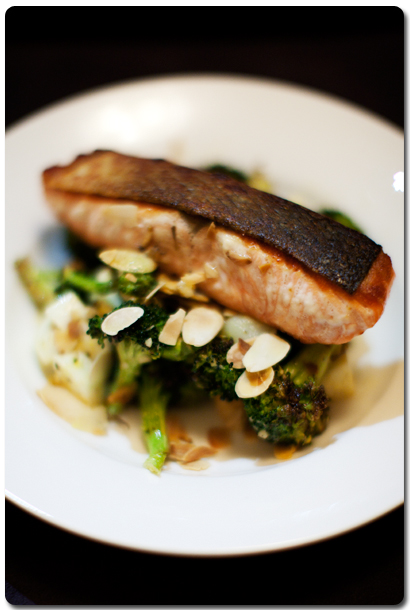 One of my favourite vegetables in the world is broccoli. I love it best steamed or quickly stir-fried, the way my mum used to do, with thin slivers of ginger and lightly bathed in sesame oil and oyster sauce, or Cantonese-style with a slightly thickened sauce of minced garlic and a little stock. Baked with chunks of chicken in a creamy sauce, or studding my mac & cheese, I'll really take it any way as long as it's been cooked. (I'll never really understand raw broccoli crudités.)
Since moving to Hong Kong, I've been introduced to the wonders of roasted broccoli too. There's a restaurant and salad bar called simply life which has a gorgeous roasted broccoli salad – crunchy stems, charred tips, smoky sweet flavour. Paired with their sweet corn salad (which was the inspiration behind this pimped out version I previously posted) and a few spoonfuls of their pesto penne salad, it's one of my favourite takeaway lunches that I can easily grab in central.
On Tuesday, Joanna over at Chubby Hubby posted three recipes for hearty main course salads. The last one, which immediately caught my eye, was a recipe for roasted broccoli, chopped egg and red-skinned potatoes with a mustard vinaigrette. Joanna recommended topping this salad with grilled salmon, which is just what I did for dinner on Thursday.
Even though I left out the potatoes (I'm trying to avoid too much carbs at dinner, in preparation of the end-of-year Christmas/NYE/general-gluttony binge fest), this was a delicious and incredibly satisfying dinner. I left the skin of the salmon to render and crisp up in it's own fat for the majority of the salmon's cooking time, which meant the mix of flavours and textures quite easily disguised that fact that this was a fairly healthy meal! (Yes, I'm still a 10 year old kid that doesn't like being told to eat my veggies.) I imagine the original recipe – minus the salmon and with the potatoes back in – would have been delicious all on it's own, or as a side vegetable dish to any number of main courses. The best part? It took all of 35 minutes to assemble, start to finish: get the broccoli in the oven, do everything else while it's roasting, and then toss it altogether and voila!
Crispy-skinned Salmon and Roasted Broccoli Salad
(Adapted from a Chubby Hubby recipe)
For the broccoli
2 medium-sized heads of broccoli
4 cloves garlic, minced
2 tbsp olive oil, divided
sea salt & freshly ground black pepper
For the dressing
1 clove garlic, finely minced or grated
1 heaping tbsp dijon mustard
30ml sherry vinegar
60ml neutral flavoured oil (such as grapeseed)
40ml sesame oil
sea salt & freshly ground black pepper
For the salmon
2 x 200g fillets of salmon, skin on
1/2 tsp canola oil (optional)
sea salt
For the salad
2 hard-boiled eggs
1-2 small red-skinned or new potatoes, boiled until tender and sliced thinly (optional)
1/3 cup flaked almonds
Separate the broccoli florets from the stalk, breaking them into roughly even sized pieces. (It's okay if it's not completely uniform – this way you'll have some florets a little more charred than others, which is nice too.) Reserve the stalks for another use (peeled and sliced, they make a great addition to any vegetable stir fry.) Rinse the broccoli and dry well. If you don't have the time to leave them to drain and dry completely, pat them down with kitchen paper and stick them on a rack in the fridge for 15 minutes or so. You don't want any excess moisture on the broccoli so they start roasting the moment they get stuck in the oven, instead of steaming and becoming soggy.
Preheat the oven to 200ºC. Lightly oil a large baking sheet with 1 tbsp of olive oil. Toss the broccoli florets with the garlic, a good pinch of salt, a few twists of the pepper mill, and the other tbsp of oil. Lay the broccoli out on the prepared baking sheet, ensuring that it's all in a single layer and not too crammed together (again, you don't want it to steam in the oven), and roast for about 25-30 minutes, turning once half way through, or until tender and lightly charred around the edges.
Meanwhile, prepare your vinaigrette. Combine the garlic, mustard and sherry vinegar in a small mixing bowl. Season lightly with salt and a little pepper (to taste), and slowly drizzle in the oils, whisking thoroughly to emulsify. (If the dressing looks like it might split, just add a few drops of water before adding anymore oil.) It should be a smooth, velvety emulsion, but a little thinner than store-bought mayonnaise. Cover with clingfilm and set aside in the fridge. (Dressing can be made up to 3 days in advance – just whisk it again with a teaspoon or two of water to thin it out if it looks a little stiff, coming from the fridge.)
Preheat a non-stick pan over medium heat. I like to use a non-stick pan 'cos it means I don't need any extra oil (salmon is a rather fatty fish as is). Check the salmon fillets for any stray scales or pinbones, then pat it really nice and dry with kitchen towels, and salt the surface. Place the fillets skin-side down in the preheated pan, and leave to cook, undisturbed, for about 5-7 minutes. Once the skin is a deep golden brown and crispy, flip it over and cook for an additional minute, then remove to your cutting board and let it rest for 5 minutes.
To assemble the salad, roughly chop your hard boiled eggs. Toast the almond flakes in an oven or in a dry frying pan until light brown and nutty. Combine the roasted broccoli, chopped eggs, potatoes (if using), and about half the almond flakes in a mixing bowl. Add about 4 tbsp of the vinaigrette, and gently mix to dress. Have a taste, add any extra dressing if necessary, or a few more twists of black pepper if you'd like (I almost always do). Divide between two plates, sprinkle the rest of the toasted almonds over, and top with the salmon fillets. Serve immediately.
Yield: Serves 2 as a main course, or up to 4 as a starter.