Wednesday, July 18th, 2012...12:00 pm
Basket Case
Jump to Comments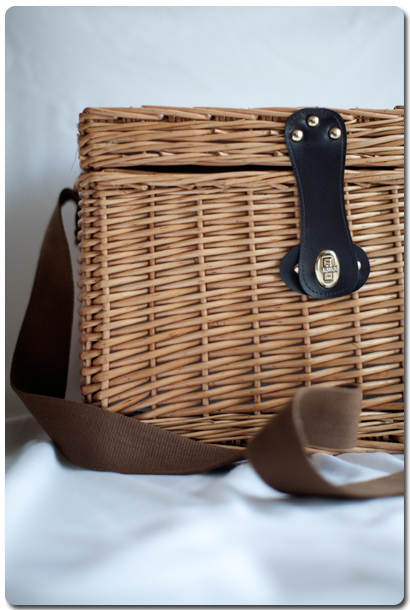 There have been a few points in the last 5 years or so that made me realise that I have – unbeknownst to me – turned into a 'grown up', at least when it comes to food. Once was when I found myself preferring sparkling water to still. As a kid, this was always the grown up water that wasn't sweet enough, like soda, and had a weird taste, unlike normal water. Another instance was when I noticed that picnics I attend now involve not just alcohol (wine coolers and Jolly Shandy do not count), but cutlery! And proper plates!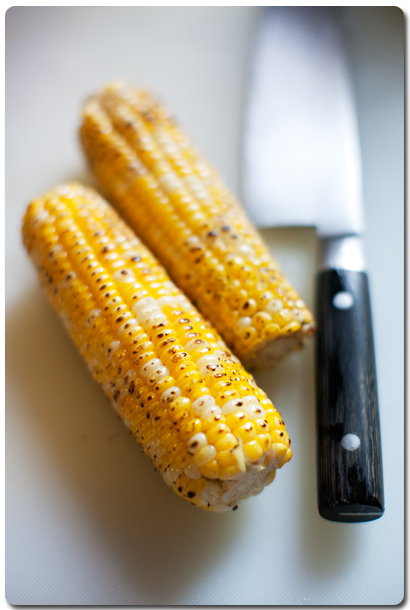 Although summer is traditionally thought of as picnic season, the sad truth is that Hong Kong summers are far too hot and humid to make sitting outdoors under the sweltering sun a pleasant experience. And as mild as our winters here may be, nobody really wants to be swaddled in jeans and scarves and coats at a picnic. Which really leaves us with about 2 months a year worth of picnic-able weekends, assuming it doesn't rain.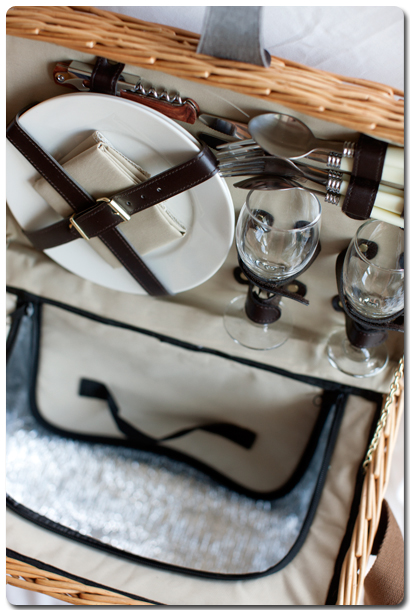 Having recently been gifted with another gorgeous wicker picnic basket (this one has wine glasses! and porcelain plates! and napkins! and an insulated compartment for the food! vs my other basket's plastic plates and mugs), courtesy of TT, and having no desire to wait until late October/early November to pop this basket's cherry, I decided to put together a little picnic for two and take TT out for a picnic dinner last night as a 'thank you' for his thoughtful gift. We drove down to a little beach in Stanley and tucked in to our candlelit dinner on a jetty (read: away from the sand), much to the amusement of a couple of fishermen and a couple doing their pre-wedding photoshoot nearby.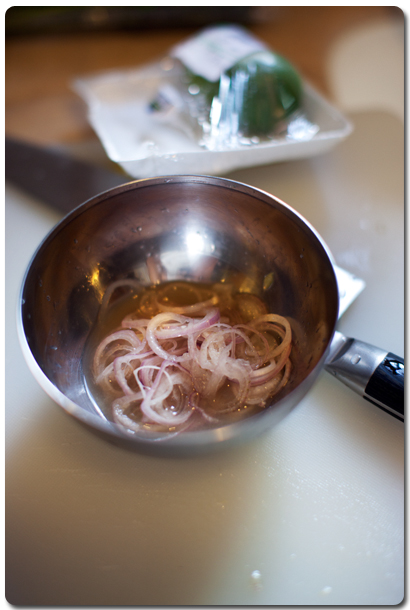 The tricky thing about picnics is that you want food that tastes good either at room temperature or lightly chilled, that will keep for a few hours whilst you assemble the whole thing, and won't spoil on the journey out to your picnic spot. I tend to start with a cold fried meat dish (chicken, pork chops, or – in last night's case – veal escalopes), a potato or pasta salad, and a salad of some sort, building the number of dishes from there according to the number of picnickers involved. For me, the salad is the difficult bit. A traditional salad of leaves dressed in a vinaigrette is bound to get soggy if you dress it before you leave, I can never be bothered to pack the extra utensils or crockery to toss my salad on the spot, the toss-a-plastic-bag-around-to-dress-your-salad method doesn't work as well as promised, and I don't want something rich and creamy since chances are my starch will probably have mayonnaise of some kind involved.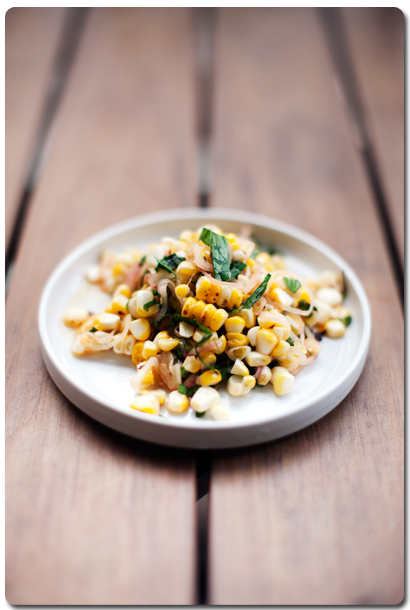 Wandering around the supermarket, I found some Thai basil in the produce section, and decided to build a Thai-inspired flavour profile for a charred corn salad. Sweetness from the corn enhanced with a sprinkling of sugar, savoury depth from fish sauce, acidity from limes and a spicy bite from chilli and shallots. Unfortunately, I realised I was out of fresh chilli when I got home, so I made do with dried chilli flakes and a dash of chilli oil, but I missed the fruity flavour and burst of colour a fresh chilli would have lent. The best part: this salad is best made at least an hour in advance, so all that time it spends in the boot of your car before it can be served is just time it spends getting tastier and tastier. Perfect picnic food.
Thai-flavoured Charred Corn Salad
2 shallots
juice of 2 limes
1/2 tsp salt
2 ears of corn, husks and silk removed
1 large red chilli, seeds removed if desired
a small bunch of Thai basil
1 tsp sugar
1 tsp fish sauce
2 tbsp sesame oil
Peel and thinly slice the shallots, the slices should be paper thin. (Make sure your knife is super sharp, or use a mandolin if you're not too confident of your knife skills.) Place in a non-reactive bowl, sprinkle with salt, and add all the lime juice. Set aside for 15 minutes, or while you prepare the rest of your ingredients.
Char the corn – you can either do this by tossing the ears under the broiler, turning frequently, or dry-frying it and then carefully running it over a naked flame until the kernels just start to blacken and blister. (Hint: if the summer heat is preventing you from picnicking in the daytime, you will probably want to avoid turning that oven on too.) Once the corn is cool enough to handle, run a sharp knife down the sides to strip the kernels from the cob. Transfer the corn to a medium-sized mixing bowl.
Finely chop the red chilli, and julienne the Thai basil, and add both to the corn. Using your fingers, pick the shallots out of the lime juice (reserving the juice) and add them to the corn too. Add in the fish sauce, sugar, sesame oil and about 1 tsp of the reserved lime juice, and mix until well-combined. Taste, and add more sugar, fish sauce, or lime juice if necessary to balance out the flavours.
Cover well, and leave in the fridge to cool for at least one hour. This will allow the flavours to amalgamate. (The salad can be prepared up to one day in advance.)
Yield: Serves 2, or maaaybe up to 4 if you've got plenty of other sides.