Saturday, February 11th, 2017...11:44 am
Glutenous Sesame Boules
Jump to Comments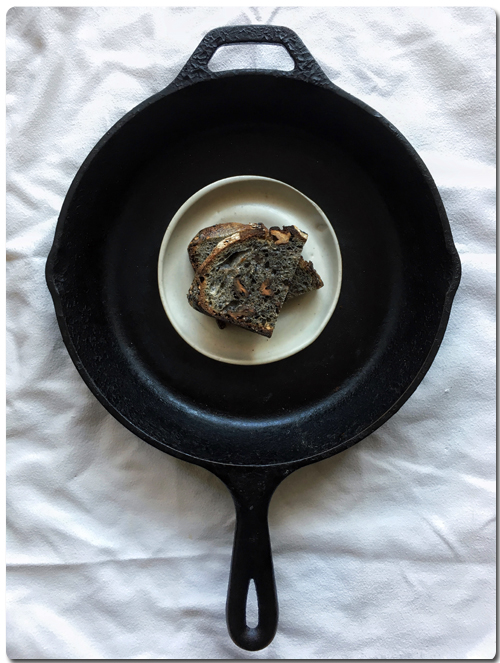 You guys. I had these grand plans to finally tackle making tang yuan for Yuan Xiao Jie this Chinese New Year. Today is the Spring Lantern Festival, which marks the 15th and final day of the Lunar New Year celebrations, and is often associated with paper lanterns, solving riddles, and glutinous rice dumplings. L loves the black sesame dumplings, and I've never actually tried my hand at making them before, plus with some of the other recipes that I tried out over the holiday weekend, I had more than enough ingredients to give it a shot. Only we've both been instructed to avoid glutinous rice flour (since it allegedly exacerbates inflammation of injured joints?) so…it was back to the drawing board. But I think I've managed to come up with a somewhat seasonally appropriate recipe all the same. ;)
The good thing is, my sourdough habit is still alive and well. It's calmed down significantly since I last wrote about it, in that I'm down to a regular baking schedule of maybe 2-3 loaves per week, instead of that insane day when I had 4 or 5 different batches of dough in various stages at the same freaking time, and was blowing through something like 3-4 kilos of flour per week. I tend to bake smaller batches now as well so that I have more opportunity to play around with different hydrations, mixing and fermentation methods, and I've also started playing around with different grains and flours, as well as experimenting with different mix ins like seeds and nuts.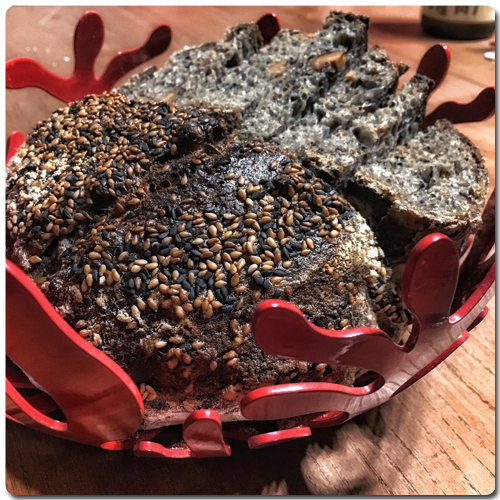 Having joined a few sourdough/bread/baking enthusiast groups on Facebook, I found that one of them, Bread Bakers – Artisan Handcrafted Baked Goods runs monthly challenges where someone submits a formula or method, and members of the group are encouraged to try their hand at it. This month, Delvin Tan submitted a same-day bake formula, which is something I've seen mentioned a number of times but hadn't managed to try out yet. I'm particularly excited by this method, since all of the bakes I've done so far have been with relatively long bulk fermentations at a cool room temperature (between 16-23ºC), which is perfect for Hong Kong winters, but will involve an insane electricity bill and round the clock air-conditioning once summer hits, so this means I'm gonna have a great option to fall back on once the weather heats up in a couple of months.
I'm not really including a recipe proper, since the amount of dough you make is often determined by how much bread you consume and the size of your baking vessel, but for what it's worth I like a total flour weight of 250g (200g in the dough, and 50g prefermented in the levain) for a small boule that I bake in an 8″ dutch oven, and this results in a loaf that usually weighs slightly over 450g, or around a pound. Amounts of ingredients are represented in baker's percentages (i.e. as a percentage of flour used, and for reference, I include the pre-fermented flour in the levain as part of this total flour amount).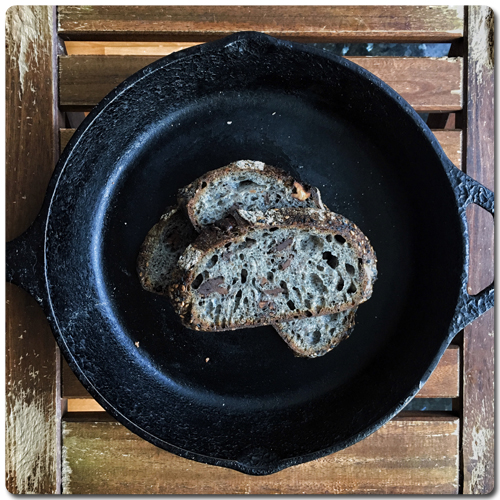 Delvin's recipe also calls for the use of a stand mixer, but I usually can't be bothered to pull my mixer out of storage unless I'm making an enriched dough or doing a much bigger batch, so, with his permission, I'm including the rough recipe and method for the same day bake, with some tweaks that I've made to my preferences and because I prefer a slightly higher hydration level for breads with this amount of mix-ins.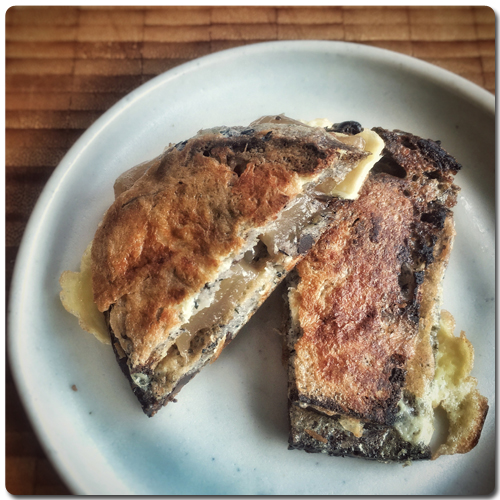 Sesame-Walnut Sourdough
(based on Delvin Tan's same day bake recipe)
40% levain (100% hydration, fed with an equal mix of whole wheat and white bread flour)
90% strong bread flour
10% wholewheat flour
80% hydration
10% black sesame seeds
10% honey
20% walnuts
2.4% fine sea salt
*extra black and white sesame seeds (untoasted) for the crust (optional)
Leading up to the day you intend to bake, ensure that you've got enough well fed starter for the bake. 20% of the flour will be prefermented in the levain, so if you're doing a 2lb boule (500g total flour), you're going to need about 200g of 100% hydration starter, fed with a 50/50 mix of white and whole wheat bread flour.
On bake day, combine 70% strong bread flour and 60% filtered water (ideally at 31ºC) in a mixing bowl and mix until no dry spots of flour remain. It will be a shaggy, sticky, rough mass. Scrape down the sides of the bowl, cover, and autolyse for 30-45 minutes at 28-30ºC.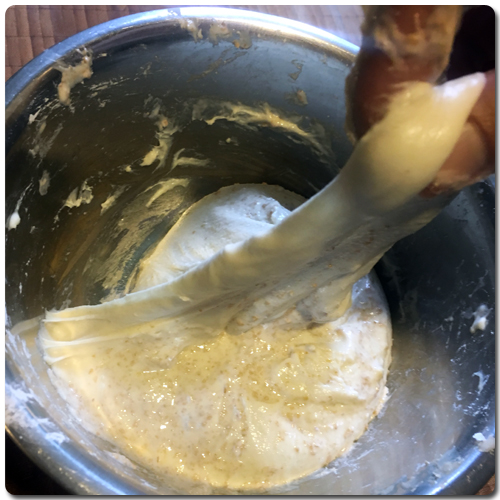 Add 40% levain, and thoroughly mix it into the dough. I like to spread it over the surface, dimple it in, then perform a series of folds to incorporate it – similar to how you do stretch and fold a relatively high hydration dough, but I probably do about 20-30 folds instead of 3-6 as in a regular turn, and I'm a lot less gentle since my goal is to have the levain evenly distributed within the matrix of the dough. I then mix it for about 5 minutes using the Rubaud Method. Scrape down, cover, and rest for 15 minutes while you prepare the mix-ins.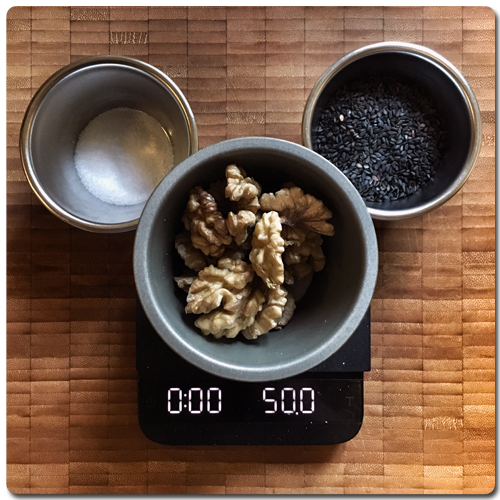 Toast the walnuts on a tray in the oven, stirring once or twice, until a deep golden brown (around 15 minutes). Cool, and break into large chunks. Toast the sesame seeds in a dry pan until your kitchen smells amazing, tip into a mortar and pestle (I like to use a suribachi (Japanese mortar and pestle) here since I like a slightly uneven grind, but a regular mortar and pestle or a spice grinder will work well too – just be sure not to overprocess it lest you end up with tahini!) and grind to your desired consistency.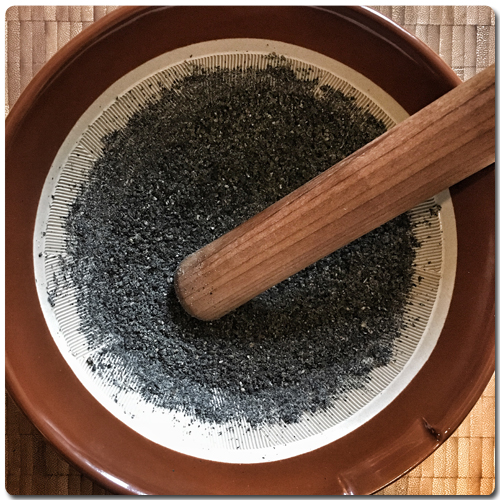 Give the dough another 2-3 minutes of Rubaud mixing again, then add the sesame, salt, and honey in, folding and mixing to incorporate it. The great thing about using sesame here is that you can see when it's pretty evenly mixed according to the colour of the dough. If you prefer a slightly more marbled effect in your final dough, don't worry about getting it 100% even, as long as there are no big clumps of dry sesame you'll be fine.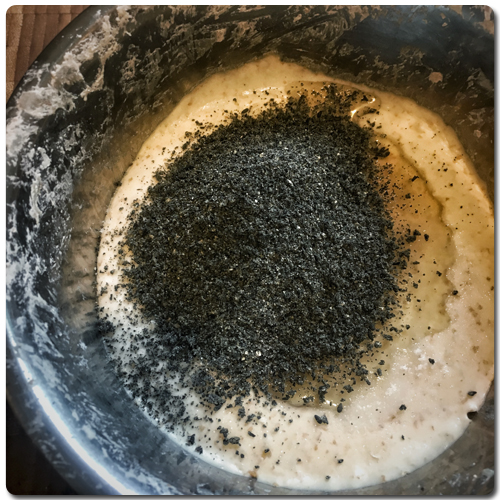 Transfer the dough to a clean container (I like a 2-4 quart cambro for this, depending on the size of my batch), and start the bulk ferment at 28-30ºC. Perform 3 stretch and fold turns at 30 minute intervals for the first 90 minutes, then leave it to finish fermenting without anymore folds.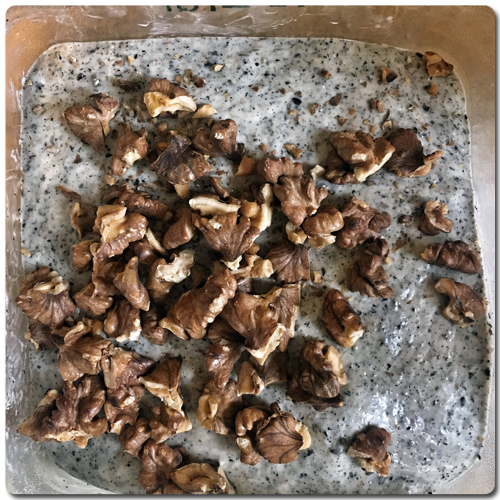 Once the bulk ferment is complete (your dough will likely have doubled or tripled in volume and feel really puffy), release the sides of the dough using a wet dough scraper, do one last gentle fold, and turn it out onto a lightly floured surface. Pre-round using a bench scraper, drape with a damp cloth, and bench rest for 15-30 minutes. Shape into a boule, roll the top in sesame seeds, then transfer, seam side up, into a banneton dusted with brown rice flour, and final proof for about 40-60 minutes at 28-30ºC.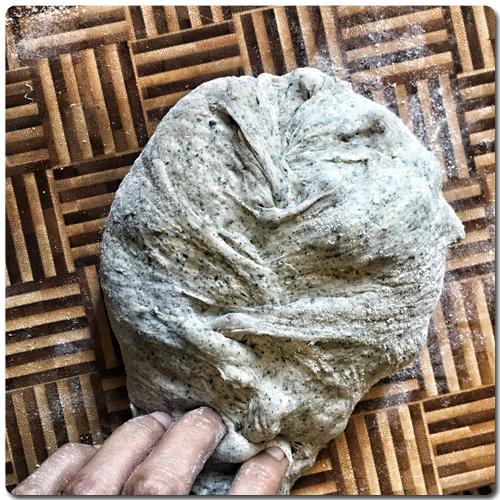 Once the dough is ready (it should have probably grown by about 30-50%, and use your judgement and whatever manner of poke tests you have at your disposal here), transfer the entire banneton to the fridge so you can preheat your oven. Refrigerating the dough will also help it firm up a little which will make slashing the loaf much easier. Preheat the oven and a dutch oven/cast iron combo cooker/baking stone or steel and steam set up to 250ºC for at least 45-60 minutes.
Remove the dough from the banneton, slash, peel it into the preheated dutch oven or onto your deck, and bake, covered/with steam for 20 minutes at 250ºC, then uncover/remove steam and reduce the oven temperature to about 200-220ºC and bake until well browned and the internal temperature reaches 100ºC, about 20-30 more minutes.
Cool on a rack for at least an hour, and then devour! This bread is crazy flavourful and I enjoyed it on its own, with toasted with salted butter and honey, as well as part of an insanely delicious pandan-nian gao-stuffed sesame-walnut sourdough french toast sandwich (pictured above, before the recipe starts). I also brought a loaf of bread to a CNY dinner one of my friends hosted, where we came up with the first ever Kitchen@17A x The Goose & Cabbage collab: ginger ice cream sandwich with sesame walnut sourdough, i.e. a gweilo version of sesame dumplings in ginger soup!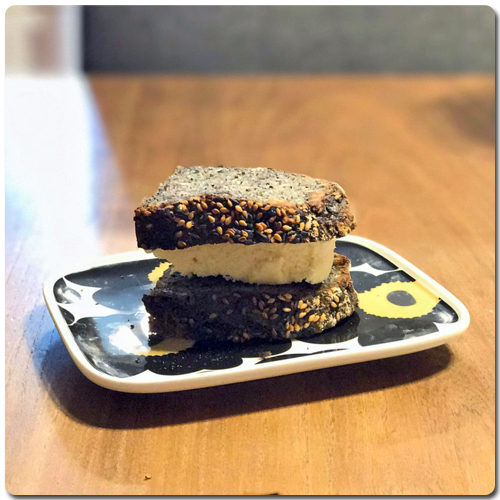 (Photo by @g4gary)