Thursday, January 5th, 2017...5:56 pm
Sourdough Waffles and a Very Delicious New Year
Jump to Comments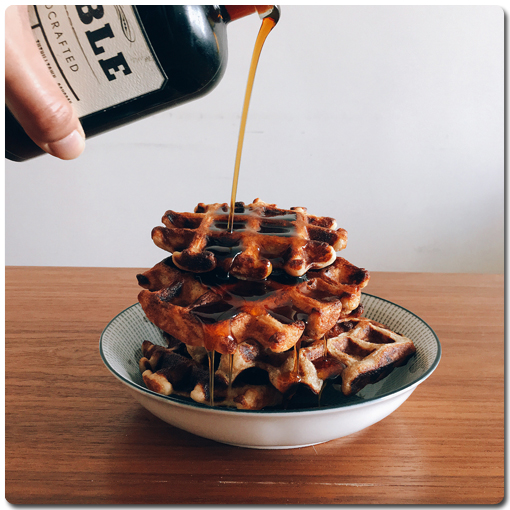 Well, so much for posting more regularly! Lol. 2016 was an intense ride, and all in it was a pretty good year for me. Those of you who follow me on Instagram or Snapchat probably realise that I've spent the last 18 months working on my health, fitness and weight. A few years ago I kinda realised that I had let my body fat levels get waaaaay out of control, and after a couple of stops and starts, I'm finally really happy with the shape I'm in, both mentally and physically.
As a result though, cooking – or, rather, cooking creatively – had to be put on the back burner. And while I've got an insane amount of recipes and dishes earmarked for me to try at some indeterminate date, what I have managed to do is to start getting a little more creative with L's dinners. I figured out late last year that I could always direct my culinary curiosity in that direction, instead of always having to wait for cheat days to try new dishes together.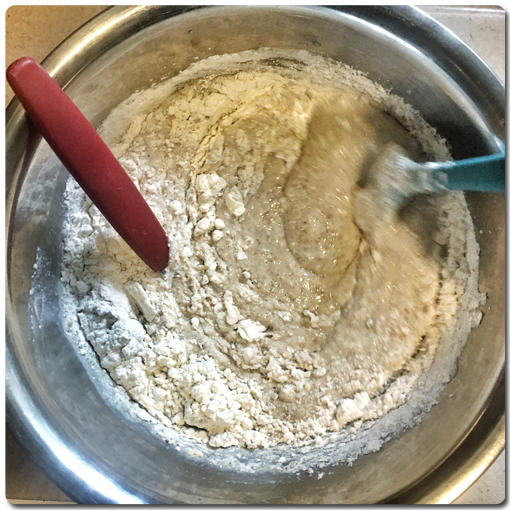 But, of course, it's more fun to try stuff together. Which is why we rang in the new year the way we like best: a simple, quiet dinner at home, and then brunch for two on the balcony. On top of: hitting my goal weight (which I'll have maintained for a YEAR by the end of this month!!), blasting through a number of strength and running PRs, taking part in and finishing a Spartan sprint, delving deeper into the world of charcuterie and (finally!!) trying out pottery, I also embarked on one of my craziest projects yet in the last week of the year: baking amazing sourdough bread at home. I successfully cultivated a couple of sourdough starters (check out their adventures with the hashtags #LeonidasTheLevain and #GorgoQueenofStarta), and…14 batches of dough, 20 loaves of bread (including one tray of focaccia) and one incredibly floury (like 6kg of flour and counting, seriously lol) week later, I'm pretty damn close. I doubt I'll ever perfect it, because perfect bread is just one of those ideals people seem to constantly chase and never reach haha, but I'm now consistently churning out pretty good bakes.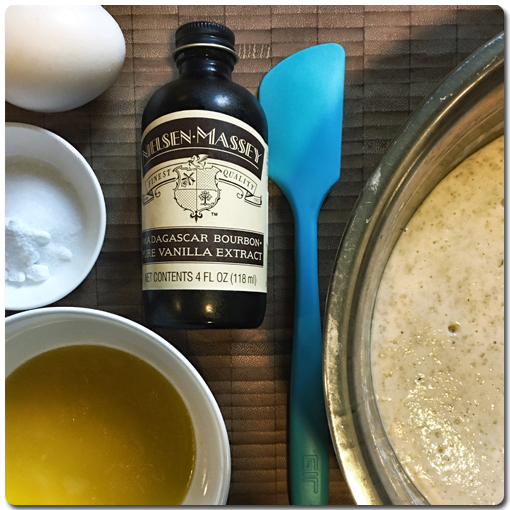 And as a thank you to L for putting up with my going full nerd on this project, I whipped us up some sourdough waffles for brunch on New Year's Day. It also happens to be a great way to use up a chunk of starter which might otherwise get discarded, and – most importantly – it was pretty freaking delicious. We had it with some lovely Fortnum & Mason potted meats that were a very sourdough-appropriate gift from E, and then because special occasion, closed off the meal with a dessert waffle each – topped with leftover Bourbon Eggnog Ice Cream from the annual The Goose & Cabbage Christmas Extravaganza and more bourbon-barrel aged maple syrup.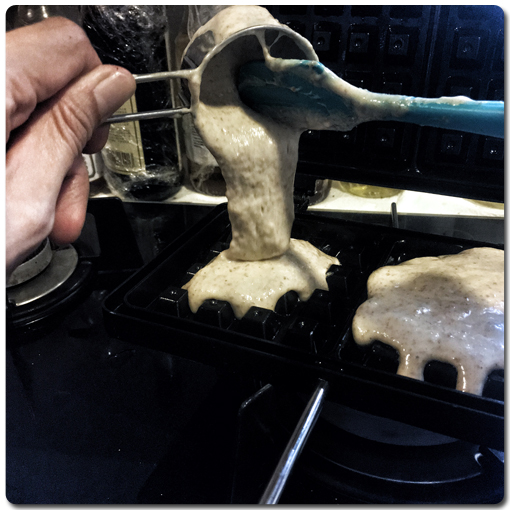 With any luck, I won't go missing for another 12 months again after this post (pretty unlikely, since I've just set a blogging reverse bet for myself HAHA), but just in case I do, this should tide you guys over for a bit. Happy new year, and may 2017 be filled with love, laughter, deliciousness and dreams coming true. <3
Sourdough Waffles
(Adapted from Sam Sifton's recipe on NYT Cooking)
240g unfed 100% hydration sourdough starter
225g buttermilk
120g pastry flour
25g light brown muscovado sugar
1 large egg
60g unsalted butter, melted
6g vanilla extract
6g baking soda
3g fine sea salt
oil or butter for greasing the waffle iron
The night before you want to have some waffles, mix up the sponge: combine the sourdough starter, buttermilk, pastry flour and sugar in a medium to large mixing bowl until smooth, wrap with clingfilm, and leave to ferment at room temperature overnight. (I've successfully sped up this process to around 4 hours by leaving it the microwave with a glass of hot water, where the temperature was around 35ºC, otherwise anywhere from around 8-16 hours would probably work.) It will look puffy and airy and have increased in volume by 50-75%.
When ready to make waffles, start preheating your waffle iron. I use a stovetop one, so I'll set it on a lower burner while I'm assembling the batter. Whisk together the egg, vanilla extract and melted butter, then mix this into the fermented sponge. Combine the baking soda and salt, then mix that into the batter.
My waffle iron makes two roughly 4×4″ waffles at a time, and I like around 1/4 cup of batter per waffle. For a round Belgian-style electric waffle iron, I'd imagine a heaped cup of batter would be a good amount to start with. Grease your waffle iron, and cook until deeply browned and crisp, roughly 2-3 minutes per side. Release from the iron using a small offset spatula, and keep warm on a rack in a low oven until the rest of the batter has been cooked.
Make ahead: batch can be doubled and leftovers can be frozen – freeze on a parchment lined sheet pan until solid, then wrap well in foil or pack in a freezer zip top bag. Defrost and pop in a toaster and you've got Better-Than-Eggos in the same amount of time!
Yield: 12-14 squarish waffles in my stovetop iron, or probably 3-4 round Belgian style waffles.