Monday, January 6th, 2014...11:42 am
Yamazaki and Yuzu Glazed Carrots
Jump to Comments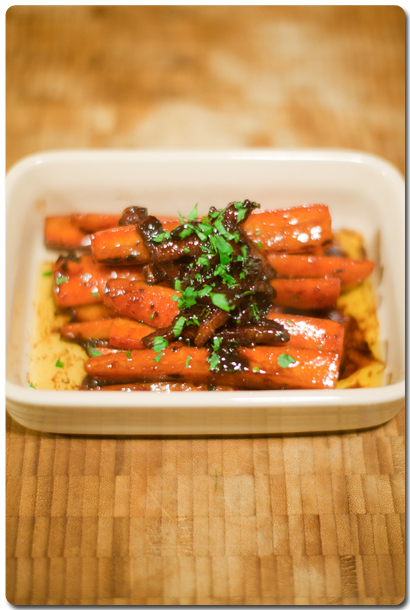 Happy 2014! I know I'm hardly the first person to make this observation, but it always confounds me how the last quarter of the year flies by. It probably doesn't help that the most significant birthdays in my life are bundled between end September and early November, and they're quickly chased by Thanksgiving, Christmas and the turn of the year, all of which have become little traditions in the circle of my surrogate HK family of friends, and which make the most amazing and delicious excuses to go all out in the kitchen for.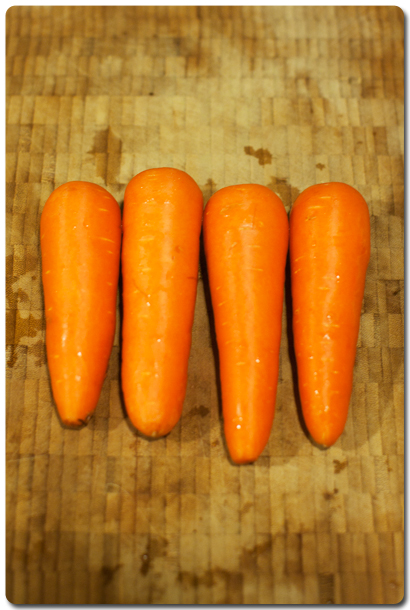 While prepping for this Christmas's feast, I found myself often reaching for two things: a bottle of whisky (or bourbon), and a tub of yuzu marmalade. The former I'll just attribute to my alcoholism and general desire to reach for a bottle of whiskey most nights anyway, but after our last trip to Japan, I made up a batch of yuzu marmalade as usual, but because I've been on this low carb diet for the last few months, I rarely eat bread or jam anymore, much less at home, so it's taken a little longer than usual to finish up this open jar that I don't want to end up throwing out.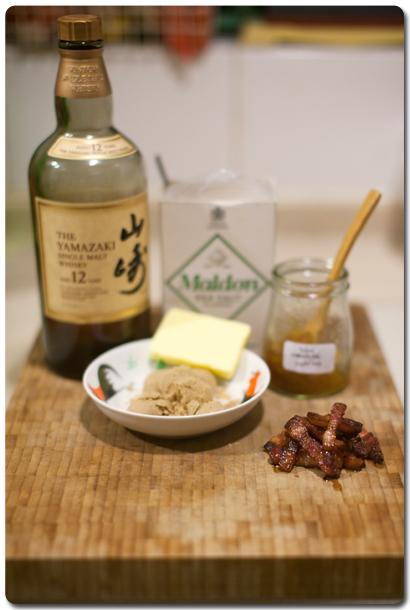 And that marmalade is pretty sneaky stuff. It managed to worm its way into the Christmas ham, a little dollop snuck into the dressing for the fried brussel sprouts, I think I blitzed up a scoop into the mushroom duxelles for my Beef Wellington, and of course I had to dump some into my glazed carrots. :)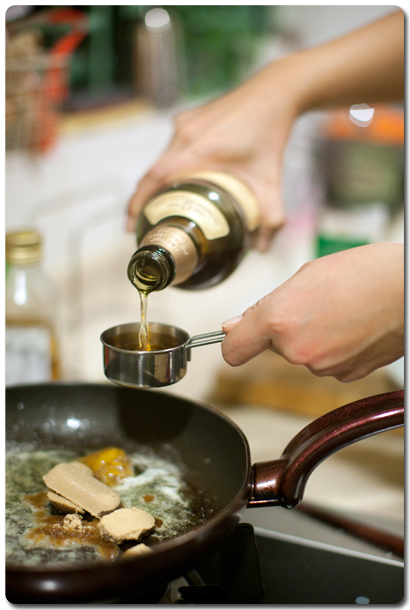 The bacon, by the way, was my favourite part of this dish. Having partly cooked it first, but without browning it too much, the bacon ends up candied in the whisky-marmalade-caramel sauce, and you get a sticky-crunchy-chewy explosion of sweet and saltiness all at once, and it went amazingly with the carrots. In fact, one guest even had the brilliant idea of topping some of our maple-pecan ice cream that we had for dessert with a couple of leftover pieces of bacon!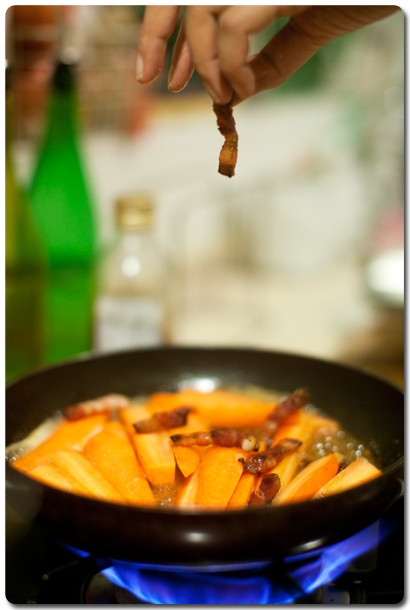 Glazed carrots have long been a staple side for my festive feasts, and there aren't many centrepieces that don't go well with them. But with this most recent iteration where on top of being sweet and delicious, they're also spiked, fruity, and topped with candied bacon, they've definitely become a highlight of the meal instead of a poor forgotten side.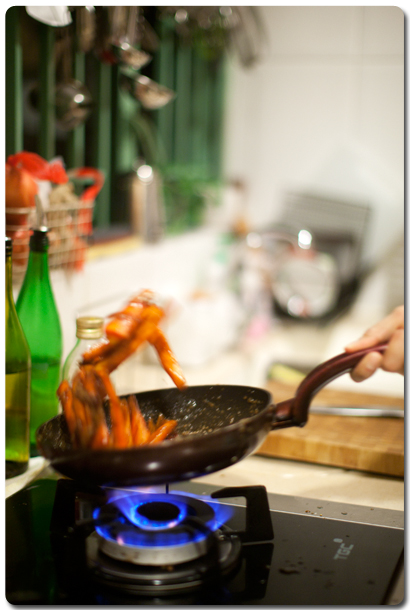 (Action photos by Victoria Ho)
Yamazaki & Yuzu Glazed Carrots
50g thick bacon lardons
600g carrots
30g unsalted butter
1/4 cup yamazaki whisky (or any other whisky or bourbon of your choice)
3 packed tbsp light brown sugar
2 heaped tbsp yuzu (or any other) marmalade
1/2 tsp fine sea salt
1 tbsp finely chopped flat leaf parsley
Combine the lardons with 1/4 cup water in a skillet, and cook gently until the water has evaporated and the bacon has just started to take on some colour. Don't let it brown deeply. Drain on a triple layer of kitchen paper towels, and set aside.
Peel and quarter carrots lengthwise. Or, if you manage to find skinny baby carrots, just scrub those well, and trim the tops to leave about an inch of the stalks on.
Combine the butter, whisky, sugar, marmalade and salt in a deep sauté pan over medium heat. Add the carrots, and cook, stirring gently, until the butter has melted and the sugar is starting to dissolve. Add the bacon. Increase the heat to high, and cook, tossing frequently, until the carrots are cooked through, starting to brown in spots, and each piece is well covered in the glaze. Essentially, what you want is for the carrots to be done cooking in the amount of time it takes for the liquid to cook off and for you to be left with a sticky, sweet glaze on the carrots. It's a bit tricky to communicate how long this takes, but I would err on the side of having your heat high-ish, and you can always add a little extra liquid to the pan if you find it drying out before the carrots are done. In all, it should take around 10-15 minutes, for small-medium sized carrots which were quartered lengthwise.
When the sauce has thickened to a syrupy consistence, add in half the parsley, and toss again to distribute it evenly. Remove from heat, transfer to a warmed serving plate, drizzling any remaining pan juices over, and sprinkle the rest of the parsley over the top.
Yield: Serves 4-6