Tuesday, December 24th, 2013...7:02 pm
Hamming it up this Christmas
Jump to Comments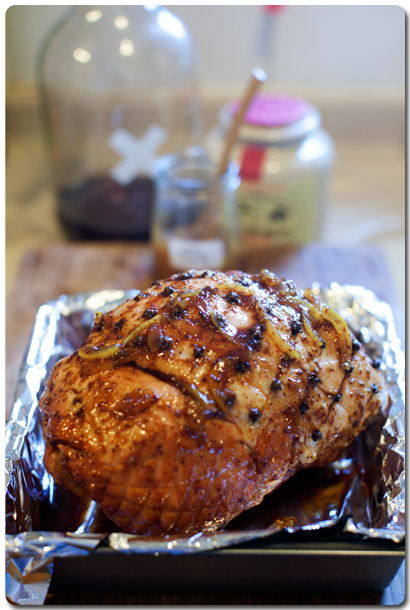 Boy this year has been busy! The second half of the year was filled with a crazy boatload of activity and drama, culminating in my siamese cat, Rufus, being hospitalised on Sunday for an emergency procedure due to a kidney stone-induced blockage and infection! But, I'm super pleased and relieved to report that he's recovering well and has been discharged to come home with us for Christmas.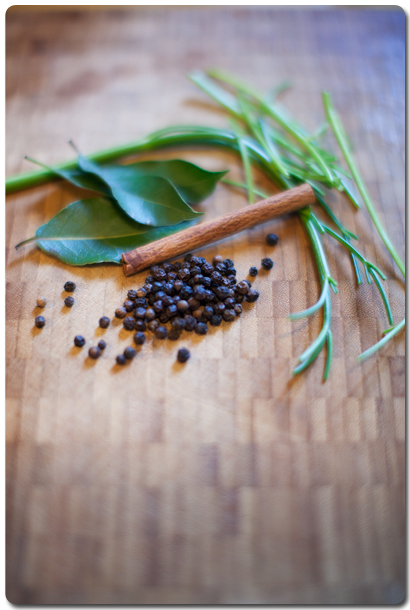 This year, a bunch of the usual Christmas orphans who usually come over for Christmas dinner at ours are away for the holiday season. In particular, E, the usual provider of Christmas Ham, is off galivanting in California, so for the first time in ages it has fallen to me to roast and glaze the ham. And since this is one of the few dishes that can be completely cooked in advance, I thought I'd take the opportunity to blog a Christmas recipe before Christmas, for once.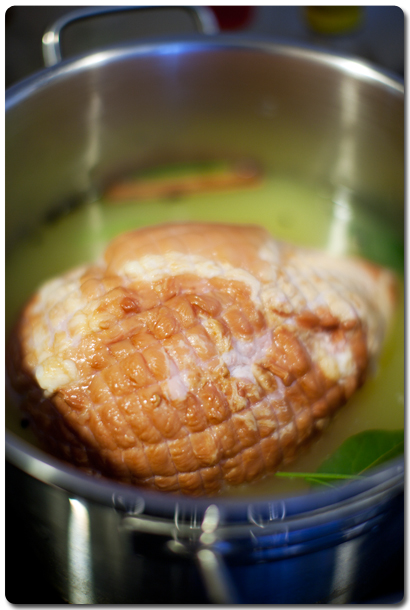 I looked around online and – in my usual fashion – cobbled together a recipe of sorts from a few sources, but it's mostly based on this one Gordon Ramsay. So, if any of you are panicking and looking around for help, hopefully this post comes just in time for your Christmas lunches and dinners.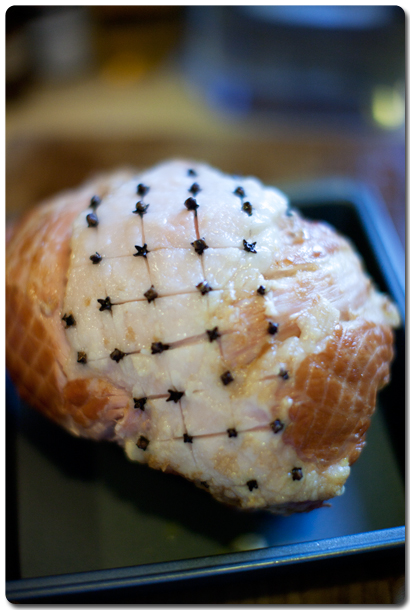 Because we've only got a small dinner party of 6 this year, I didn't bother buying an entire bone-in gammon, and made do with a 2kg boneless ham. If you've got an entire leg to contend with, just scale the ingredients up accordingly (double or triple it, using the weight of your gammon as the base). You'll probably need to tag on an extra 20 minutes or so of roasting time as well, but otherwise everything else will scale quite easily.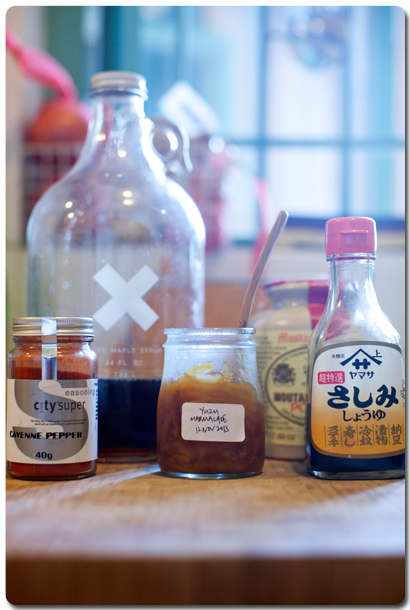 Anyway, here's wishing you lot a delightfully happy Christmas, may you all be surrounded by loved ones and laughter this festive season and all through the new year. :)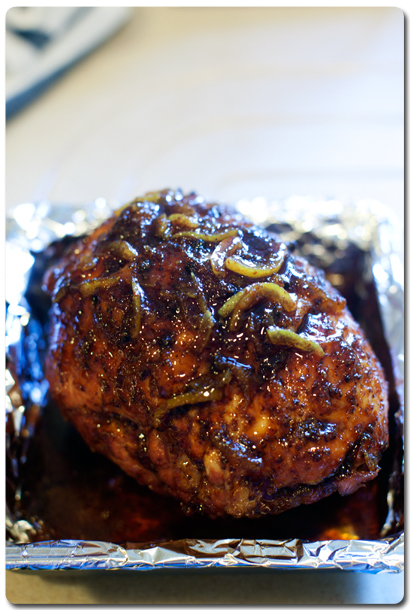 Marmalade-Maple-Mustard Glazed Ham
2kg smoked boneless ham, skin on
1L orange juice
1 cinnamon stick
2 tbsp black peppercorns
4 bay leaves
3-4 coriander or parsley stems (optional)
about 3 tbsp cloves
100ml maple syrup
3 tbsp yuzu (or any other) marmalade
2 tbsp whole grain mustard
2 tbsp soy sauce
1 tbsp cayenne pepper
1/8 tsp salt
Place the ham in a snug fitting pot, pour in the orange juice, and add the cinnamon stick, peppercorns and bay leaves. Top up with enough water to submerge the ham. Bring to a boil over high heat, turn the heat down to medium-low and simmer for 1.5h. I didn't bother topping up the liquid as it cooked down and just kept rotating the ham every 15 min or so, but if you find it unwieldy to flip the ham around, just top it up with water to ensure that the ham is submerged at all times.
Remove from the poaching liquid and discard the liquid. Once the ham has cooled enough to handle remove the skin and trim the layer of fat until it's about 1cm thick and quite even. Using a very sharp knife, score the fat in a crosshatched pattern, ensuring that you don't hit the meat. Stud the intersections of the scoring with cloves. If prepping in advance, the ham can be cooled, wrapped well with clingfilm and refrigerated for up to 2 days at this point. Allow it to come to room temperature before continuing with the next step.
Preheat the oven to 190C. Line a baking dish (I would advise using one with at least a 1-inch lip) with tin foil. Place the ham in the dish.
Combine all the ingredients for the glaze in a measuring jug. Spoon about 1/3 of the glaze over the ham, and roast for 15 minutes. Spoon the next 1/3 of the glaze over the ham and roast for another 15 minutes, repeating with the last of the glaze and basting with any leftover glaze in the bottom of the pan, rotating the roasting tray so the ham browns evenly.
Ham can be served immediately, or can be allowed to cool and refrigerated for up to 2 days. Allow it to come up to room temperature before serving.
Yield: Serves 6, but there should be enough leftovers for a couple of Boxing Day sarnies.