Wednesday, July 3rd, 2013...6:27 pm
Cherry Tomato Vinaigrette
Jump to Comments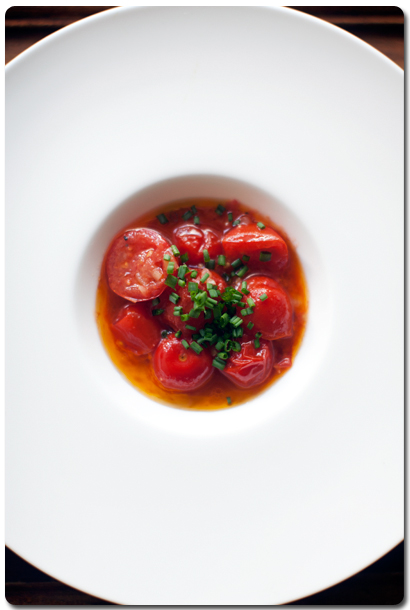 Those of you who follow me on twitter or instagram have probably heard/seen me whining about my (most) recent effots in losing weight. In particular, for about 4 weeks now, I've been on a diet that excludes most types of carbs. In fact, the only two types of fruit that I'm allowed to eat (6 out of 7 days a week, anyway) are tomatoes and avocadoes.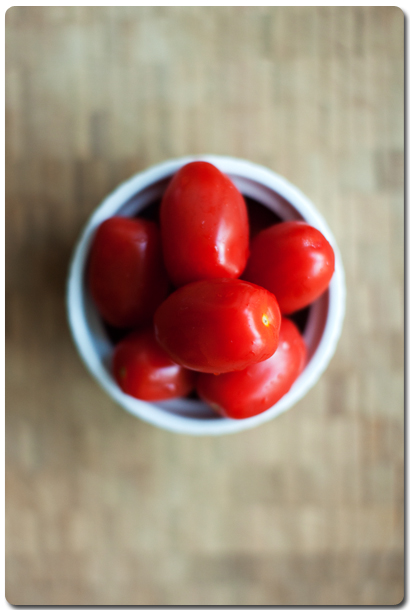 The diet also involves making sure I eat a pretty high protein breakfast within 1 hour of waking up, and eggs are the obviously easy choice. I've messed around with different styles, but I've more or less settled on scrambled as my eggs of choice for the morning – it takes about 3 minutes to prepare, doesn't require any toast-like things to mop up runny yolk, and if I get the heat right, I've just about gotten my morning routine down to being able to make a cup of pourover coffee and my scrambled eggs concurrently. :)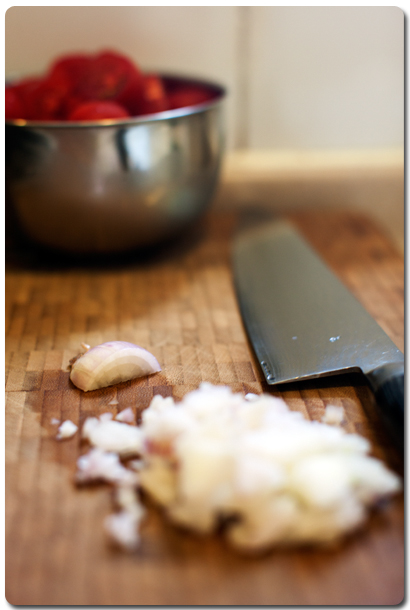 The thing is, scrambled has never been my favourite way to eat eggs. I enjoy them just fine, but it's a little monotonous – the whole mess is rather homogeous (both flavour- and texture-wise), especially in contrast with say a perfectly fried sunny side up. And repeat that boredom every single morning! So you can imagine how pleased I was when I found this recipe for a Cherry Tomato Vinaigrette in this month's issue of Bon Appetit. Topped with a generous spoonful of this vinaigrette, scrambled eggs no longer have such a boring mouthfeel or flavour. And it goes pretty well with most of my lunches and dinners – whether just dolloped on the side of some roast chicken, or stir-fried with other vegetables. And – of course – if you end up with some leftovers after 3 or 4 days, just tip them into your fridge-clearing crustless quiche. :)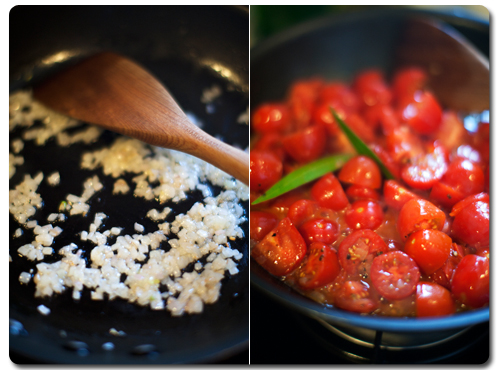 I've adapted BA's recipe slightly – making up a slightly bigger batch (I'm really quite addicted to and dependent on it at the moment), and I also threw in a couple of bay leaves when I found some lying around in the fridge. A couple of sprigs of thyme would go really nicely too. I also salt my chopped tomatoes lightly in advance (just before I prep the rest of my ingredients), which helps to draw out some of the moisture so that the tomatoes don't need to hang out over heat for any longer than necessary, which I find helps to keep the flavour brighter and fresher.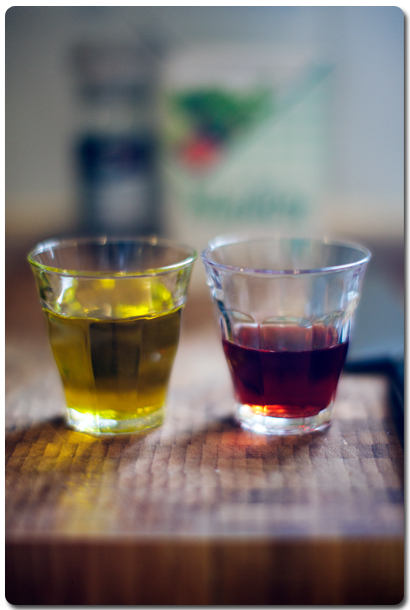 Tomatoes, shallots, vinegar, oil and a dusting of herbs. And the stuff goes with everything, from eggs to burgers, wilted spinach to sausages, and is one of my go-to condiments these days. Try it – I'm pretty sure that even if you aren't on a miserably restrictive diet like me, you'll enjoy this all the same. :)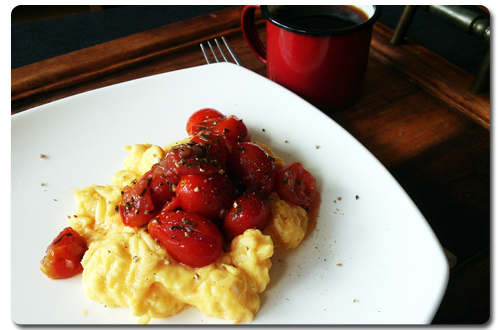 Cherry Tomato Vinaigrette
(Adapted from this Bon Appetit recipe.)
Note: The cherry tomato vinaigrette will keep, well-wrapped and refrigerated, for about 3-4 days. The chives taste fresher and better if you keep them separate and mix them in just before serving (let the tomatoes come to room temperature), but to be honest I normally end up just mixing them all in so I can grab a spoonful and not have to worry about faffing about with chives too.
500g cherry tomatoes
sea salt
2 tbsp olive oil
50g finely chopped shallot (about 2 medium)
2 bay leaves
freshly ground black pepper
2 tbsp red wine vinegar
4 tbsp extra virgin olive oil
6 tbsp finely chopped chives
Depending on the size of your tomatoes, you can halve or quarter them, and leave some of the smaller ones whole or halved. Sprinkle with about 1/2 tsp of sea salt, toss, and set aside for about 10 minutes.
Meanwhile, sweat the shallots in the first 2 tbsp of olive oil over medium heat. Cook them gently until they soften, but it's okay if a few of them get a little browned around the edges. When ready, tip all the tomatoes in, add the bay leaves, and season generously with black pepper. Gently cook until the tomatoes are softened (but still taste fresh), about 3-5 minutes. Smush up a couple of the tomatoes with the back of a wooden spoon too. Have a taste, and correct the seasoning if necessary.
Add in the red wine vinegar and extra virgin olive oil, mix well, then remove from heat. Top with chives, and serve warm or at room temperature.
Yield: About 8 servings