Tuesday, July 24th, 2012...3:49 pm
Bananarama
Jump to Comments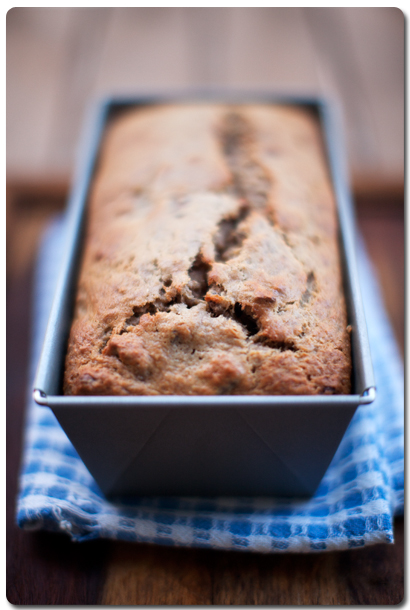 It's often the simplest dishes whose recipes evade me. Take banana cake for example: it's not difficult to pull together a passable loaf, bits of banana flecking a crumb that's moist enough, with a decently toasted crust. But to achieve that perfect banana loaf – rich with banana flavour, moist without being too dense, a tender crumb that has just enough bite without turning chewy, perfumed with vanilla… that's a whole different story.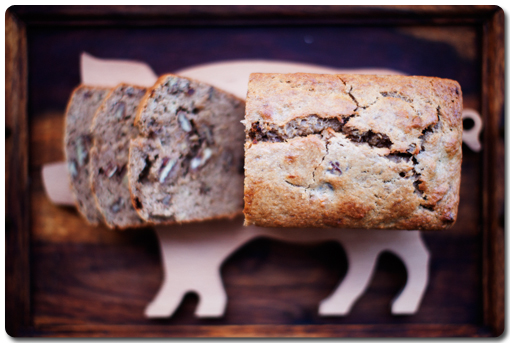 Those of you who follow me on Twitter probably noticed that I've been experimenting with a couple of recipes over the last week or so. And while I hesitate to say that I've got it perfected, I think this one comes pretty close. It's based very heavily on a recipe from David Lebovitz (somebody please smack me for not having tried his first), but I made a few changes to suit my preferences. Also, his cake is baked in a square pan and I had to tweak the temperature and timing as well to get it right in a loaf pan.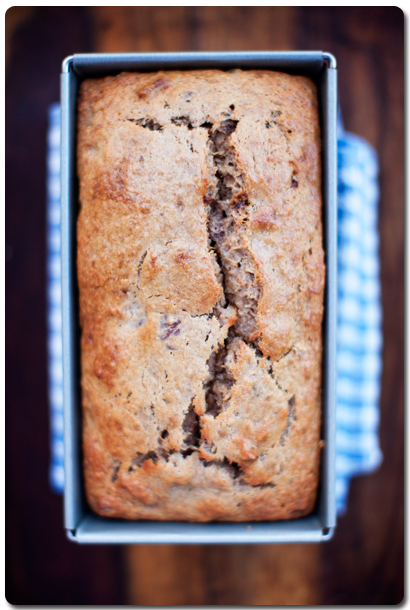 As with most of my comfort foods, and dishes that I make regularly, this recipe will probably continue to be subject to tweaks along the way. But in the meantime, I'm pretty confident that this version won't disappoint. It's got a small percentage of whole wheat flour to lend heft and texture (without letting it get too heavy), a whisper of cinnamon that marries well with the vanilla in bringing out the banana without overpowering the flavour profile of the cake, it's moist, it doesn't even require a stand mixer to cobble together, and it even comes with handy doodle instructions too! :)
Banana Cake
(Adapted from this David Lebovitz recipe.)
180g all-purpose flour
30g whole wheat flour
1 tsp baking powder
1/2 tsp baking soda
1/2 tsp salt
1/4 tsp ground cinnamon
125g caster sugar
260g (250ml) mashed banana (2-3 medium bananas, see instructions)
80g unsalted butter, melted, plus more for greasing
1 large egg
1 large egg white
135g (125ml) Greek yoghurt
1 tsp vanilla extract
1 tbsp coffee extract or strong espresso, cooled (optional)
125g pecans, toasted and roughly chopped (optional)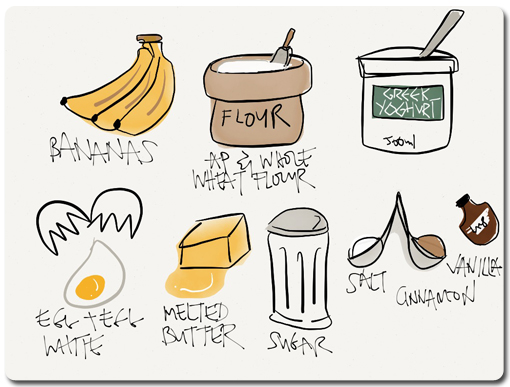 Preheat the oven to 170ºC. Grease a loaf pan, and line the bottom with greaseproof paper. Set aside in the fridge.
Sift both flours, baking powder, baking soda, salt and cinnamon into a large mixing bowl. Add the caster sugar, and whisk until evenly combined.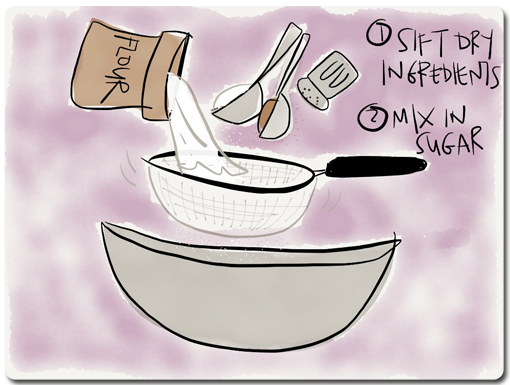 Mash the bananas in a bowl, using a fork, until it becomes quite runny and any remaining solid pieces of banana are no bigger than the size of a pea. It should resemble baby food. Measure out 260g/1 cup.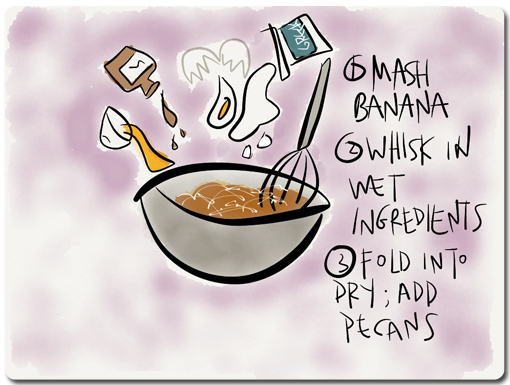 In another mixing bowl, whisk the mashed banana, melted butter, egg, egg white, yoghurt, vanilla extract and coffee extract together. Make a well in the bowl with the dry ingredients, and pour the wet ingredients into the well. Using a rubber spatula, gently mix until almost completely combined. If using the pecans, add them in now, and fold gently just until combined. Do not overmix – you want the crumb to remain tender, so stop once any traces or streaks of flour disappear.
Scrape the batter (it will be pretty thick and slightly lumpy) into the prepared tin, and bake for 55-60 minutes or until the top is golden brown and the middle has just set. A cake tester inserted into the middle should come out mostly clean, but bear in mind that this cake will be moister than say a pound cake, thanks to the mashed banana.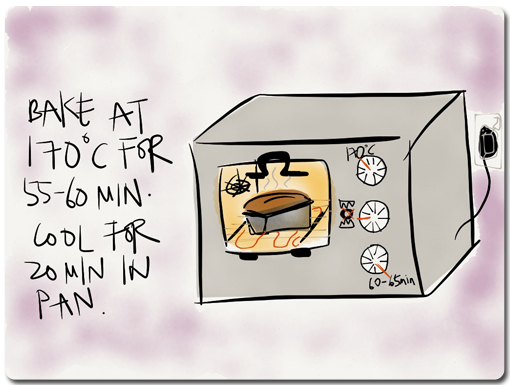 Cool in its tin, on a wire rack, for 15-20 minutes before removing from the tin and slicing. Best enjoyed when still warm from the oven, or toasted. This cake will keep, well-wrapped, for 3 days at room temperature, or frozen for 2-3 months.
Yield: 1 loaf