Monday, February 8th, 2010...1:56 pm
Weekend Steak Dinner
Jump to Comments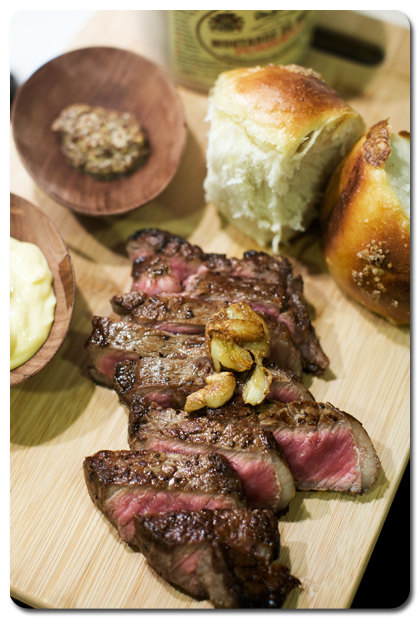 So most of my friends know what a huge fan I am of Michael Ruhlman – it was, in a way, his – of a Chef series that kind of encouraged me to give working in a restaurant kitchen a go. (Far from hyping up/glamourising the job, he told it pretty much like how it was which made me feel a little more prepared for what was in store.) And it was one of the best decisions I've ever made in my life, as I think I learnt a lot about myself and – hey! it was great fun :)
Ruhlman's also the author of Ratio (also available as a pretty spiffy iPhone App), which I think is one of the most important books ever written for people trying to learn how to cook. I've written briefly about it before, but essentially he strips recipes back to their core: ratios (mostly by weight), and I love A) any recipe that will allow me to measure by weight instead of volume, and B) a recipe that allows you to adapt it with different flavour combinations and seasonings. The concept of Ratio teaches you to cook exactly like that: giving you basic building blocks and letting you free to pretty much create whatever you'd like in the kitchen.
A couple of days ago, he also posted a recipe for buttermilk dinner rolls on his blog, and I've been looking for a soft roll recipe for a while now. (The bread ratio – 5 parts flour : 3 parts water – is great for most sturdy loaves but I wasn't confident enough about knowing what to substitute for the liquid etc in order to get a soft fluffy dinner roll.)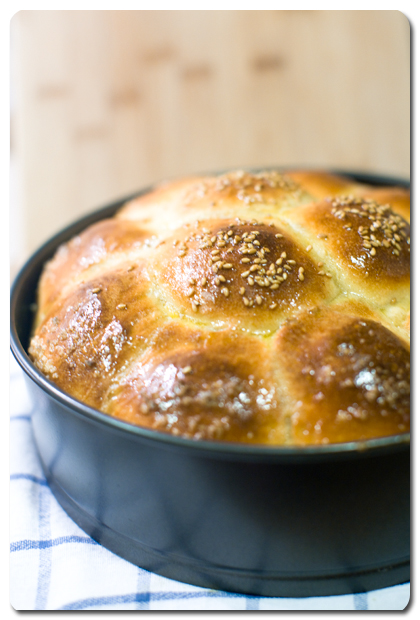 Being the fan girl that I am, I decided to give those rolls a try, sprinkling the middle buns with sesame seeds and the rest with flaky salt. Unfortunately, I didn't really let it proof enough during the second rise so the rolls were a little dense (and baked into a slightly non-roll-like shape), but the flavour and – density aside – texture were great. I'm intending to try them again very soon (perhaps with a slightly smaller amount of flour: maybe 700g?), this time starting out a little earlier so I don't end up rushing the process.
Ruhlman recommends eating these with soft butter, but they were also fantastic, torn into chunks and smeared with a little homemade mayonnaise (egg yolk, dijon, mild-flavoured olive oil) or whole-grain mustard, and topped with a rare slice of steak (fried in some canola oil scented with two cloves of garlic). It was a fantastic dinner, and thanks for inspiring this meal, as well as countless others, Michael! :)