Friday, January 13th, 2012...6:15 pm
Brandied Cherries
Jump to Comments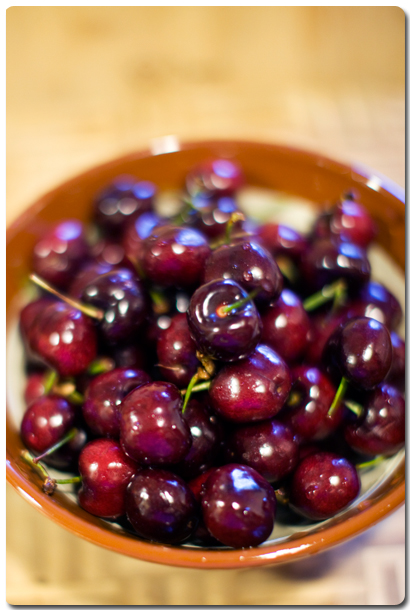 I hate brandied cherries. Well, to be fair, I'm not the biggest fan of fruit that comes in any form apart from fresh or as juice. (I particularly dislike dried fruit and that annoying knack they seem to have for appearing in my cake or cookie which just destroys the entire eating experience for me.) But brandied cherries, as far as I was concerned, deserve a special place in hell all for their sickly sweet, horror-face-and-gag-reflex-inducing qualities. Why anyone would voluntarily include them in desserts or cocktails was far beyond my comprehension.
So why then am I writing an entire post about them? Those of you who spend any time with me at all know that I've spent the last few months more or less obsessed with this little bar tucked away down a market street in Central, Hong Kong. It's a really comfortable and well decorated place, with low muted lighting, soft jazz in the background (and live music once a week!), delicious food (I particularly love their lobster rolls and Cobb salads), and a delightful range of whisky. They're also pretty famous for their well-crafted cocktails, and it was in one such cocktail that I tried their house-made brandied cherries.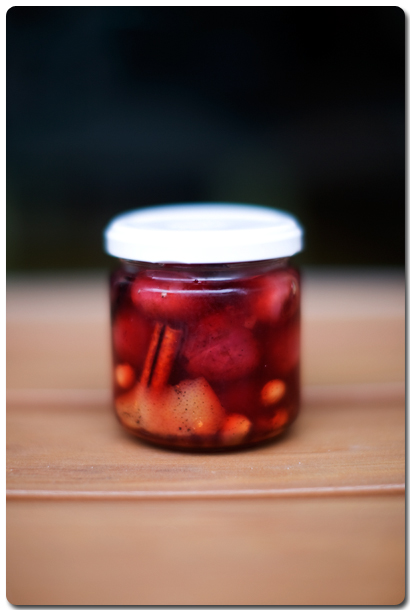 And what a breath of fresh air they were! These tiny nuggets, skewered on a gorgeous metal cocktail stick, they actually tasted like cherries. Hints of spice and refreshingly scented with brandy, instead of reeking of it. On my fourth visit there in one week, I tried and tried my darnedest to sweet talk the bartender into telling me how they made them, but it turns out even they don't know. Their concept manager makes them, guarding his recipe very closely, and delivers the already marinated cherries by the tub to the bar.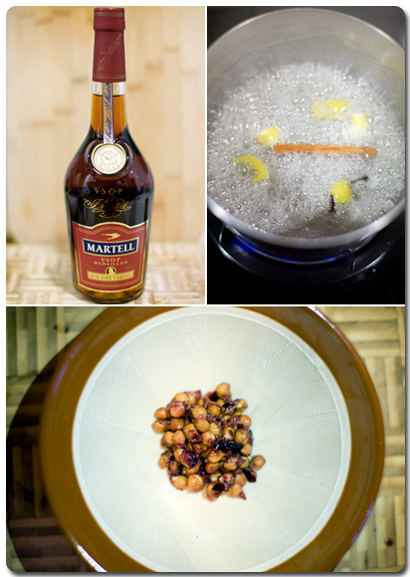 It was then that I figured I had no choice but to try and recreate them on my own if I ever wanted to figure it out. After a couple of days of crazy googling and recipe-note-scribbling, I still haven't quite cracked their recipe – those cherries are a lot smaller, so I suspect they must use dried cherries that are rehydrated in the syrup, which I suppose I'll try next time round. But I'm quite delighted with what I've managed to come up with at home. These are quite delicious, spooned straight from the bottle, and I imagine they'll go as nicely over a scoop or two of vanilla ice cream as they do with these Old Fashioneds I've just figured out how to make (I'll write about that in the next post!) :)
Brandied Cherries
600g sweet red cherries
100g sugar
50g water
25g lemon juice (zest + juice of 1/2 lemon)
2 cloves
1 vanilla pod
1 3-inch cinnamon stick
150g brandy
Wash and pit the cherries, saving the pits. Tie the pits together in a clean square of cheesecloth. Wash and sterilize an appropriately sized mason jar, and leave it in an oven set at 100ºC (for at least 10 minutes).
Combine the sugar, water, lemon zest and juice, cloves, vanilla pod and cinnamon stick in a medium-sized, heavy-based saucepan over medium-high heat and bring to a boil, swirling to make sure all of the sugar dissolves. Reduce the heat to medium-low and add in the cherries and pits, stirring gently to make sure that you don't turn the cherries to mush. Simmer for 4 minutes, then remove from heat and add the brandy, gently mixing to combine.
Transfer the cherries and any syrup into your sterilized mason jar, seal, and refrigerate. They taste best after about 3 days, and should last for at least 3 months in your fridge, assuming you don't finish them before the time is up.