Monday, January 9th, 2012...10:51 am
The Goose of Christmas Past
Jump to Comments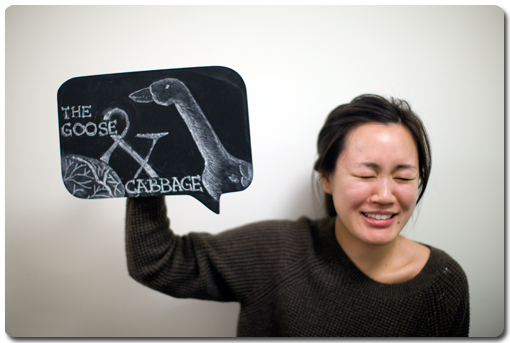 Goose. Cabbage. Carrots. Stuffing. Potatoes. Corn. Ham. Gravy. Tiramisu. Oh my god, I feel sick all over again. Which is probably why it's taken me two weeks to muster up the strength to look at the photos I took of the food (whilst slowly working my way through the leftovers) so that I could do up this post. But boy was that a meal to write home about. :) One guest at our dinner of Christmas orphans, D, even dubbed our apartment The Goose & Cabbage and proceeded to draw a sign for our gastropub. (PS: D – Don't kill me, I love that picture to bits!)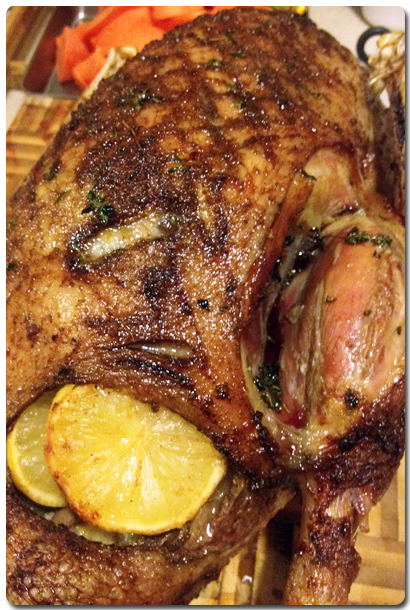 I've always wanted a Christmas dinner with a gigantic roast bird, but the size of my flat (and, therefore, the respective sizes of my dinner table – seats 6, tops – and my tiny, tiny oven) meant that roasting a turkey was pretty much out of the question. Which wasn't an issue, since I'm not the biggest fan of turkey anyway. Chickens didn't seem festive or special enough, which is how I landed up with a 6kg goose stuffed in the bottom of my fridge on the 23rd of last month.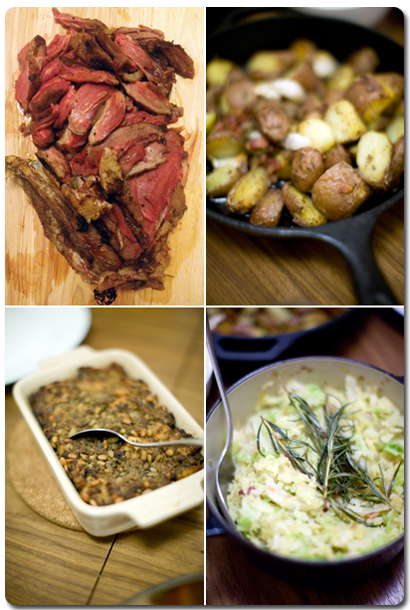 That got roasted with a blend of fresh citrus zests and spices, glazed with a little extra marmalade and honey mid-way through the cooking process, and once I had decided on that, I got to thinking about the more interesting tasks: the sides. To me, big meals centering around a roast (be it a prime rib, chicken, turkey, or goose like in this case) are more about the sides than the main event. Potatoes roasted in goose fat were a no-brainer, and I picked two more veggie sides (creamed corn with parmesan and nutmeg, and savoy cabbage shredded and sautéed in more goose fat and scented with rosemary and minced garlic), outsourced the glazing of a ham to E, and then set about thoroughly researching stuffing (or, if you're gonna be a pedant, dressing, since I didn't actually stuff it in the bird's cavity) recipes.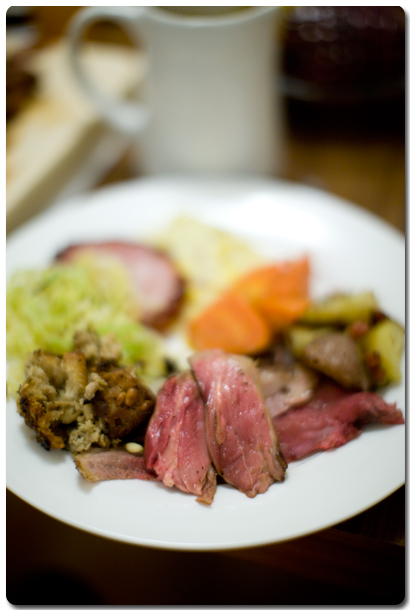 And boy was that stuffing my downfall. I barely managed to finish one small helping of the actual goose, delicious as it was, 'cos I couldn't help going back for seconds and thirds and fourths! of stuffing. Juicy, well-seasoned sausagemeat, toasted pine nuts, garlic ciabatta croutons, packed together with loads of herbs into a well-buttered dish and baked to juicy perfection. But I'm glad I made tonnes of it, 'cos it made a delicious breakfast hash or two with the leftover roast potatoes, and topped with a fried egg.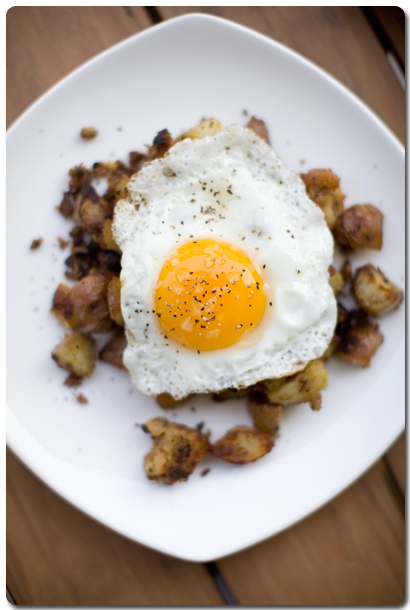 Stuffing and Roast Potato Breakfast Hash
1 cup sausage stuffing (see recipe below)
1 cup leftover roast potatoes
3 tsp goose fat, divided
2 eggs
salt and pepper
Roughly chop the stuffing and potatoes. In a cast iron pan (or another heavy based sauté pan), heat 1 tsp of the goose fat over high heat. Add the potatoes, and cook, stirring gently, until sizzling hot and starting to crisp up again around the edges, about 6-8 minutes.
Lower the heat to medium and add the stuffing, stirring gently until completely heated through.
Fry each egg in 1 tsp of the remaining goose fat in a nonstick pan to your liking – I personally think a very runny yolk makes a delicious sauce for the hash. Divide the hash between two warmed plates, and top each with an egg. Season the eggs with a sprinkle of flaky sea salt and a few twists of the pepper mill, and serve immediately.
Yield: Serves 2
Sausage, Sage and Pinenut Stuffing
2 cloves garlic, microplaned (divided)
1/3 loaf bread, torn into 1/2 inch dice (I used ciabatta, but I think brioche would work wonderfully too)
2 tbsp butter, plus extra for greasing
2 shallots, finely chopped
1 stalk celery/leek, finely chopped
500g sausage meat (I used sage sausages, but any fresh sausages you normally like would work well here)
large bunch of fresh sage, minced
slightly under 1 cup chicken broth
1 egg
small handful of flat-leaf parsley, minced
100g pine nuts, toasted
salt and pepper
olive oil
Preheat oven to 160ºC. Combine 1 tbsp of the microplaned garlic with 2 tbsp of olive oil, and mix well. Toss the bread pieces with the garlic and oil, season lightly with salt and toast in the preheated oven until golden brown, rotating the pan and tossing the croutons to toast evenly, about 15-20 minutes. (Can be prepared a day in advance and stored, once cool, in an airtight container.)
Turn the oven up to 180ºC. Melt the butter in a large, heavy-based pan over medium-low heat. Add the shallots, the rest of the garlic, and leek, and gently sweat until softened, about 5 minutes. You don't want the vegetables to brown too much. Remove from the pan and set aside.
Turn the heat up to medium, and add about 1-2 tsp more of olive oil to the same pan. Tip the sausage meat and the minced sage into the pan. Using a wooden spoon, break up all of the sausage meat and stir well so that there are no large clumps remaining – the largest pieces should be no bigger than 1/2cm or so. Continue to stir and cook until about 75% of the meat is no longer pink, about 8-10 minutes. Add the reserved vegetables and half the chicken stock to the pan, then remove from heat.
Whisk the remaining stock, the egg, and the minced parsley (about 2 tbsp) together, and add this to the sausage mixture, stirring continuously. Season with a little more salt (you shouldn't need too much since the sausages are already seasoned), and very generously with black pepper. Gently fold the croutons and pine nuts in.
Transfer to an appropriately sized, buttered baking dish, cover tightly with aluminum foil, and bake until the centre of the stuffing registers 66ºC on an instant-read thermometer, about 45 minutes. (The stuffing can be prepared until this stage a day in advance, then cooled and kept refrigerated. Just bring it to room temperature before the next step.)
Uncover and continue to bake until golden brown and crispy on top, about 15-20 more minutes. Serve warm.
Yield: Makes enough to serve 6 with leftovers (about a 9″ square cake pan's worth)