Monday, February 7th, 2011...5:36 pm
My Amazon aStore
Jump to Comments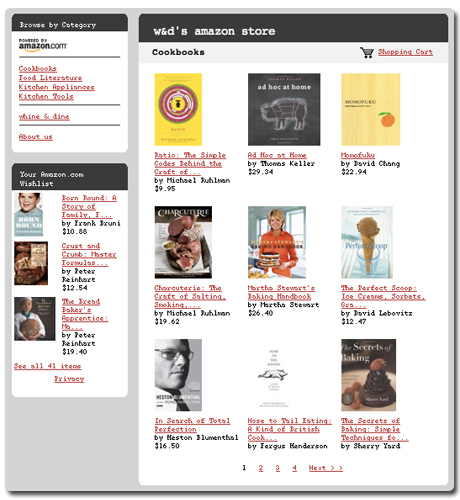 Hello boys and girls! This is just a quick note to let you guys know that I've recently created an Amazon Associates Store.
Nothing much to fuss about – friends of mine (and, every once in a while, a lovely commenter here too!) often ask me to recommend books and various kitchen gadgetry, so I thought it might be useful to have a list of all the things I love in one place for your perusal.
I currently have four categories in my little shop: cookbooks (most of which I love to cook from, but others – like Heston Blumenthal's In Search of Total Perfection – were enjoyed more for the concepts they introduced to me), food literature (which includes reference books and a couple of non-cookbook food books which I've found very interesting), kitchen appliances (how could I possibly leave out my beloved sous vide supreme from this store!), and a some smaller kitchen tools, pots, and pans that I turn to 90% of the time when I'm in the kitchen.
You can all also rest assured that I'm not blindly recommending things that I like the idea of, but have no personal experience with – everything on that store is something that is, or once was, part of my kitchen or library, and – if you've been to my place recently – is something you've probably seen me waving in your face if you gave me even the slightest chance to do so. (So if you're wondering why I don't have a digital scale or an instant-read thermometer in my store, it's 'cos the ones I'm using at present aren't available on Amazon.)
Right now, I'm trying to keep the lists pretty concise, so it's easier for everyone to browse around. It wouldn't really do for you to head over there and find 2359878923 pages of "stuff I like" and just have to sift through it all on your own, would it? And to make things even clearer, I'm keeping the first page of my Cookbooks category as my Top 9 favourite cookbooks. (The rest of the books are listed alphabetically.)
For easy access, I've included a link in the header which will take you directly to the store, so head on over, take a look, and maybe you'll see something you like in there!
You can probably find most of these items elsewhere, and possibly for cheaper too, especially if you – like me – don't live in the US and can't take advantage of Amazon's Super Saver Shipping offers etc. But in the event that you were going to buy any of these online, or from Amazon, it would be ace if you could consider buying it from my store. It would give me a few cents of commission which I would then probably spend on more books and kitchen paraphernalia, and possibly end up recommending to you too! So, win-win. :)
Anyway, I hope you guys like the shop. If there's something that you think is missing from my list, or another book you'd like my opinion on, I'd love to hear from you. Likewise, if you've got any feedback, do e-mail me, or leave a comment below. If received well enough, I might add a couple more categories (like non-food books), so we'll see how things go. Thanks for reading w&d, and happy shopping. :)
Disclaimer: I have not been paid or received any sort of compensation for placing any of these products on my store.