Thursday, October 1st, 2009...11:00 pm
Mac & Cheese
Jump to Comments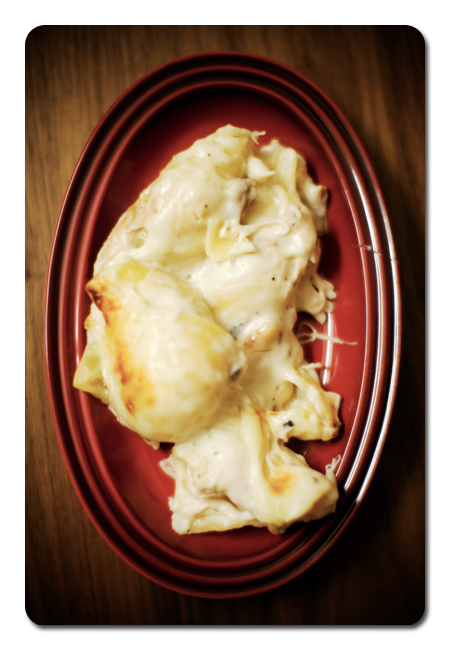 I'm a huge fan of macaroni & cheese. I mean, what's not to love? Perfectly cooked pasta (I quite casually use whatever shell, tubular or twisty short pasta I've got lying around interchangeably), creamy béchamel, and – swoon – oh, the cheese. I also really love that it's one of those dishes you can eat unadorned, but it stands up so well to additions of protein, vegetables, or whatever leftovers you've got hiding out in your fridge.
This version that I've finally come to rely on is one that really doesn't utilise too many things that you aren't likely to have lying around. And since we're just back from a holiday to Tokyo, and still suffering some withdrawal symptoms from it, it's the perfect dish to whip up, while savouring the last financier from Pierre Hermé or peeking at the hoarded èclairs from Sadaharu Aoki. (But I'll talk more about that holiday in another post soon!) A little milk, some seasonings, a little butter and flour come together to make a béchamel, which you then stir whatever mixture of cheeses you so desire into. Leftover roast chicken, crisped bacon lardons, or even steamed broccoli florets can be stirred in if you don't feel like having it plain, then cook your pasta al dente and fold that in gently. If you've made your roux (and béchamel) in an ovenproof pot, the entire thing can then go under a hot grill (with a couple more handfuls of cheese scattered over), and once bubbling, browned and almost-burnt in spots, you've got a delectable one dish meal. Or a sinful side that would be in danger of showing up whatever main you've got on display.
Either way, please, please, PLEASE put those boxes of Kraft Mac & Cheese away. This one takes as much time to assemble as it does to cook your pasta, and is so, so worth it. I mean, c'mon – just look at the picture at the top of this post and tell me that hasn't got your mouth watering already.
My Favourite Mac & Cheese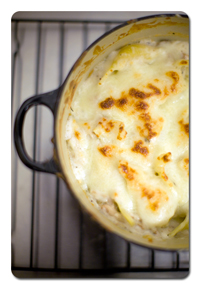 20g unsalted butter
20g all-purpose flour
500ml whole milk
200g freshly shredded mozzarella
100g freshly grated parmesan
250g dried macaroni (substitute with the same amount of any other short dried pasta)
salt & pepper
optional: a couple sprigs of thyme or rosemary, leaves picked and roughly chopped
optional: shredded leftover roast chicken, crisped bacon lardons etc
Preheat your grill to 200C. Bring a large pot of generously salted water to the boil.
Melt the butter in a medium-sized, preferably ovenproof, pot or dutch oven over medium heat. Add the flour in, and stir with a wooden spoon, until the pan starts to smell slightly nutty, regulating the heat to ensure that the roux does not brown. Gradually add in the milk, stirring or whisking all the while so you get a smooth, velvety mixture. Once all the milk is added, simmer over low heat to reduce until you have a sauce that coats the back of a wooden spoon.
Add the mozzarella and half the parmesan, a little at a time, then season to taste with salt and plenty of black pepper. If using, stir in the herbs and whatever proteins or vegetables you'd like to include. (I suggest around 1/4-1/2 cup of shredded leftover roast chicken, or 3-4 rashers worth of lardons.) Cover, and keep warm.
Cook the pasta until just al dente, then drain, reserving a little of the cooking water. Fold the pasta into the sauce, taking care not to break the pasta up. If necessary, add a little of the cooking water to loosen the sauce. Sprinkle the remaining 50g of parmesan over the top, and put the entire pot into the oven. (If you don't have an ovenproof pot, transfer the mixture to an ovenproof dish or casserole before sprinkling the parmesan over.) Cook under the grill for just 5-10 minutes, or until bubbling, the sauce is browned in spots, and the edges are getting kind of crispy.
Yield: Serves 2 as a main dish, or 4 as a side.