Tuesday, September 29th, 2009...4:01 am
She's My Cherry Pie
Jump to Comments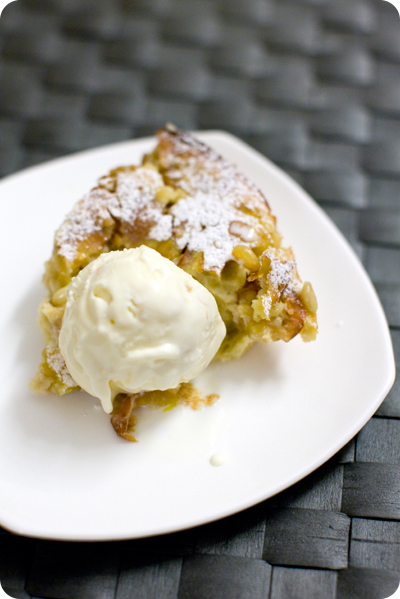 I don't even want to know how many cherry-dish posts have been so titled. But it's alright, I'm not gonna think about it. Nor am I going to think about how I didn't even actually make Cherry Pie, but Cherry Clafoutis.
I first became a little obsessed with making a clafoutis over a year ago, when I kept seeing recipes popping up in the food magazines I often flip through, and for some reason none other than one filled with ripe, sweet, nuggets of cherries would do. I'm not even sure why – considering my aversion to cherries (chalked up to one too many sour ones that I've over-enthusiastically bit into). Then the season passed, and the idea was pushed to the back of my mind, lost in a tangle of all the other ones filed under "To Make".
Fast forward to a weekend, early last month, where you'd have find me wandering the aisles of a supermarket, picking out ingredients for an upcoming dinner party. I did a double take as I ambled by the produce section, where there were a few trays of Royal Rainier Cherries stashed between their usual deep red counterparts.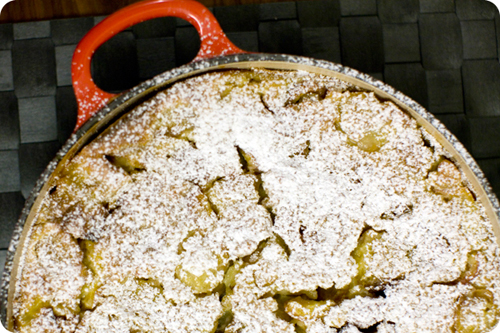 For those of you who've hesitated making clafoutis, you really shouldn't – take it from me. It's a ridiculously simple process, and if you've ever made pancakes from a box, then you've got all the necessary skills. Cherry Clafoutis is originally made with unpitted cherries, which imparts a slightly nutty, almost almondy flavour to the pie. I didn't really like the idea of one of my guests crunching down on a pit and breaking a tooth, though, so I've added in that nuttiness by means of amaretto and some ground almonds. As Rainier Cherries are also quite a bit sweeter (and somewhat lacking in tartness) in comparison to the more common Bings, I've also added in a little lemon zest to perk it up and reduced the amount of sugar.
Rainier Cherry Clafoutis
500g Rainier Cherries, pitted (substitute with other types, or other fruit if unavailable)
100g ground almonds
100g all-purpose flour
4 large eggs
100g granulated sugar (increase the amount accordingly if using different fruit)
1 tbsp amaretto
1 tsp vanilla extract
1 1/2 (375g) cups whole milk
pinch of salt
100g pine nuts (optional)
butter for greasing
icing sugar for dusting
Preheat oven to 175C. Butter a 9 inch pie tin (or another appropriately sized baking dish), and add the cherries in.
Combine the ground almonds and flour in a large bowl, and whisk briefly to combine. In a separate mixing bowl, whisk together the eggs, sugar, amaretto, vanilla extract, milk and salt until thoroughly blended. Gradually pour this into the flour mixture, whisking continuously, until all the liquid has been added and there are no more lumps. Gently pour this into the prepared pan over the fruit, then scatter the pinenuts over the batter, if using.
Bake for 40-50 minutes, or until lightly browned and a toothpick inserted into the centre comes out clean. The clafoutis will still jiggle a little when you shake the pan.
Cool in the pan on a rack, then serve, dusted with icing sugar and a dollop of whipped cream (or vanilla ice cream).
Yield: Serves 6-8