Monday, February 23rd, 2009...10:23 pm
Taipei 101: Intro to Taiwanese Food
Jump to Comments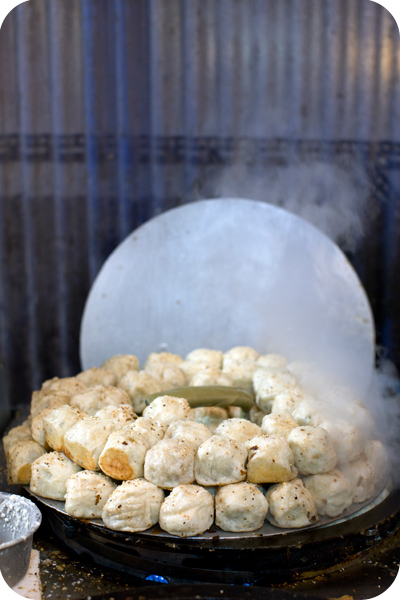 With something like 15 flights per day from Hong Kong, Taipei is really the perfect place to travel to for a quick weekend getaway. Add to that the number of friends who rave about Taiwanese food (though, admittedly, not so much the sights), and I think it becomes pretty obvious why I was itching so badly to see and taste the city's offerings for myself.
For my first foray into this gastronomic wonderland, it was only appropriate that I begged J – a close friend who has lived in Taipei – to come with me. Only, it really didn't take a lot of begging, since if anyone knows what delicious treats Taipei has in store for its hungry visitors, it's J. She very kindly compiled a list addresses and contact details for the places we visited, which I've posted below.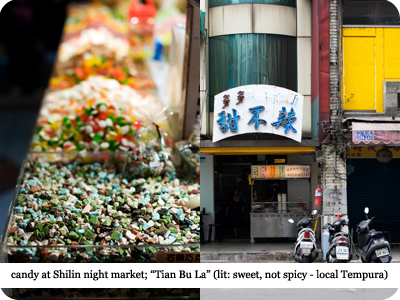 Apart from the street food which I've photographed and posted here, the other two places of note which we ate at were the New York Bagel Cafe – we both bought a few unsliced, untoasted bagels on the last night to bring back with us to Hong Kong, as well as Man Tang Hong. I don't normally expect a huge return when I spend the equivalent of 550 TWD (a little over 15 USD) for a hot pot buffet, but this place boasts a delicious selection of meats, dumplings and vegetables sliced and plated to order, as well as free flow of bottled soft drinks. (To get fruit juice, you just have to top up an additional 100 TWD per 1L carton of juice.) If you still need more convincing, an all-you-can-eat ice cream buffet is also included in the price, and it's not just any cheapo no-frills supermarket type ice cream – there were 8 flavours each of Haagen Dazs and Meiji ice cream (two of my favourite commercial brands)! Just be sure to book, as it's always packed, and for good reason.
Anyway, considering this was my first visit to Taipei, I'm not professing to be an expert on the food there, but here are some pictures of what we ate. Almost all of it was pretty darn awesome, and it was – as you can imagine – a fantastically delightful weekend, which I hope to repeat again soon!
Day 1: Tonghua Jie Night Market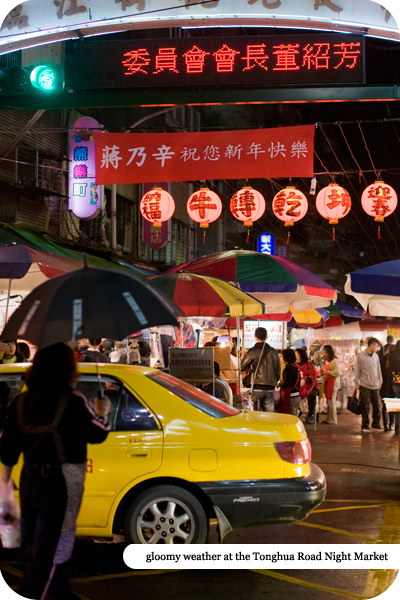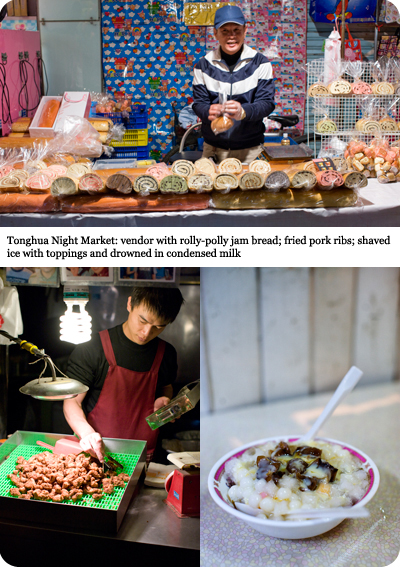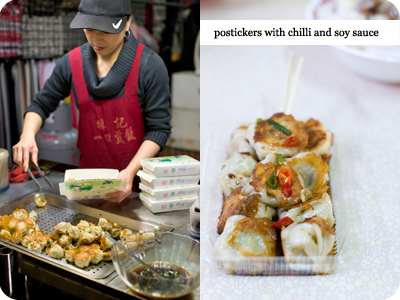 Day 2: NY Bagel Cafe, Xiao Nan Men dessert, Shilin Night Market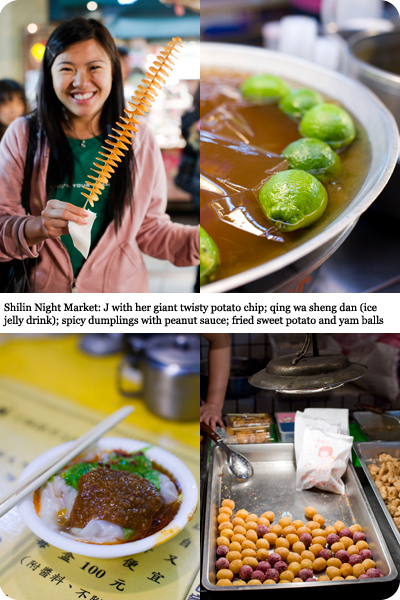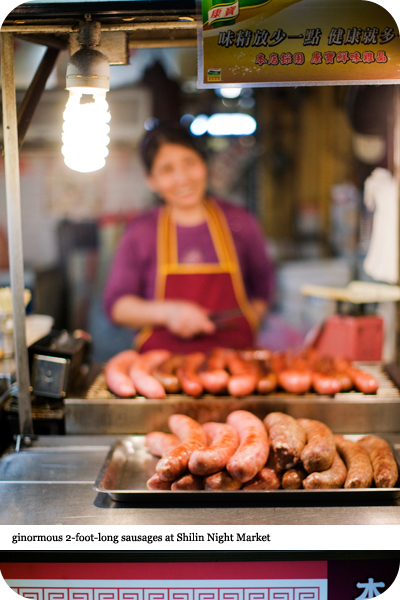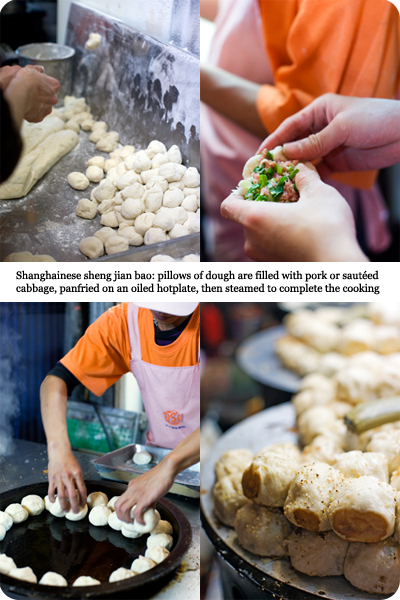 Day 3: Ba Fang Shui Jiao, custard cake-buns and jian-bing at Tong Hua Jie, Yong Kang Beef Noodles, Man Tang Hong hot pot buffet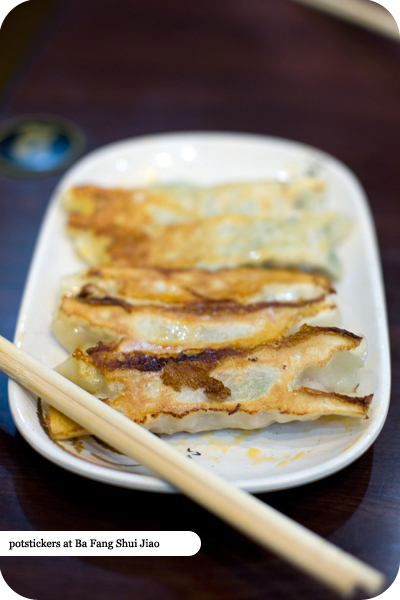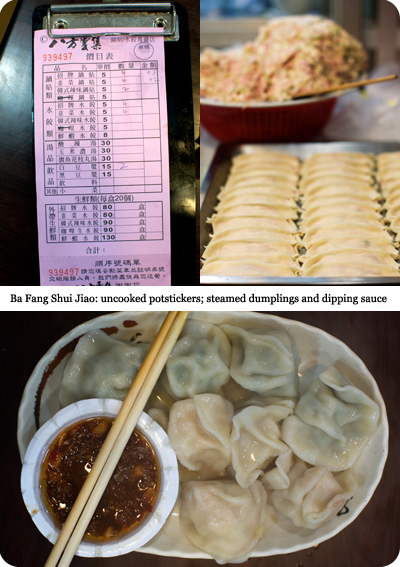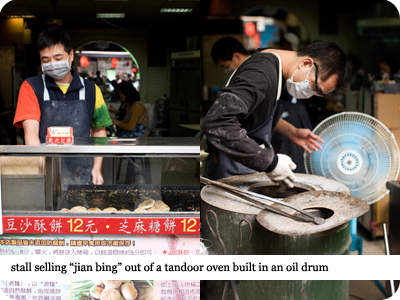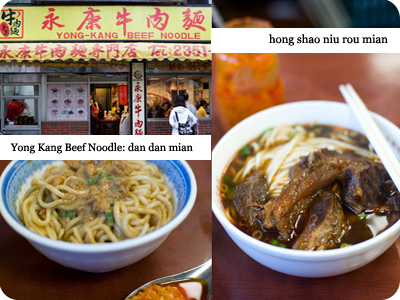 Contact Details:
New York Bagel Cafe: 122 Xinyi Road Sec 5 (T:2723 7977),
and 147 Ren Ai Road Sec 4 (T: 2752 1669)
Xiao Nan Men: dessert stall in Taipei 101 Food Court, 45 Shifu Road, B1
Yong He Soy Milk King: 102 Fu Xing South Road (T: 2703 5051)
Ba Fang Shui Jiao: Off Tunhwa South Road Sec 2
Xiao Nan Men: dessert stall in Taipei Metro Food Court
Yong Kang Beef Noodle: 17, Lane 31, Jinshan South Road Sec 2 (T: 2351 1051)
Man Tang Hong: 228-4 Ren Ai Road Sec 4, 2 Floor (T: 2701 6669)