Thursday, October 23rd, 2008...6:38 pm
XOXOXO
Jump to Comments
It's no secret that I love XO sauce. That fragrant combination of dried seafood, chillies, garlic, shallots and oil – heated together until the flavours amalgamate into a bottle of deliciousness which you can cook with, or just use as a condiment. Many are under the misconception that XO sauce takes its name and flavour from XO Cognac, but it doesn't. Well, the name is borrowed – as XO became a synonym for an item bearing qualities like prestige and luxury in Hong Kong – where the sauce originated too, but the sauce doesn't actually have any of the cognac in it.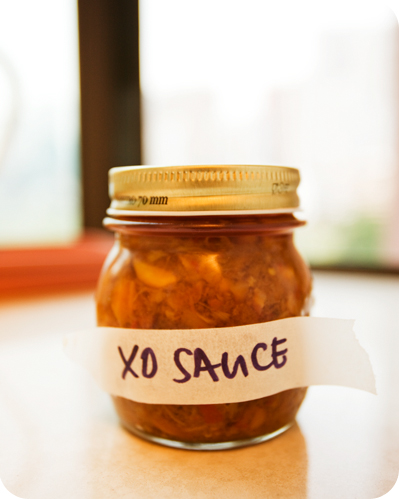 So why did I bother to figure out how to make it, now that I live in the land of XO sauce? Cost, really. Well, that and curiosity. My favourite XO sauce has a rather hefty price tag (HK$240 for under 200g of the stuff) and its recipe is closely guarded by the chef at Lung King Heen in the Four Seasons Hong Kong. And with the way I inhale a bottle of that goodness, I figured it was time I tried to come up with a recipe on my own.
Googling a recipe proved to be a little less helpful than I had expected, though. As with many Chinese dishes and sauces, the list of ingredients was vast, and varied according to who made it. I did glean that the main ingredients were dried scallops, small dried shrimp, Chinese jinhua ham, chilli, garlic, shallots and oil. Some recipes included large dried shrimp, some included dried salted fish, and a host of different spices and seasonings. I decided I would start simple and start adding on as and where I found the flavours lacking.
Because I was reluctant to buy a huge amount of dried seafood, I stuck with just dried scallops and the small dried shrimp. I decided to use fish sauce as my source of saltiness as well as to hopefully do away with the need for salted fish. Because I couldn't get my hands on any Chinese ham, I substituted it with pancetta. You can use bacon (smoked or not), or Chinese ham if you prefer. I've also gone rather heavy on the dried scallops, as I simply love the flavour and texture that it brings. Two tries later, I think I've got a winner. It's a little on the salty side (as compared to say Lee Kum Kee's XO sauce), but as I use it as a dipping sauce, it works perfectly for me. Try it, and adjust the seasoning as you see fit. I hope you like it!
XO Sauce
160g dried scallops (conpoy)
80g small dried shrimp (xia mi)
400g peanut oil
300g pancetta
100g peeled shallots
100g peeled garlic
20g chilli padi
30g large red chilli
2g powdered white pepper
100g fish sauce
50g sesame oil
10g chilli oil
20g crab oil (if you can't find this, omit, or replace with chilli or sesame oil)
sea salt
Place the dried scallops into a bowl, rinse and drain twice so that they are moistened, then transfer to a zip lock bag and seal tightly, pressing out as much air as possible. Do the same with the dried shrimp, then place both zip lock bags into another bag and leave in the fridge for 18-24 hours to soften.
Transfer the softened scallops into a bowl and steam for 30-45 minutes, or until very soft and pliable. Cool until you can handle it, then shred (either with your hands or with two forks), reserving any of the liquid that collects in the bottom of the bowl. Set aside. Pound the dried shrimp in a mortar and pestle (or in the zip lock bag with a rolling pin or mallet) until fluffy and mostly disintegrated. Combine this with the scallops, pepper and fish sauce. Set aside.
Finely chop the shallots and garlic in a food processor. Scrape it out, then chop the chillies in 10 1-second pulses. Cube the pancetta.
Heat about 300g of the peanut oil in a Dutch oven over medium-low heat. Add the pancetta, and cook until the pancetta turns golden brown and the fat is mostly rendered out. Remove from the pan using a slotted spoon, and set aside.
Tip the shallots, garlic and chillies into the oil, and fry over medium-low heat until very fragrant and just starting to colour, about 8-10 minutes. Add the shrimp and scallop mixture, stirring frequently. It will steam a little at first, but continue to cook until all the moisture has evaporated, 10-12 minutes. Stir in the reserved pancetta, and the remaining 3 types of oil. If necessary, add the last 100g of peanut oil as well. It will look like a LOT of oil, but you need it to preserve the sauce well. Add about 1 teaspoon of sea salt, and stir though. Allow it to heat very gently, then remove from the heat and allow it to cool. Once cool, spoon into bottles or jars, ensuring that the contents are covered by at least half a cm of the oil. Keep refrigerated in a tightly sealed bottle (so that the rest of the items in your fridge don't all start to smell of XO sauce!) and try not to eat too much at once.
Yield: about 800ml