Friday, January 20th, 2012...3:32 pm
Taiwanese Braised Pork Noodles
Jump to Comments
Whilst sifting through my blog for inspiration one afternoon this week (I had drunkenly invited a friend and his girlfriend over for dinner and had no idea what to cook but wanted to impress), it came to my attention that there's a huge discrepancy in the number of Asian vs Western recipes I post. Some of this is due to my not being a huge fan of Asian desserts, so all dessert recipes I post automatically add to the Western category, and also thanks to how most of the Chinese food I cook at home (stir-frys, fried rice, Chinese soups, steamed fish) doesn't tend to be very photogenic.
Another big contributing reason is that when I cook Asian or Chinese food, I very rarely measure anything. It's a splash of this and a pinch of that, tasting and adding more of whatever is lacking. I'm bad enough when I make a simple pasta at home, but at least it's easy enough for me to write a recipe starting out with x grams of pasta and y rashers of bacon.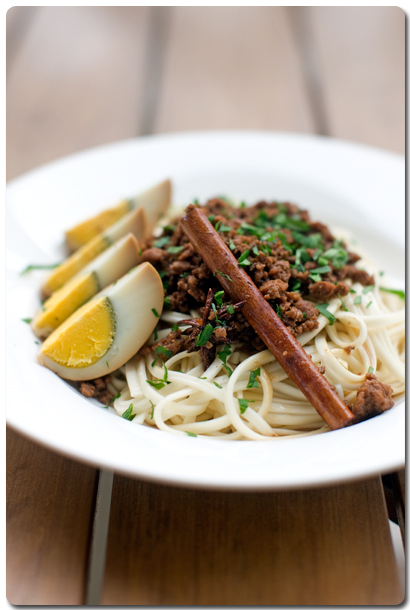 Sometime last year, I was poking around in my pantry, having spotted a packet of Beijing style noodles (they just sort of looked like dried udon sticks, to be honest), and pulled together a dish that was a big hit with one of my especially noodle-loving friends. For some strange reason, we started referring to it as "the sort of dan dan mian" even though the only way it resembled dan dan mian was that it was a dry-ish noodle dish. I did a little bit of research and apparently what I made was very similar to Taiwanese braised pork (which is then served on rice, or all manner of noodles), and it's also, in fact, quite similar to Japanese soboro. It's a rich, savoury-yet-tinged-with-sweet meat sauce, and it actually could pass off for a plate of spag bol in these pictures, sans hard-boiled egg and cinnamon stick. For ease of reference, I decided to note down estimated amounts of the seasonings so I don't end up having to search high and low when I next decide to make this and can't find a single dan dan mian recipe that even closely resembles the dish I'm thinking of. And now you guys get to benefit too. :)
This dish is quite aggressively seasoned with Chinese five spice powder (generally a blend of cinnamon, star anise, fennel, clove and ginger, and easily available at any grocery store with an Asian section) which I pumped up with whole star anise and cinnamon. The spices marry very well with the fatty pork, but if you prefer to make this dish a little healthier, just swap out the pork belly for an equal weight of lean minced pork, and halve the amount of Chinese five spice powder (you can always add more in later if you find it not fragrant enough). As for the rest of the sauces, don't be intimidated by the seemingly long list of ingredients – most Asian kitchens should have some if not all of them. If you're missing anything, I wouldn't bother to buy an entire bottle just for this dish, so just substitute with whatever you have. You should be able to taste the sweet, salty and spices each in their own right.
And on that (Asian) note, I'd also like to wish all of you a Happy Chinese New Year, and may you have a healthy and prosperous Year of the Dragon! ROAR.
Taiwanese Braised Pork Noodles
2 tbsp canola oil
5 cloves garlic, peeled and minced
1 2-inch piece of ginger, peeled and bruised with the flat of your knife
2 pieces of whole star anise
1 3-inch stick of cinnamon
200g minced pork
200g pork belly, minced or chopped into fine dice
1/4 cup Shaoxing cooking wine
3 tsp Chinese five spice powder
2 tbsp oyster sauce
3 tbsp dark soy sauce
3 tbsp thick dark sweet sauce (the type served with Hainanese chicken rice)
3 tbsp brown sugar
2 tbsp fish sauce (or light soy sauce)
salt & ground white pepper
*optional: 4 dried Chinese mushrooms, rehydrated and finely chopped
4 hard boiled eggs (I generally try to undercook them when pre-boiling them since they're gonna be sitting in the sauce simmering for a while more after)
600g dried Chinese flour noodles (the white sort, not the yellow/eggy sort), or whatever you prefer, or steamed rice!
fresh coriander
Heat the oil in a medium sized saucepan over medium heat. Add the garlic and ginger and slowly cook until lightly browned and very fragrant. Add in the star anise and cinnamon, and toast the whole spices for an additional minute.
Raise the heat to high, tip all of the pork in and cook, stirring constantly, to brown the meat. Break up any large clumps of minced pork. Once the meat is browned (about 6-8 minutes), add in the shaoxing wine and Chinese five spice powder. Mix well, and allow the wine to cook off, about 3 minutes. Add the rest of the sauces, sugar, and mushrooms if using, and season with a few shakes of white pepper. (There's no need to add salt for now, as the sauces all add a lot of saltiness already.) Add about a cup of water, bring it to the boil, then reduce the heat to low. Add the peeled hard-boiled eggs in and gently simmer for 30-45 minutes. Check the water level and give it a stir every 5-10 minutes, turning the eggs in the sauce, and topping up with additional liquid if necessary. Taste, and adjust the seasoning as necessary.
In a separate pot, bring 3-inches of water to the boil. Cook your noodles according to the instructions on the packet, then drain and divide equally between four bowls. Top each bowl with 3-4 spoonfuls of the braised meat sauce, and an egg. Garnish with some freshly chopped coriander, and serve immediately.
Yield: Serves 4
Note: This sauce also freezes well, so by all means double or triple the recipe and freeze it for next time, but without the eggs. (Freshly boil the eggs and add them to the sauce when reheating to serve. They won't be as strongly flavoured but they're also much less likely to be overcooked!)