Thursday, October 30th, 2008...6:10 pm
Pistachio Love
Jump to Comments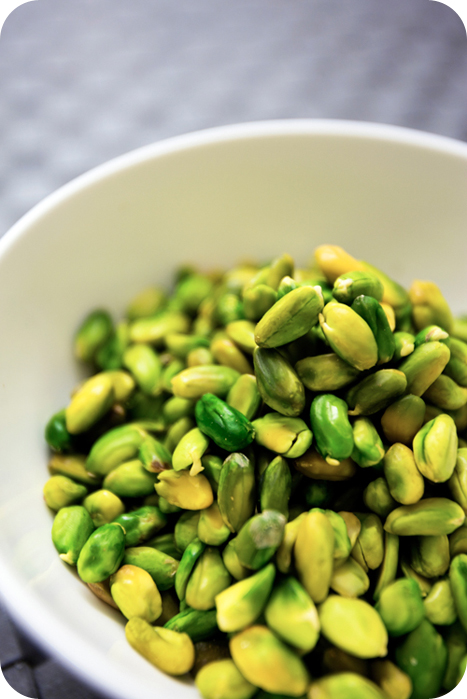 I'm a huge fan of nuts. I like almost all of them, in some form or other, but I like them best for their contributions as a part of a cooked dish. Whether toasted or left raw, whole nuts add texture to salads and cookies, and the pounded/blitzed versions creaminess to sauces like pesto and richness to cakes.
One type of nut that I love in particular are pistachios. I hate shelling them – it's like pringles; once you pop you can't stop, and I rarely do until my fingers are verging on raw. What I found out over the past week is that I hate skinning them even more! When shelled, pistachios still have a thin, papery, purple skin that clings to the emerald morsel where your flavour lies, and if you're going to use the pistachios in cooking, it's better to get rid of that so that it doesn't affect the flavour, colour and texture of the final product.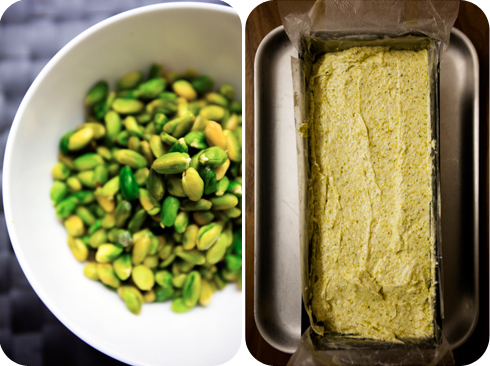 Thankfully, this cake that I made was more than worth the trouble. Its relatively low flour content (in comparison to the amount of butter and sugar) is due to the high amounts of nut meal. Almonds and pistachios are ground together, releasing all their oily flavour into the loaf cake, yielding a moist and dense cake with a buttery aroma. Topped with a simple lemon-pistachio syrup, the acid helps to cut through what might almost be too rich a cake, lifting the flavours without adding too much sweetness. Also, crowning the cake with roughly chopped glistening pistachios gives the taster a hint of what lends this delicious cake its pale green hue. Flecks of vanilla only serve to heighten the experience.
Because of the citrus tang from the syrup, I was actually reminded of Jane Lawson's Macadamia Lime Cake when I sank my teeth into a slice of this confection. And considering how much I love that cake, it can really only be a good association – if you really needed any more encouragement to start up your mixer and get creaming!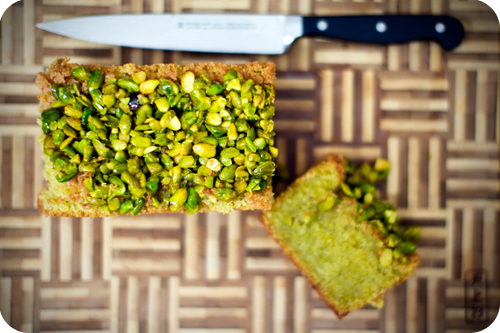 Pistachio Almond Cake
(Adapted from River Cafe Cook Book Easy by Rose Gray and Ruth Rogers)
250g unsalted butter, softened (plus extra for greasing)
250g caster sugar
4 large eggs
1 lemon, zest finely grated, fruit reserved for another use
2 vanilla pods, seeds scraped, pods also reserved for another use
100g blanched & peeled almonds
120g blanched, shelled and peeled pistachios
40g unbleached all-purpose flour
For the topping
1 lemon
100g blanched, shelled and peeled pistachios
60g caster sugar
Notes: All the nuts should be weighted after they've been peeled. Also, the original recipe called for a 30x9x8cm loaf tin, which I didn't have, so I adjusted the oven temperature and cooking time to fit my 26x12x8cm tin. If you have one of the long, narrow tins, just bake it for 45-60 minutes at 150°C the entire time.
Preheat the oven to 130°C. Line a loaf tin with parchment paper, and grease very well with butter. (The edges of the cake get rather crispy-crunchy – and delicious – but it also means they stick like a mofo so don't skimp on the butter here.) Set aside.
Grind both types of nuts together in a food processor – they should be a fairly fine meal, but stop before it starts to get wet and clump together; set aside.
Cream the softened butter with the caster sugar until light and fluffy in your stand mixer fitted with the paddle attachment. Beat in the eggs, one at a time, scraping down the sides of the bowl as necessary, then beat in the lemon zest and vanilla seeds. Fold in the nuts, and sift in the flour. Fold until just combined.
Tip the mixture into the prepared tin and bake for 45 minutes, then turn the oven temperature up to 150°C, and bake for another 30-45 minutes. The cake is ready when a skewer inserted into the centre of the cake comes out clean. Leave the cake to cool in its tin, on a wire rack, then invert onto a cutting board or serving plate.
For the topping, finely grate the lemon zest and set aside. Roughly chop the pistachios (you want them still in big chunky pieces). Squeeze the juice through a strainer into a saucepan, and add the sugar. Bring it to a boil over high heat, then reduce until thick and syrupy. Remove from heat, stir in the zest and pistachios, then pour over the cake.
The cake will keep in an airtight container at room temperature for 3 days, or well-wrapped in the freezer for 3-4 weeks.