Sunday, April 27th, 2008...8:12 pm
And then there were six
Jump to Comments
.. stars, that is. (This is the only post that I'm counting stars, since I don't think I'm doing another combined-restaurant review.)
So it's quite obvious that when Bunny and I were in London earlier this month, we weren't really doing a lot of sight-seeing. Or, well, we were – but the sights we were interested in mainly came on a nice white plate (in most cases), on a table, in a restaurant. That's right, we ate ourselves silly. Some might say we ate ourselves sick, but we'll protest very loudly that it was crappy seafood in Barcelona that got us sick, not the copious amounts we ingested. One of the restaurants that we went to was Pétrus, located in The Berkeley Hotel in Knightsbridge, London. Some of you may have heard of Pétrus because of how 5 bankers from Barclays were sacked after having spent over £44,000 on a half dozen bottles of wine there. And indeed, the size of the wine list alone was rather impressive. But I wasn't there for the wine.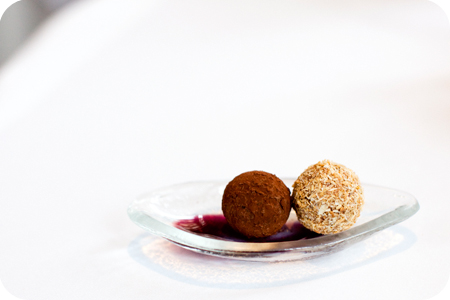 Marcus Wareing, one of Ramsay's many protegés, helms the kitchen of this two star establishment. To be honest, I didn't even know that this was his place until a few months back when I was trying to figure out where to eat on this holiday. He's probably better known for his time spent at the Savoy Grill, where it earned its first Michelin star with him at the helm. And I'm glad to say that the meal definitely didn't disappoint with all that anticipation leading up to it.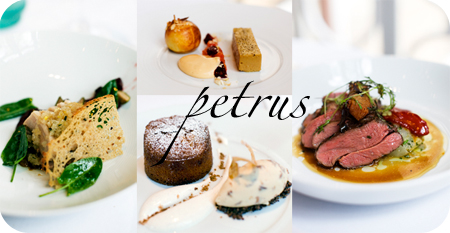 The food at Pétrus was fantastic. It was fairly simple fare, but that didn't detract from how impressive it was, especially for a set lunch. Anyone who's heard me whine about the general state of "fine dining" restaurants in Singapore will know how highly I value good, fresh ingredients, since what you eat is really only ever as good as what you put in it. From the amuse of a foie mousse served with parmesan croutons (the foie had the texture of peanut butter, and I love peanut butter, so that was heavenly), all the way to the chocolate bon bons (pictured at the start of post) that we picked off their Bon bon trolley, every single dish that appeared in front of us was very well designed to showcase the natural flavours of the dish, without distracting or detracting from the main ingredients.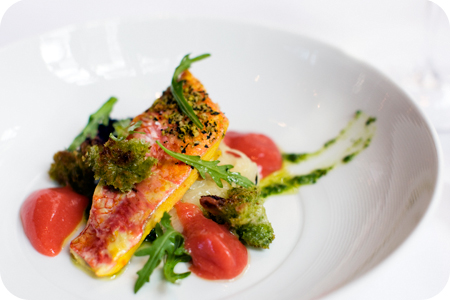 My favourite, however, was my main course. I know this sounds a bit silly because we mostly expect the main course – i.e. the main event of the meal – to be the show-stopper, but often it's not the case. At Pétrus, however, I opted for the red mullet (above), which is a rather fatty round white fish that's very common in Britain and the Mediterranean. It's as beautiful as it is tasty, and the couple of times that I've chanced upon it here, I always have a lot of fun eating (and/or cooking) it. Here, it was served poached, with a wild garlic pesto. The flesh was firm and flaked beautifully, and the (relatively) simple cooking method meant that its flavours really shone through. The pungent pesto (and pesto croutons) on the side were brilliant at enhancing those flavours.
Another place from Gordon Ramsay's empire that we went to, of course, was his eponymous restaurant at Royal Hospital Road. Here, we did the a la carte lunch menu, which provided a little more choice than his set lunch offerings. We couldn't really face the Menu Prestige (far too many courses), as jealous as we felt when we saw some of the courses being served to the other diners, seeing as we'd had a slightly heavier breakfast that morning.
The first thing that hit us, here, was the impeccable service. It was very personable, without being intrusive (a fine line that service staff in Singapore are wont to trip over), and made us feel very comfortable despite the very amusing and very posh English families that were seated around us. (You could just about see some of those kids having their debutante balls!)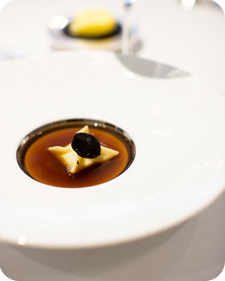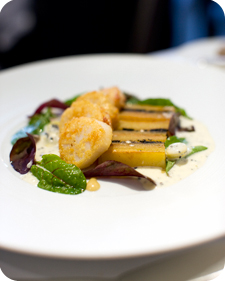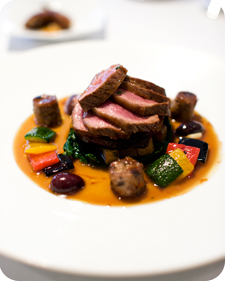 Although it would be unfair to compare Ramsay's with Pétrus, seeing as we didn't have the set lunch here, it's probably fairly safe to say that the fare at Ramsay's was significantly more refined. And I'm not just saying that because of how liberally our plates were littered with slices and cubes of black truffle. The menu here went beyond showcasing the feet-on-the-ground good flavours of fresh ingredients in skilled hands, and arrived at an impeccable presentation of the season's produce. It was impressive to witness the use various cuts and parts of an animal in the same dish. For example, my main course of Best end of Cornish lamb with confit shoulder and thyme jus (above, lower right picture) showcased the fillets, the shoulder and the stock all made using lamb which were married together on one phenomenal plate.
But the dish I enjoyed most here was my starter. I'm a little hung up on sweetbreads at the moment, which has been the case for the last couple of months. I thought, at first, that this had something to do with the lack of availability in Singapore (not many restaurants that I can afford to regularly patronise offer it), but after veritably gorging myself on the stuff in Europe, I'm still hung up on it! My starter was sautéed foie with roasted sweetbreads (above, lower left picture), all tied together with two slightly sweet accompaniments – carrot purée and almond velouté. Three weeks later, I'm still drooling when I look at a picture of, or think of this dish, so I'm going to give myself an easy out by not describing it. Suffice to say it was a dish with simultaneously the best foie gras and the best sweetbreads that I've tasted. I must mention, though, that the restaurant seemed to revolve largely around veloutés of all shapes, forms, and names (sometimes being dubiously dubbed a cappuccino – but you can't fool me!), which was a bit amusing to observe.
The last restaurant which I'm writing about here is one that I went to without Bunny. London is a city that has been stealing my good friends from me for the last four or five years, and one of them who is finally coming back to Singapore around the time when I'll make my indefinite departure (so maybe it wasn't London that she was running to, but me that she was running from!!) is an old friend from school. She picked a restaurant that I – in my ignorance – hadn't heard of before. It's a newish joint in the Soho area of London known as Arbutus, which boasts both a ridiculously affordable set lunch menu (about 15 quid for a 3-course meal), and bold offerings of offal.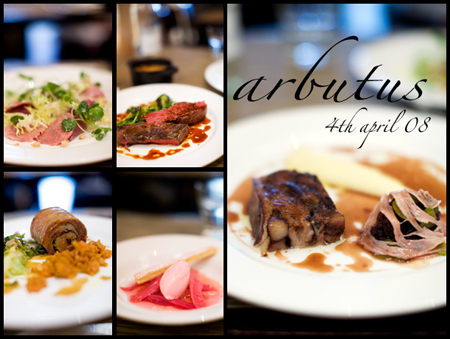 Unfortunately, the only offal on the menu when I was there was stewed pigs head (the biggest picture in the above collage), and it wasn't on the set lunch menu! So we decided that one of us would order a la carte (me, being the greedy one), and one of us would have the set lunch so we could compare the food. My dining companion, A, was really tickled with the idea of eating a pig's head. I suppose the way the dish was phrased, an active imagination could lead to you wondering if the entire head was going to appear in front of you (it definitely crossed my mind), but what I got instead looked a little like a slice of a terrine, bearing no resemblance to the part of the pig that it came from. The fatty meat (slightly reminiscent of pork belly, only with much more tender meat), was served with a little pile of caramelised onions and a swoosh of potato purée. The texture of the purée was incredibly smooth, and while I enjoyed the dish marvellously, I think it would have been taken into a whole new level if a little texture contrast had been injected into the dish.
Interestingly, her set lunch main course beat my a la carte one to a pulp. The breast of lamb (bottom left corner) was very flavourful, impeccably cooked, and the accompaniments, while lacking a little on the presentation scale, tasted amazing. My bavette of Scottish beef had a slightly strange texture, which sort of felt like it was marbled with cartilege, only a little chewier. It was tasty, but still a bit strange. Arbutus, for me, will go down as the king of potatoes in London. After my perfectly creamy purée from the starter, I had dauphinois potatoes served in a mini cast iron coccotte, and while I daresay I was biased strictly because of the vessel it was served it, the alternating texture of creamy potatoes that still held some bite, and crispy, cheesy crust was delicious. Awesome potatoes, delicious no-fuss food, and charmingly friendly and casual service all for a great price made this restaurant a great experience.
So now you can probably see why within the first week of my arrival in London, I was crazy excited about the rest of my trip. With a start like that, who can guess what's to come? Besides The Fat Duck, that is. But that's another story for another day. :)
To see the rest of the photos that I took at the above restaurants, you can access them in my flickr sets here: Arbutus, Pétrus, and Restaurant Gordon Ramsay. In the descriptions of the sets, as well as in this post, I've included links to the restaurant websites.