Tuesday, March 11th, 2008...11:14 pm
Nuggets of Heaven
Jump to Comments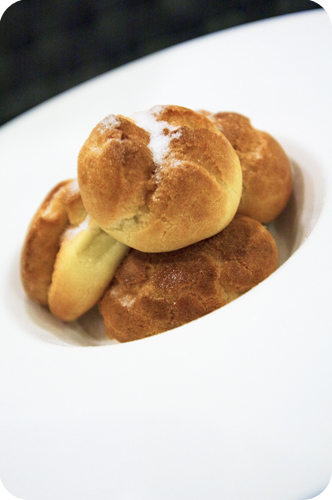 When I throw dinner parties, people seldom request for particular dishes. I'm virtually incapable of making any decisions, which means that while I can most likely put together any recipe that makes sense, make variations on traditional recipes, or come up with my own, I normally end up with a ridiculously long list of possible dishes, and it's generally near impossible for me to cut them down and shape them into an N-course dinner.
But that's most people. Once in a while, someone will make a statement that starts to shape my menu along like, "I don't like duck confit – it's always very dry or way too salty." And I'll volunteer to change that perception. Or even better, "I WANT PROFITEROLES."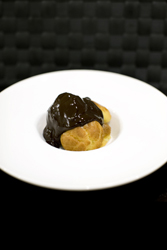 Those two statements, however, shaped up my menu for Wednesday's dinner party. Profiteroles are something most people left behind in the 80's, along with bad hair and strange music videos, but I personally love them. If done well, the fresh choux pastry forms a pillowy hollow into which vanilla bean-infused crème pâtissière is piped. Dust over with icing sugar, and then serve with chocolate sauce running down the sides of of the buns, and you have a nugget of heaven – ready to be consumed, leaving you speechless (or incapable of speech, perhaps, depending on the size of the pastry), as the flavours of the slightly salty choux, sweet and velvety custard, intense chocolate sauce come together in your mouth.
Profiteroles with chocolate sauce
1 quantity choux pastry (recipe follows)
1 quantity crème pâtissière (recipe follows)
100g dark chocolate
20g butter
whipping cream
honey
icing sugar to garnish
Preheat your oven to 200C. Make the choux pastry, then fill a piping bag with a large plain piping tip. Pipe onto a large baking sheet lined with wax paper (or a silpat), forming about 30 mounds, leaving space between each mound for expansion. Bake for 15-18 minutes, until puffed and golden brown. Remove from the oven, cool on a rack and store in an airtight container for up to 2 days.
Make the crème pâtissière, and store in a piping bag with a small plain nozzle in the fridge for up to 3 days. I personally prefer making it fresh, as it becomes a little stiffer and harder to pipe after it's been sitting in the fridge.
When ready to serve, melt the dark chocolate and butter in a heatproof bowl over a pan of simmering water until completely melted. Mix in honey to taste (I used about 1 tbsp?), and when fully incorporated, pour in enough cream so that the consistency of the chocolate is that of pouring cream. Using the nozzle of the piping bag, poke a hole in the base of a profiterole, and pipe in the custard until it starts to spill out of the bottom. Repeat to fill all the profiteroles. Stack them together on individual serving plates or in a huge mound in the middle, dust with icing sugar, then drizzle the chocolate sauce over.
Choux Pastry
(based from Gordon Ramsay's Just Desserts)
5 tbsp milk
5 tbsp water
2 tbsp sweetened condensed milk
1/2 tsp fine sea salt
70g unsalted butter, cut into small cubes
85g unbleached all-purpose flour, sifted
3 large eggs, lightly beaten
Put milk, water, condensed milk, salt and butter into a heavy-based saucepan. Heat gently until the butter melts. Bring the liquid to a boil, then add all the flour in at once. Remove from heat, stir until the mixture starts to come together, then return to low heat, beating vigorously until it becomes a smooth, thick paste that comes away from the side of the pan cleanly.
Tip into the bowl of your standing mixer and leave to cool for about 5 minutes. Secure the bowl to your standing mixer fitted with the paddle attachment, then gradually work in the eggs a quarter at a time, increasing the speed to high for 10 second bursts between additions to aerate the mixture. Continue until you have a smooth paste which is roughly the texture of a stiff cake mix. You may not need to add all the egg.
Cool until the choux is thick enough to spoon or pipe (5-10 minutes).
Crème Pâtissière
(adapted from Eggs by Michel Roux)
4 egg yolks
85g caster sugar
25g plain flour
3300ml milk
1 vanilla pod, split and scraped
a litle icing sugar or butter
Combine egg yolks and 30g sugar in a bowl and whisk it to a light ribbon consistency. Add the flour and whisk in thoroughly.
In a saucepan, heat the milk with the rest of the sugar and the vanilla pod. Once it comes to the boil, pour it into the egg yolk mixture, stirring as you go. Return the mixture to the saucepan, and bring to the boil over a medium heat, stirring continuously. Allow the mixture to bubble for 2 minutes, stirring all the while, then tip it into a clean bowl. To prevent a skin from forming, dust the surface with a veil of icing sugar or dot all over with flakes of butter. Once cool, refrigerate if not using immediately.
Yield: 30-35 profiteroles, i.e. serves about 6-7.
Photo credit: Photo at the start of the post was taken and uploaded by jon lin.