Sunday, November 11th, 2012...4:27 pm
Blueberry Pancakes
Jump to Comments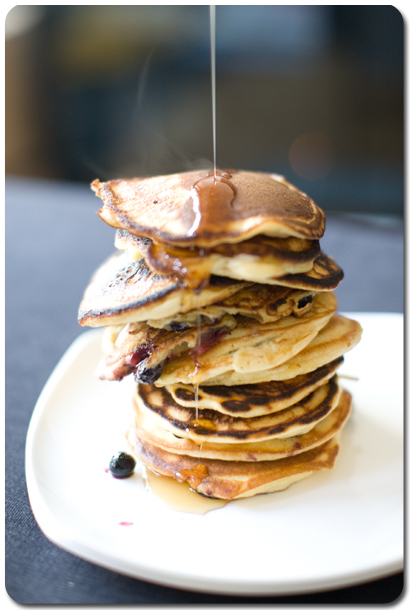 I MISS MY STOVE. AND I MISS MY BALCONY. MY HOUSE IS FALLING APART AND IT'S DRIVING ME CRAZY. YOU KNOW WHAT WOULD FIX THE CRAZY? PANCAKES. BLUEBERRY PANCAKES. BUT I DON'T HAVE A STOVE SO I CAN'T MAKE PANCAKES, AND THESE PANCAKES ARE SO YUMMY THAT I DON'T WANT TO SETTLE FOR CRAPPY PANCAKES ELSEWHERE. (I ALSO DIDN'T WANT TO GET OUT OF MY PJS FOR BREAKFAST TODAY. THAT I COULDN'T ENJOY ON MY BALCONY BECAUSE MY BALCONY DOOR IS ALSO BROKEN.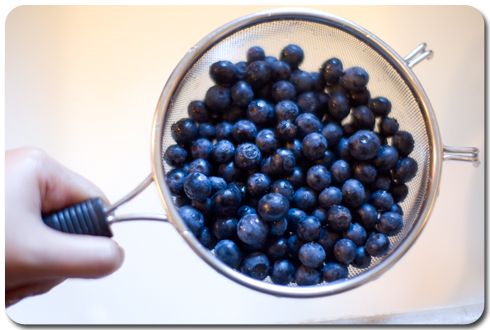 Okay – exhale – I'm fine. I'm just grouchy, and I really wanted pancakes this morning. I've posted about these pancakes before. I've also posted about gluten-free buckwheat pancakes, which were so good I all but swore off the regular sort before, calling them plain and other mean names. (I'm sorry, pancakes!) This last month, I finally – finally!! – got round to crossing bacon off my to-do list (and got a lovely side-snack of chicharon while I was at it), and I know what I'm gonna be frying up to go with my pancakes ONCE I HAVE A STOVE TO FRY ON.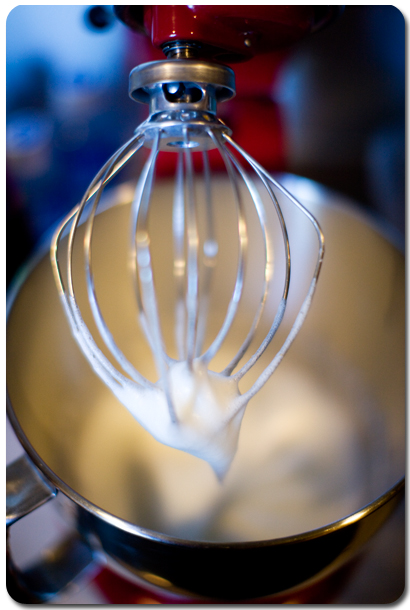 Now, I'll get round to posting about the bacon shortly. In fact, I've got my second batch of pork belly halfway through its cure in the fridge right now. I've made some tweaks to my initial recipe and will post that once I've got it down pat. In the meantime, let's talk pancakes.
I'm normally a savoury breakfast/brunch kind of person. I almost always go for eggs, and I love bacon and/or sausages on the side even when I'm eating something like french toast. But every once in a while, I get struck with one of those dessert-for-breakfast moods, and this is what I normally turn to.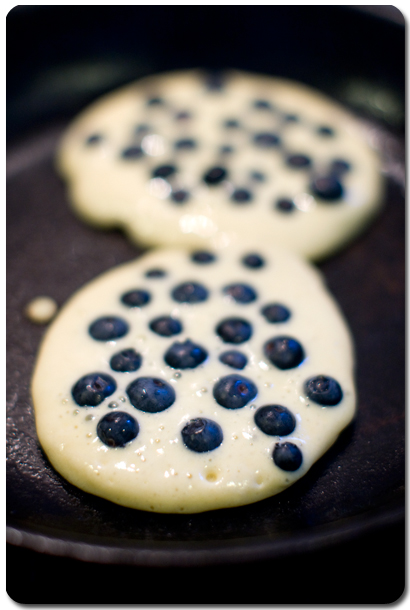 My previously posted recipe for buckwheat pancakes don't quite fit here. Those make a deeply savoury, somewhat nutty, delicious toothsome pancake, that stands up well to sausagemeat, eggs, baked beans and spicy chutneys. When fluffy, fruit-filled pancakes are in order, I revert to my tried-and-tested recipe, and scatter in fresh pieces of fruit, which get jammy and juicy and stain my plates a deep hue, making them look like a tiny crime scene of sorts. If so desired, you top them with a little extra maple syrup, or sift a little icing sugar over, but otherwise they're perfectly lovely on their own – the blueberries cooking into a compote of sorts from the inside.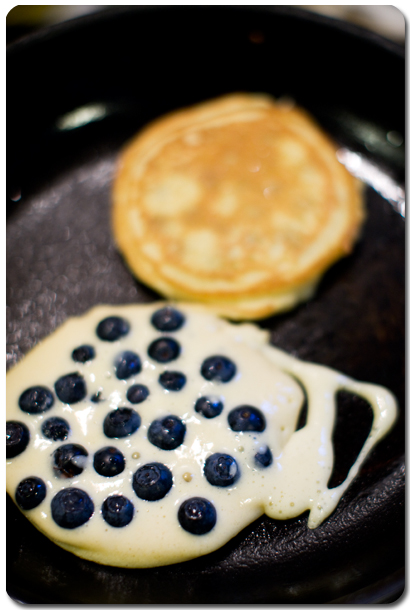 Anyway. Have the recipe. And if you have access to a stove, go make a batch of these for dinner tonight, just because you can. And when you do, think of me. Or if you're in HK, I wouldn't refuse any leftovers you might have! Not that you'll have leftovers, 'cos you're lucky and have a stove and can fry pancakes and you appreciate your fortune and wouldn't waste any of these pancakes.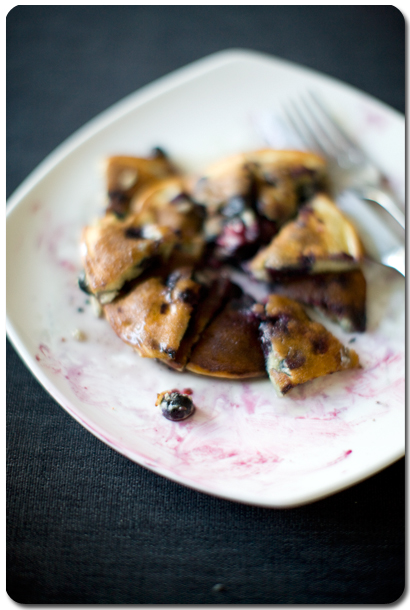 Blueberry Pancakes
(Adapted from Happy Days with the Naked Chef by Jamie Oliver)
3 large eggs
115g unbleached all-purpose flour
1 heaped teaspoon baking powder
1 tbsp vanilla sugar (or substitute caster sugar)
a pinch of salt
140g full cream milk
200g fresh blueberries (or to taste)
Butter or oil for greasing
Separate the eggs. Combine the yolks with the rest of the ingredients and whisk together to form a smooth, thick batter. Using an electric mixer or whisk, whip the egg whites until they form stiff peaks. Scoop about 1/4 of the egg whites into your batter, mix it in thoroughly to lighten your batter a little, then gently fold the rest of the whites into the batter until just incorporated.
Heat a large non-stick skillet over medium-low heat, and brush the surface with a little oil or butter. Pour the batter in to make pancakes of your desired size. Carefully regulating the heat so that they don't burn (like how some of mine in these pictures did), cook about 1-2 minutes on the first side, or until bubbles start to appear on the top. Generously sprinkle blueberries over the wet surface, then flip them over and cook for another 45-60 seconds or until golden brown on both sides. Serve with softened butter and maple syrup, or with icing sugar sifted over. And whatever you do, unless you're intending to invite me over or share them with me, don't tell me about how much you've enjoyed them.