Thursday, September 20th, 2012...2:43 am
Chasing Dinner; Catching Tail
Jump to Comments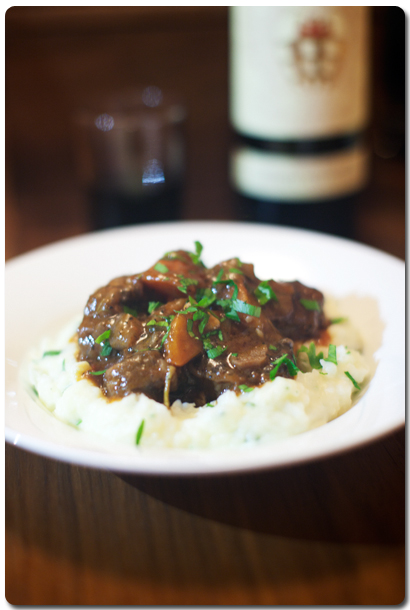 Unless I'm throwing a dinner party (where, more often than not, one of the guests has made a request for what I'll be cooking that evening) or have some intense craving for some dish or other that I'm attempting to satisfy, I'm the sort of person who wanders into supermarkets, markets, grocers and the suchlike looking for inspiration of what to make.
After lunch on Wednesday, with only the vaguest inclination that I wanted something comforting, I wandered into One Stop, a food supply company that has a little retail store in my neighbourhood. I'd been in here before, and their prices seemed pretty cheap for what looked like decent quality meat (mostly frozen), so I'd been wanting to give their produce a shot. This time, I found a (maybe one kilo) bag of oxtail going for the ridiculously low price of HK$64 (I'd wager a pot of this stew that the same amount would have cost me at least HK$2-300 in Citysuper), and dinner was sorted for the night.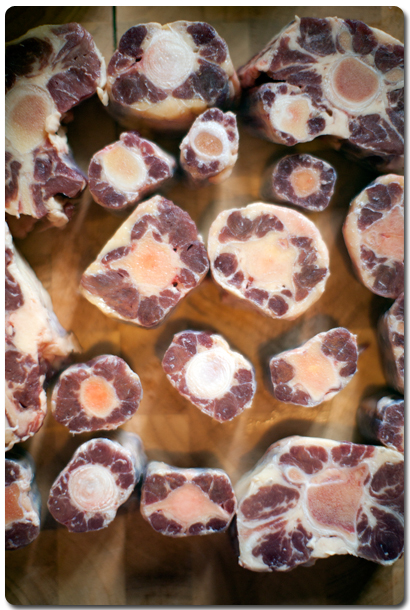 Many of my friends who aren't quite so comfortable in the kitchen often shy away from off cuts. And I can't really say I blame them. Take oxtail, for example, which I've really only cooked maybe once before? Imagine the price is about 50% cheaper by weight, but the bag of ox tail you buy is also 50% bones. And what happens if you cook it all wrong and then you end up with an inedible or unpleasant dinner? Which is why stews are a great way to start expanding your horizons, with respect to tougher and cheaper cuts of meat anyway. The one rule you have to remember is: cook your meat at low temperature, slowly. Low and slow, that's it.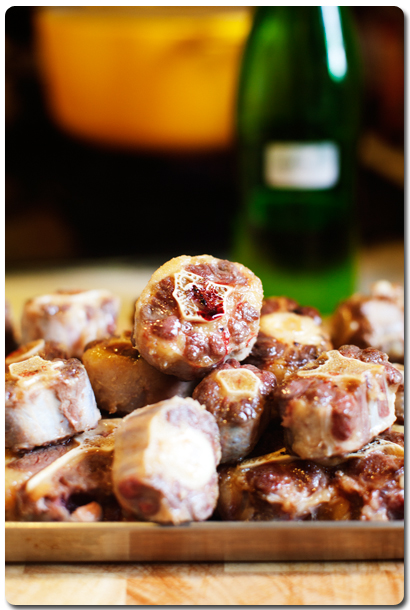 And it won't matter whether you know how to slice along or across the grain to turn that hunk of blade into tender strips of beef. Browning the meat beforehand will give you a different sort of flavour, but is not necessary. I generally chuck in onions and carrots in for sweetness, but leek, garlic, turnips or celery would all work well too. Deglaze the pan with wine, beer, stock, or water. Pick a handful of dried herbs from your pantry, or stir in a few roughly chopped bunches of fresh just before you serve it. Empty in a tin of tomatoes (crushed, whole, diced, with garlic and olive oil – it doesn't really matter) – or not. Thicken it with a heaped spoonful of flour, or just leave it to reduce by cooking it uncovered for the second half of the cooking time.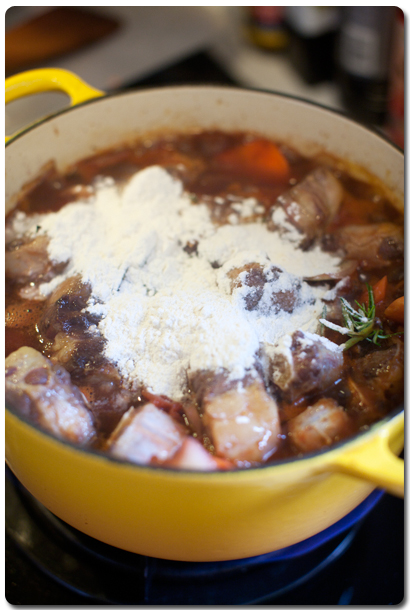 And you know what? It also doesn't really matter whether you serve it that night, or the next day. Or whether you serve it as is, with a nice crusty loaf of bread, or a pile of mashed potatoes (like I did). You could even chuck the potatoes in. Or take the meat off the bones, and use it to sauce some buttery pasta noodles. And that's one part of cooking that I really love – the world is full of possibilities, and you never really know what delicious shape dinner might take, almost all the way until you're sitting down at the table and it's on a plate in front of you.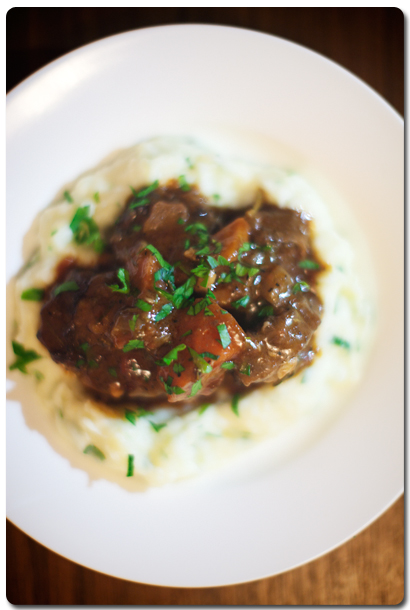 An Oxtail Stew Recipe that You Could Easily Ignore
(This is the rough recipe for what I made on Wednesday, but I didn't really measure, so take the amounts as rough guidelines and experiment a little! Taste your food as you go. Learn to correct seasoning. And have fun!)
1kg oxtail
1 large brown onion, peeled and roughly chopped
6 cloves garlic, peeled and bruised with the flat side of a knife
200ml red wine (I used a Chianti that ended up being a little sharp to drink, but it worked out just fine in the braise)
2 carrots, peeled and roughly chopped
a small handful (maybe 4 sprigs?) of fresh rosemary, chopped (or 1-2 tbsp dried)
1 tbsp smoked paprika
1 heaped tbsp all-purpose flour
a 400g tin of peeled whole plum tomatoes (any roughly 300-500g tin of tomatoes in any form will do)
around 300ml chicken, veal, beef, vegetable stock or water
1 tbsp fish sauce (my not-so-secret umami ingredient)
1 tbsp red wine vinegar
salt
freshly ground black pepper
canola oil
Preheat the oven to 180ºC, and heat a good pour (about 2 tbsp, I'd guess) of canola (or olive) oil in a heavy-based pot or Dutch oven over medium-high heat.
Salt the pieces of oxtail well, and once the oil is very hot, brown the oxtail on all sides. Work in batches if necessary to prevent overcrowding the pan – you only want to cook a single layer of meat at each time. Remove the browned pieces from the pan, and drain on some kitchen paper.
In the same pot, reduce the heat to medium-low, and tip your onions in. Fry gently, until thoroughly softened (about 8 minutes), then add the garlic in and cook until the onions start to take on a little colour (another 3-5 minutes). Turn the heat up to high, add the wine in, and let it bubble, scraping all the browned bits off the bottom of the pan. Add the carrots, rosemary, paprika, flour, tinned tomatoes, fish sauce and enough stock or water just so your solid ingredients are more or less covered in liquid. Add a level tbsp of black pepper (or about 8-10 good twists of the mill), give everything a good stir, and bring it back up to a simmer. Clamp the lid on, and move the whole pot into your oven for the next 4-8 hours (or for as much time as you can spare), giving it a stir every hour or two, and making sure that the liquid has not completely evaporated. (If it's looking dry, just top it up with more stock or water.)
For the last hour, remove the lid, and allow the liquid to reduce. Your stew will start looking really dark, robust and your entire house should smell amazing by now. (I also like to lop off the top of a head of garlic, drizzle a little olive oil, wrap it in some foil, and chuck it in the oven around now for the starch that I'm serving the stew with – you can spread it on your bread, mash it into your potatoes, or stir it into your noodles.)
Once it's done and the meat is just about falling off the bones, take it out of the oven and have a taste. Correct the seasoning, if necessary. I like to add a good splash of acid (red wine vinegar, in this case, though lemon juice, white wine vinegar or sherry vinegar would do too) to round the flavours out. Boil and mash your potatoes, cook your noodles, or toast and slice your bread, and serve it up in the middle of the table with a side salad, or some minty buttered peas.
Yield: Serves 4