Sunday, September 6th, 2009...7:21 pm
Marble Cake
Jump to Comments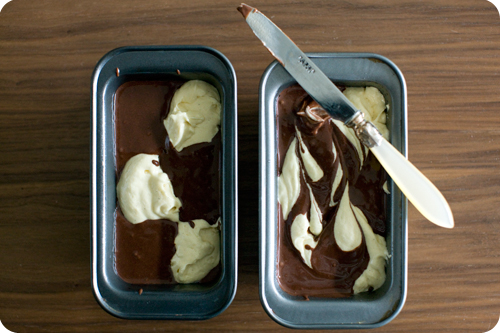 I'm really sorry for having let an entire month go by without posting a single thing. (It also feels like every other post I write starts with an apology on how infrequently I've been posting!) But I only had about 13 days in August where I was in HK, and I spent about a week of that time fretting over my laptop which decided that harddrive failure was the way to go to keep me on my toes. I'm picking up the laptop tomorrow (finally) and I've got 98% of my drive recovered in a new external harddrive right here! But on to the post proper:
Now, I've mentioned once before that the bunny isn't a fan of chocolate. (In fact, she downright dislikes the stuff!) So you can imagine my surprise when one day she requested for Marble Cake, and the quizzical expression I had when I asked, "Doesn't marble cake have chocolate in it?!" But nope, along with Hot Chocolate, Marble Cake falls into that strange twilight zone of chocolate things that apparently don't taste of chocolate.
It's all the better for me anyway, since marble cakes are incredibly easy to make, and the asymmetrical swirls of chocolate batter through an otherwise blond cake generally seem to inspire many an admiring recipient. And I'm pretty sure all 5 of you who read this know what a big fan I am of dishes that look a lot more difficult to make than they actually were! And this one – a recipe taken from one of my favourite baking books, whose recipes never fail to give me a delicious, beautiful and consistent result – is one of those that can be whipped up in a flash, even if you've got three screaming kittens making a disaster zone of your house while trying to get your attention, and you're in the midst of stressing out over a failed harddrive :P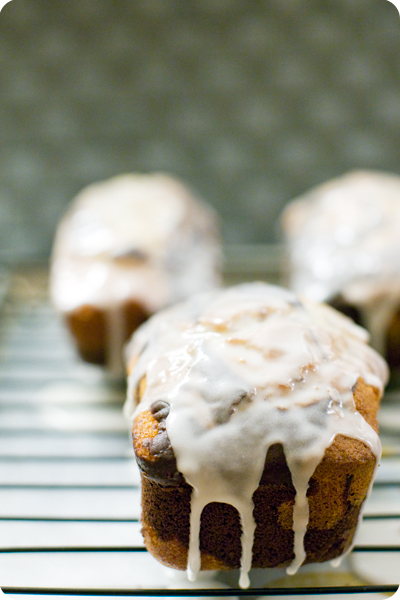 Marble Cake
(From Martha Stewart's Baking Handbook)
4oz unsalted butter, at room temperature, plus extra for the pan
1 3/4 cups cake flour
2 tsp baking powder
1/2 tsp salt
1 cup sugar
3 large eggs, at room temperature
1 tsp pure vanilla extract
2/3 cup buttermilk, at room temperature
1/4 cup + 1 tbsp Dutch process cocoa powder
1/4 cup boiling water
Milk Glaze (recipe follows)
Preheat the oven to 350F/180C. Generously butter a 9×5″ loaf pan (I used three mini loaf pans); set aside. Whisk together the cake flour, baking powder and salt; set aside.
In the bowl of an electric mixer fitted with the paddle attachment, cream the butter and sugar together on medium-high speed (about 5 minutes). Add the eggs one at a time, beating for a minute after each addition, and scraping the sides of the bowl as necessary. Mix in the vanilla. With the mixer on low speed, add the flour mixture in two batches, alternating with the buttermilk, and beginning and ending with the flour. Divide the batter into two bowls – with two thirds in one bowl and one third in another.
In a bowl, mix together the cocoa and boiling water until smooth. Add the cocoa mixture to the smaller bowl of batter, and stir until well combined.
Spoon the batters into the prepared pan in two layers, alternating spoonfuls of vanilla and chocolate to simulate a checkerboard. To create marbling, run a table knife through the batters in a swirling motion. Be careful not to overswirl the batter, or the marbling won't be as pretty!
Cake, rotating the pan halfway through, until a cake tester comes out clean, 40-50 minutes. Transfer pan to a rack to cool 10 minutes. Turn out cake from the pan and cool completely on the rack. Pour glaze over cake, letting it drip down the sides. Cake can be kept in an airtight container at room temperature for up to 3 days.
Milk Glaze
(From the same book)
1 cup confectioners' (icing) sugar, sifted
2 tbsp milk
In a medium bowl, whisk together the sugar and milk until completely smooth. Immediately drizzle glaze over cake.