Sunday, March 23rd, 2008...12:38 pm
I Feel Like Chicken Tonight
Jump to Comments
I have a confession: I love KFC. I know it's disgusting, I know it's greasy, I know it doesn't really taste like chicken and is served with stuff that doesn't really taste like coleslaw and mashed potatoes either. But it's KFC – its so bad it's good.
If I could, I'd probably veer towards Popeye's for my fried chicken fix every so often. Problem being, the only Popeye's I know of are both in Changi Airport (in Terminal 1 and 3), and that's not exactly what you'd call my backyard.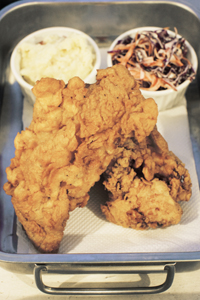 A friend of mine came back from Hong Kong for the long weekend, and I decided to make dinner for her. On the menu, fried chicken, mashed potatoes, and coleslaw – that's right, we were having homemade KFC.
The chicken was really easy to do, I steeped it overnight in buttermilk that I had first infused with some dried rosemary and nutmeg. When ready to eat, I just dredged it thickly in all-purpose flour that was seasoned with a little more nutmeg, crushed dried rosemary, a couple of random other things I might have thrown in, salt and pepper. I then deep fried it at 180C until golden brown on the outside, and finished off the cooking in a 180C preheated oven.
The sides were equally easy. I julienned half a head of purple cabbage and 1 large carrot, chopped some radishes into matchsticks and very finely sliced one scallion. I then tossed this to evenly distribute the vegetables before adding in my premixed dressing of 1 small bottle of store-bought mayonnaise (225ml), 5 tbsp of white wine vinegar (since I didn't have any cider vinegar), 3-4 tbsp of caster sugar, and salt and pepper to taste. When well mixed, I just covered the nonreactive bowl with clingfilm, and chucked it in the fridge to sit for at least an hour. The potatoes were done in my usual style, i.e. peel them, boil them in salted water until tender, then mash with copious amounts of butter, season to taste with salt, then whip with cream and milk.
The entire dinner was a breeze to make – especially since all I had to assemble at the end was the fried chicken. Once I crack a gravy recipe, I may just have found a KFC replacement; and right in my own kitchen!