Monday, October 1st, 2007...11:52 pm
A Greedy Perspective of Sydney
Jump to Comments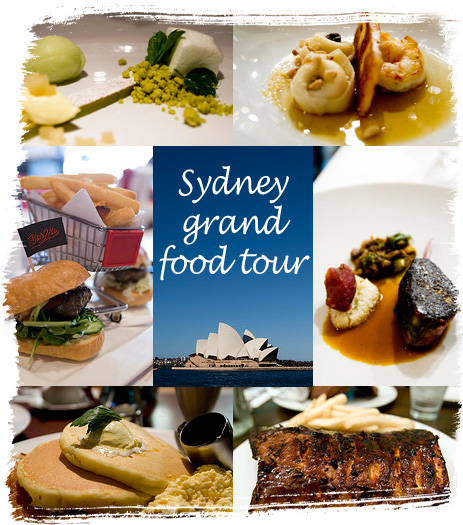 Some suppose that New South Wales is so named because it's the new, southern hemispheric version of Wales. These are probably the same people who describe much of Australia as "England with better food, weather and quality of life" – and of the three, I can personally vouch for the first two. British food has often gotten quite some flack for being generally overcooked, dry, stodgy, and only existing to be washed down by that pint of beer, and while I am actually a fan of quite a few British dishes, the food in Australia is certainly something else.
Bunny and I spent a week in Sydney scoffing down as much food as we could find. Generally ignoring the touristy sights (though we didn't really have much else to see, considering how our room at the Shangri-La had quite the view), we made a beeline for as many restaurants as we could fit into our trip.
Many would say that a culinary tour around Sydney is not complete without a visit to legendary restaurant Tetsuya's, by the time we'd decided to make the trip to NSW, there wasn't an available lunch or dinner reservation in sight. Lucky for us, we managed to get seats at a dozen other establishments, one of which being Yoshii, which is rumoured to be better than Tet's, on the first night we arrived. Of course, I'm in no position to cast any opinion on that, but I can say that our dinner at Yoshii was nothing short of phenomenal. The next day, we headed off to the Sydney Fish Market and had the best fish and chips I've ever tasted, along with our first whiff of oysters for the holiday at Doyles. We were so impressed with the food here that we also decided to head back on the last night of our trip to their original location on Watsons Bay.
For dinner on my birthday (Tuesday), we got ourselves a cosy little table at Rockpool – a two hat establishment right on The Rocks helmed by prominent Australian chef, Neil Perry. Having already snacked on macarons at Lindt in Darling Harbour, we decided not to overwork our stomachs and stick to the five course fixed price menu, instead of the chef's tasting menu which had twice as many courses.
On the next night, we ventured out by ferry from Circular Quay to Rose Bay, where we had my favourite dinner of the entire trip at Pier. A tiny little 55 seater that juts out over the marina, this restaurant had been awarded three chefs hats, and rightfully so. Every single dish of our (restrained) three course meal that night was thoughtfully put together, with bunny and I – for a change – without words to describe the gastronomical heaven. My favourite of the night was my dessert, which was a green apple 'cloud' served with pistachio 'soil'.
On our last full day in the city, we finally managed (after 3 days of wrangling) to procure a table at The Tea Room at Gunners Barracks. With beautiful china and an even more delectable view, it really was a pleasant end to our stay in Sydney.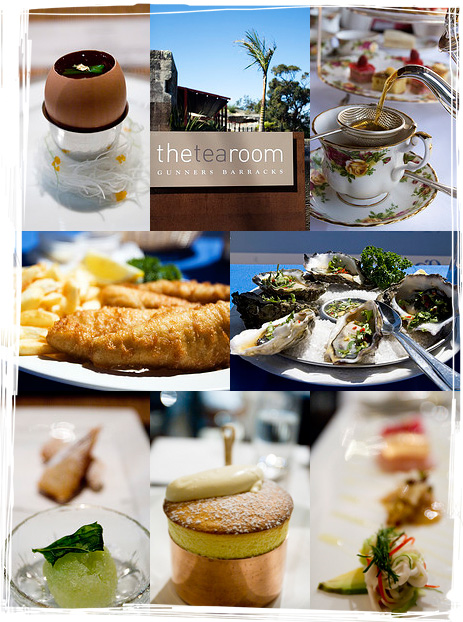 The one thing about Sydney – besides the food – that really stuck with me was the level of service we received wherever we dined. I once read a post about a top restaurant in Singapore where an Indian waiter calmly accepted rude behaviour when a white man insisted on addressing him as "Brownie". Instead of being praised for his professionalism, the writer went on to indicate that such tolerance of racism is what allows it to permeate society. An incident at Pier reminded me of this, when a local couple – clearly drunk from too many bottles of wine – started making a ruckus by screeching at waitstaff who'd pass by their table. One of them even ended up being called all manner of inappropriate names, and while I, as a paying customer, would have preferred that the management evict the twosome, said waiter calmly attended to them as if the insults and shrieks of laughter were merely a figment of my imagination.
Being someone who loves food as much as I do photography, I often carry my camera around in hopes of documenting the more memorable food I consume digitally. Unfortunately, in Singapore, I'm often not allowed to take photographs of the food – or sometimes even the interior decor – in nice restaurants. As a result, whenever I've got my camera with me, I now make a habit of checking with a waiter to make sure that it's fine. Another thing that took me by (pleasant) surprise was how the waiters A) were all surprised that there was a need to ask at all, and B) effusively urged me to do so. So far, Singapore is the only city in which I've ever encountered an issue with taking photographs in restaurants, and I hope that our local restauranteurs will take a page from cities far more established in the world-wide culinary scene, especially if we want to advance to the same level.
All in all, the past week was probably the best holiday I've had this year. I may be a good 5 kilos heavier from all the crustaceans I've imbibed, but all the better to tide me through the work-day. For those of you who have a death wish, feel free to take a look at my (finally) complete Sydney Photoset on an empty stomach, but consider yourselves warned. My personal recommendation would be to browse through it after lunch while you're combating the food-coma and about to get cracking on an afternoon of work ahead.